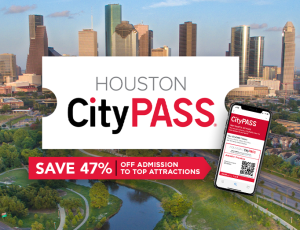 About Houston First
Houston First Corporation (HFC) is the official destination management/marketing organization for the city of Houston. 
A local government corporation, Houston First also owns the Hilton Americas-Houston Hotel, manages the George R. Brown Convention Center as well as 10 city-owned properties, underground and surface parking for nearly 10,000 vehicles and developed the Avenida Houston entertainment and convention district. 

HFC's vision and efforts enrich the lives of Houstonians in a number of ways, beginning with promoting the region as a destination for tourism and convention business. The organization also works to attract film production to the area and operates theaters where world-class performances take center stage, all while managing outdoor spaces where festivals and other activities thrive.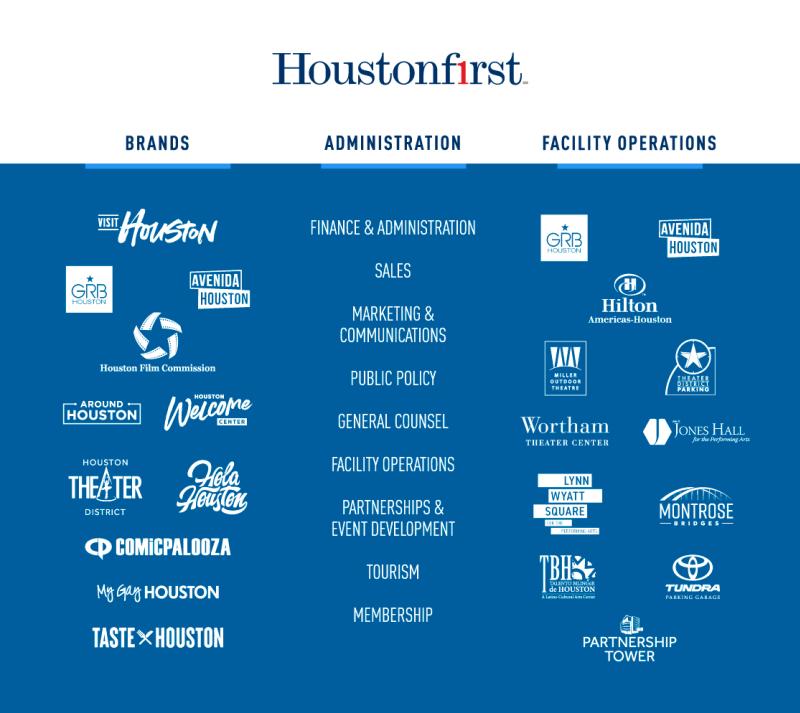 DEPARTMENTS
 
SALES
The role of the department is to book the greatest possible number of hotel room nights generated from tradeshows, conventions and meetings.
Sales tactics include direct sales and meeting planner education via advertising, industry events, tradeshows, direct mail, relationship marketing, networking, distribution of collateral and city orientation visits.
Contact:
John Solis
Senior Vice President of Sales & Client Services
(713) 853-8926

Nathan Tollett
Vice President, Citywide Convention Sales
(713) 853-8977

Jason L. Purifoy
Director of Sales
(713) 853-8338
CLIENT SERVICES
Works with meeting planners to provide a wide range of services once a meeting is booked.
Services include site visits to hotels and facilities, itinerary building, housing and room block consultation, distribution of collateral materials, creation of custom collateral and customized attendance-generating promotions.
Works as a liaison between the meeting planner and GHCVB members.
EVENT SERVICES
Contact:
Paul Casso
Vice President of Membership and Events Services
(713) 853-8275
MARKETING/COMMUNICATIONS
Promotes the Greater Houston area through advertising, public and media relations, sponsorship, special events, promotions, Web site and collateral development.
Contacts:
Holly Clapham-Rosenow
Chief Marketing Officer
(713) 853-8919
FINANCE AND ADMINISTRATION
Support mechanism for day-to-day business operations. Responsibilities include financial management, office management and technological resources.
Contact:
Karen Williams
Vice President of Finance 
(713) 853-8304
View Finance and Administration Staff »
HOUSTON FILM COMMISSION
Promotes Houston, Harris County and the Eastern Gulf Coast region of Texas as a destination for film production. Coordinates all marketing, advertising and sales efforts. Provides professional location services to film, video and print industries.
Contact:
Alfred Cervantes
Vice President / Executive Director of the Film Commission
(713) 853-8957
MEMBERSHIP
Responsible for maintaining and retaining GHCVB members. Plans ongoing member events such as monthly membership mixers, business-to-business networking events, seminars and member orientations.
Contact:
Membership Services
(713) 853-8275
VISITOR INFORMATION SERVICES
The function of the Visitor Information Services department is to increase visitor volume, increase the visitor's length of stay and resulting dollar expenditures for the Greater Houston Area and to encourage repeat visitations by providing guests relevant visitor information, retail merchandise and a quality visitor experience.
Contact:
(832) 986-8302
TOURISM
The Tourism Department is charged with the promotion of the Greater Houston area as desirable leisure destination with the goal of increasing travel to Houston by individuals and groups to generate increased business for area hotels, attractions, restaurants, etc. The department is also tasked with working with the Houston hospitality industry to assist them in their leisure promotional efforts and encourages the creation of new leisure product in the city.
Tourism works with domestic and international travel trade, including wholesale, retail and online agencies and tour operators in order to reach the traveling consumer. The Tourism team also participates in travel and consumer trade shows and organizes sales missions and familiarization trips to reach its key clients. This department also handles visits to Houston by international media to generate exposure for Houston in international markets.
Contact:
Jorge Franz
Senior Vice President of Tourism
(713) 853-8306
PARTNERSHIPS AND EVENT DEVELOPMENT
Leads in the generation of revenue and resources for HoustonFirst Corporation through corporate partnerships and grant acquisitions. Manages the development, growth and execution of innovative tradeshows, conferences and events to be held annually in Houston.
Contact:
Aimée McCurtain
Director of Partnership Marketing
(713) 853-8383
View Partnerships and Event Development Staff »
GENERAL AND OPERATIONS
Contact:
Elliot Franklin
Distribution Supervisor
(713) 853-8303
View General and Operations Staff »
14.7
acres of plazas and
other green space
11
buildings valued
in excess of $1 billion
254
contracts and
14 leases
2,650,000
square feet of building space
GOVERNANCE:
A 12-member Board of Directors sets policy for the corporation and approves its major initiatives and expenditures. The City of Houston maintains an oversight role through the City Council's approval of board appointments and its annual budget. Two City Council members also sit on the Board of Directors, in ex-officio roles.