Houston's 2014/15 performing arts season has something for everyone -- world premieres take the stage and timeless classics return. We've scoured the calendar and developed our list of the 10 don't-miss shows for this season. No need to thank us. We'll see you at intermission.

From Houston to the World brings together three very different pieces for Houston Ballet's second performance of the season. The one combining thread in this mixed-repertory program choreographed specifically for the Houston Ballet is technical prowess. Finnish choreographer Jorma Elo brings wit and humor to the extreme virtuosity that he demands in ONE/end/ONE. Inspired by flocks of birds flying in breathtaking unison, Edwaard Liang's Murmuration is a deeply spiritual work for nine men and eight female dancers. Closing the program is Stanton Welch's vivid interpretation of the third act of Paquita, a challenging, Spanish-flavored ballet first performed in 1846. Sept. 18-28, 2014.

The Jerusalem Quartet returns to town, bringing its "powerful sense of drama" [The Oregonian] to Chamber Music Houston's stage. The group will lend their energetic and lyric style to a program combining groundbreaking masterpieces by Beethoven and Bartók with Ravel's striking String Quartet. Oct. 21, 2014.

Diavolo - Architecture in Motion combines dancers, gymnasts, and actors brilliantly to explore the space where reality ends and imagination begins. Under Artistic Director Jacques Heim, and outrageous and surrealistic sets, Diavolo takes movement, athletics, and daring to the extreme to create abstract narratives of the human condition. This year Diavolo performs the final work of a trilogy titled Fluid Infinities. Choreographed to Philip Glass' Symphony No. 3, this work is set on an abstract dome structure on which performers explore metaphors of infinite space, continuous movement, and humanity's voyage into the unknown future. Jan. 9, 2015.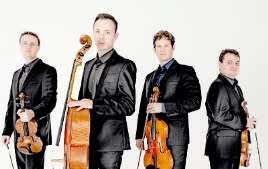 Jerusalem String Quartet    

TUTS Underground is offering up several witty shows in its second season. Waiting for Johnny Depp is a one-woman musical that follows the zany adventures of struggling New York actress Rita Donatella in her desperate attempts to land the role of a lifetime - to star in a film with Johnny Depp. Jan.22-Feb.1, 2015.

When Puccini heard the story of a young Japanese girl who sacrifices everything for a faithless U.S. Navy lieutenant, he knew he had found a winning idea for a new opera and immediately began work on Madame Butterfly. It would become one of the most beloved operas of all time. Puccini's score, infused with atmospheric Eastern motifs, is mesmerizing. Houston Grand Opera brings this opera for the ages back to Wortham. Jan. 23-Feb. 8, 2015.

River Oaks Chamber Orchestra celebrates its 10th season with a series of exciting performances. Divas and Ballerinas will be one not-to-miss. Violist Tawnya Popoff will take the audience on a romantic journey through Puccini, Bizet, Prokofiev, Stravinsky, Gershwin and more in a performance of popular suites from opera and ballet. Jan. 25, 2015.

Kinky Boots took Broadway by storm and now Theatre Under the Stars is bringing the risqué hit to Houston. The story follows a struggling shoe factory owner who works to turn his business around with help from Lola, a fabulous entertainer in need of some sturdy stilettos. Together, the unlikely pair finds that they have more in common than they ever dreamed possible. Feb. 10-22, 2015.

The musical Once took home eight Tony Awards in 2012, including best musical. Featuring an impressive ensemble of actor/musicians who play their own instruments onstage, Once tells the enchanting tale of a Dublin street musician who's about to give up on his dream when a beautiful young woman takes a sudden interest in his haunting love songs. As the chemistry between them grows, his music soars to powerful new heights... but their unlikely connection turns out to be deeper and more complex than your everyday romance. March 10-15, 2015.

All My Sons, Arthur Miller's first commercial success, to was inspired by a true story about a successful businessman who sold the government defective airplane parts during World War II. The play takes place following World War II, as the Keller family desperately hopes that their son Larry, who was missing in action three years earlier, returns home. As their other son prepares to propose to the woman he loves, who was Larry's girlfriend when he went missing, the Kellers confront realities as family secrets are revealed. Alley Theatre will perform the work at its temporary home at the University of Houston while its Downtown building undergoes a major renovation. April 1-19, 2015.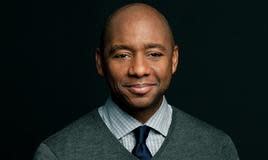 Branford Marsalis


NEA Jazz Master, renowned Grammy Award-winning saxophonist and Tony Award nominee Branford Marsalis is one of the most revered instrumentalists of his time. Leader of an acclaimed jazz quartet, and a frequent soloist with classical ensembles, Marsalis and his Quartet of musical friends recently released Four MFs Playin' Tunes. The Los Angeles Times puts Marsalis in "the highest echelon of jazz tenor saxophonists." Hear the group perform live with An Evening with Branford Marsalis through Da Camera of Houston. April 18, 2015.