Earlier this week marked the beginning of green fields, hot dogs, wooden bats, and a barrage of orange and navy. Yes, it's baseball season again in Houston! The Astros always know how to ring in this unofficial holiday each spring. From a street festival to new quirky ballpark menu options, Opening Day never disappoints.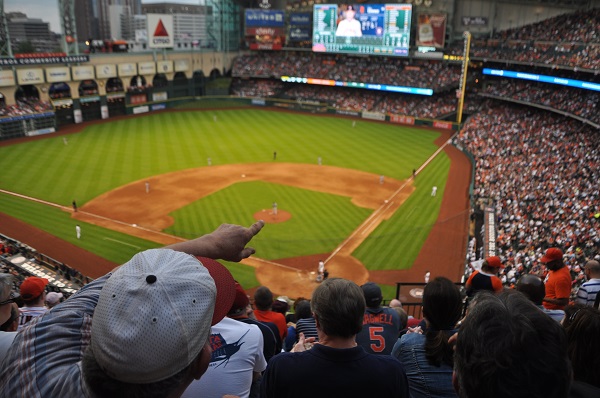 This season marks the 50th anniversary of the Houston Astros. The team is the oldest major league baseball club in Texas, formerly known as the "Colt .45's" before being renamed in 1965. This season opened up with a 3 game series with the Cleveland Indians. The stadium was packed! From the dugout to the upper deck, 43,753 Houstonians sold out opening day as the roof remained open overlooking the skyline. Pro-tip: Save a few bucks and avoid pre and post-game traffic by parking a few blocks away at one of the many parking garages that stay open to accommodate fans.


O
p
ening Day started with a Street Festival downtown next to Minute Maid Park. The festival wraps around the old Union Train terminal-turned-ballpark along Crawford St. as streets in the area remained closed for the afternoon. The festivities included live music, prizes and activities, player Q&A's, a pep rally led by manager A.J. Hinch, and local food trucks.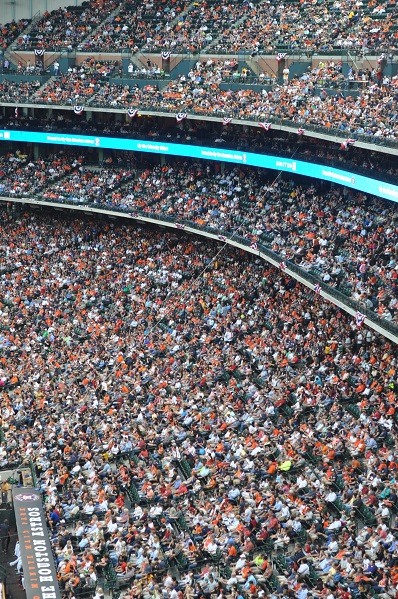 Minute Maid updated their menu options to add some Houston favorites as well as some concoctions of their own in recent years. You can always get the traditional hot dog and cracker jacks. But fans can also grab a Nolan Ryan burger, Texas BBQ brisket, or Chef Bryan Caswell's famous El Real Tex-Mex. If you want something more out-of-the-box try the already infamous "Chicken & Waffle Cone" complete with mashed potatoes & honey mustard drizzle.

After a ceremonial first pitch by Astro Hall-of-Famer Craig Biggio to 2014 AL Batting Champion José Altuve, the game was underway. I checked out views from behind the plate, the mezzanine level, and even the upper deck. There isn't one bad seat in the house. Pro-tip: Check the Astros' schedule ahead of time to take advantage of promotions like $1 hot dog nights, free souvenir nights, and post-game fireworks.

Go 'Stros!
Regular season tickets start at $10
.