Charles James: A Thin Wall of Air is featured this Summer from May 31 through September 7 at The Menil Collection. The term "a thin wall of air" was coined by James's close friend Bill Cunningham to describe what James called the area where the possibilities of design were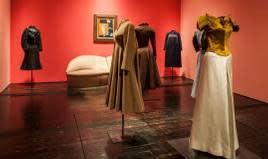 Photograph by Paul Hester

found: the gap between the fabric and the body.

This atypical exhibit focuses on the works of Charles James, the first couturier, commissioned for his friends the de Menils. Born in 1906 in London, Charles James began his fashion career as a milliner, but once he moved to New York he became widely known for his new style of dressmaking. James focused on the curves of the body, often hand-sewing, cutting and draping fabrics specifically fit for each client. This new approach to design inspired the "New Look", where outfits were nipped in to the waist then blossomed out to flowing skirts.

The showing displays the one of kind pieces James designed specifically for Dominique de Menil, including her evening gowns, daywear, coats, and the furniture James selected for the de Menil home.

The de Menils enlisted James for his only foray into interior design for their home in River Oaks in 1950. The stark modernism of the home contrasted sharply with James's bright, fluid style. James draped the walls in unique combinations of mauve, aqua, fuschia and butterscotch, and brought in furniture pieces the likes of which included a lip shaped loveseat, and a curvaceous lounge with a yellow underbelly.

The de Menils were close personal friends of Charles James and as longtime supporters of his work, The Menil Collection honors his artistry and the de Menils role in his expanding range of work.