In Houston, where warm weather is both a blessing and a curse, winter is gleefully welcomed by those fond of ice skating. In fact, the unofficial start of winter season in the downtown Avenida Houston district precedes Thanksgiving by two days with the opening of the largest outdoor ice rink in the Southwest.
Tuesday night marks the start of Frostival! – not a festival, get it? – as a family fun evening celebrating the opening of the skating rink at Discovery Green as well as the debut of the winter art installations and seasonal decorations.The fun starts at 4 p.m. and continues until 10.The rink will be open through February 5, when Super Bowl LI takes place in Houston. Hours of rink operations, along with myriad other ice details, can be found at discoverygreen.com/ice.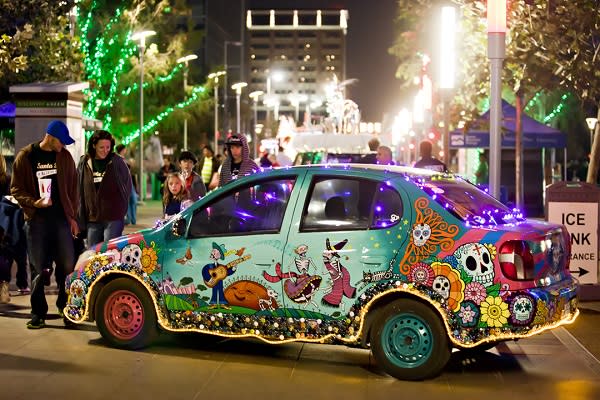 In addition to skating, Frostival festivities include a live musical performance by Mary Sarah of "The Voice," live ice-carving battles featuring Reverend Butter, a dance performance by Susie Talbot and Ryan O'Donnell, a skating exhibition by Avril Phillips, Houston Art Cars, tunes from DJ Caps and more!
Discovery Green is the 12-acre park central to the Avenida Houston district. There are a number of ways to get to the Avenida – by foot, car, bike, bus, jitney service and more. Garage and street parking are conveniently located.
Also, craft beer and root beer aficionados take note: make a $20 contribution to Discovery Green Conservancy at the beer garden for a hand-carved stein made of ice and Saint Arnold Brewing Company will fill it with root beer or a great locally crafted beer.