Plans are moving forward for the highly-anticipated Grand Texas Theme Park, scheduled to plant its roots in March 2015 near New Caney, Texas off Highway 59 and FM 242. But that's not all. The park is just one component of a larger entertainment district envisioned for the area.

The full district, called the Grand Texas Sports and Entertainment District, will span 640 acres and will be comprised of these seven themed areas:  
Grand Texas Theme Park
Big Rivers Water Park
Ballpark of Montgomery County will play host to both professional- and independent-league baseball teams
DownTown Texas will be 450,000-square-feet dedicated to shopping and dining
Montgomery County Event Center will serve as 200,000-square-feet of multi-use space and will also host a professional hockey team
Grand Texas Sportsplex will offer 90 acres for baseball and softball fields
Hospitality Village will house visitors in two planned hotels and an RV resort
The 150-acre Grand Texas Theme Park, coined an "educational theme park", will have all the trimmings of a traditional amusement park fitted with rollercoasters and other rides, but with a focus on Texas history and culture.

Big Rivers Water Park i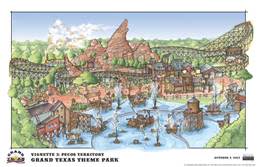 s a 40-acre site envisioned to incorporate the area's natural surroundings with water slides and lazy rivers. Other nature-themed activities like a wakeboard lake, equestrian trails, petting zoos, and zip lines - are planned throughout the entertainment district.

To help ensure its success, industry heavy-hitters including former AstroWorld general manager Chuck Hendrix and one-time Six Flags Magic Mountain director Bob Logan, have been brought on board oversee all design and theme concepts.

By 2020, officials anticipate 4.5 million annual visitors to the theme park district, which will bring roughly 2,000 new jobs to the area. As many as 1,600 construction workers are expected to be used during the building process, which begins in January.

More details continue to unfold, but for now it seems Texas will soon have a new worthy successor to the once loved Six Flags AstroWorld.