Two new parks are open for fun starting today, Thursday August 14, at the 10-acre Greenspoint Spring Recreation Area on Kuykendahl and Rankin roads. On one side is Dylan Park, named in honor of a local child and designed specifically for special-needs children, and on the other is the largest free skateboard park in the nation, according to the organizations website.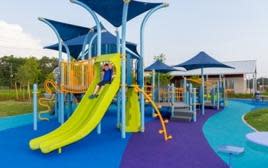 Throughout the entire 10-acre campus visitors will enjoy public art by Dixie Friend Gay and Andrew Carson.

Dylan Park is completely wheelchair accessible and offers features for visitors of all abilities. The special-needs park has areas designed to engage children who are sight-impaired, hearing-impaired, autistic or wheelchair-bound. The fenced- in park will include open grassy areas for unstructured play, plus walking trails and a community center.

On the other side of the complex is the 72,000-square-foot skate park including a competition-scale Texas bowl featuring a full pipe, a 12-foot vertical ramp, a 10-foot bowl, banked
walls and speed hips. In addition, there is a section designed to emulate the street-skating experience and will have ledges, rails, benches, banks, quarter pipes and stair obstacles. With this latest addition, Houston is now host to two world-class skate facilities, the Spring skate park and downtown's Lee and Joe Jamail Skate Park.

The entire facility's $5.5 million price tag will also provide walking trails and a community center. The Greenspoint District and The Greenspoint Redevelopment Authority are also working together, with other public and private sources, to create a system of trails connecting the area's parks to Greens Bayou.