Bistro Menil will soon be a welcomed addition at the Menil Collection, where visitors will be able to feast on both fine art and a tasty meal.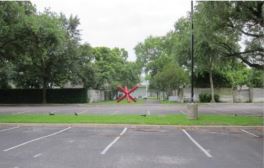 Current location prior to Bistro Cafe and landscaping.
An eager audience gathered Wednesday to hear the winner of the Menil Collection's "name game", a challenge to Houstonians to help the museum name the new restaurant scheduled to open around Labor Day 2014.

Over 450 entries were submitted from across Houston, taking inspiration from Menil founders John and Dominique de Menil, names of artists in the collection, the green and gray palette of the campus around the museum and even the neighborhood oasis surrounding it.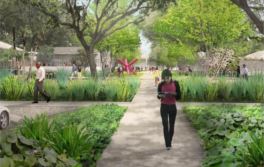 Rendering of site plans for Cafe Bistro and surrounding area.

It was only fitting, however, that Bistro Menil was the victor, not only for its nod to the French origins of the founders, but that the individual behind the idea, Americo Nonini, once lived in an apartment on the block now occupied by the museum.

Chef Greg Martin, best known for his work at Café Annie, Taco Milagro and Café Express, will act as head chef at Bistro Menil once it opens. In the meantime, while Chef Martin is whipping up the menu in preparation for the Bistro, there is still plenty of reason to head over to the Menil for a visit.

The Menil Collection opened to the public in June 1987 as the primary repository of John and Dominique de Menil's private collection. One of the most significant of the twentieth century, the collection consists of nearly 15,000 works dating from the Paleolithic era to the present day.

The campus is also home to The Menil Bookstore where museum-goers can spend the afternoon enjoying a book on the patio. The shop is open during museum hours-Wednesday through Thursday, 11 a.m. to 7 p.m.