Rice University's Shepherd School of Music will soon have a new opera facility. Following a 10-month search, Rice University officials selected New York-based Diller Scofidio + Renfro (DS+R) as architect of the school's new opera theater. In addition, Fisher Dachs Associates will lead the theater design, and Threshold Acoustics will provide acoustical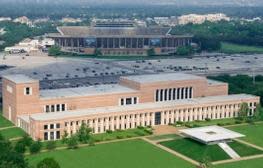 The facility will be located just west of and facing Alice Pratt Brown Hall.

direction for the project.

The state-of-the-art proscenium-style opera theatre will include not only a performance hall but also additional music space such as faculty studios, rehearsal and practice rooms. The opera theatre is scheduled to open in 2018.

"The theater itself will be designed specifically for the training of young voices with careful attention paid to the acoustics and educational function; however, we envision the space accommodating chamber music and special campus lectures and presentations as well," Yekovich said in a statement. "The additional building spaces will be utilized not only by Shepherd School faculty and students, but will be designed as points of intersection for the entire Rice community through formal and informal social gatherings."
DS+R is known for their integration of architecture, the visual arts and the performing arts. Their portfolio includes renovations of New York's Juilliard School, Lincoln Center and the forthcoming expansion of the Museum of Modern Art. The project's lead architect, Charles Renfro, is a Rice alumnus.

Theater design will be led by Joshua Dachs of Fisher Dachs Associates. The firm has assisted on projects such as Lincoln Center's Avery Fisher Hall and Alice Tully Hall, Radio City Music Hall, and venues such as Houston's Hobby Center for the Performing Arts.

The new building will be located just west of Alice Pratt Brown Hall. The predesign phase is scheduled to launch in mid-April.