Where can you see battle reenactments, story telling, chuck wagons, indigenous Texas animals, traditional and modern Texas music, and even military camels? Right here in Houston! On Saturday, April 18, check out the free San Jacinto Day Festival in La Porte, right at the foot of the San Jacinto Monument.
Just 25 miles southeast of downtown Houston, the world's tallest memorial column sits commemorating one of the most important battles in United States history. The Battle of San Jacinto resulted in the freedom of Texas from Mexico and the acquisition by the United States of the states of Texas, New Mexico, Arizona, Nevada, California, Utah and parts of Colorado, Wyoming, Kansas and Oklahoma.
"I think there is no quicker, easier, more fun way to find out about Texas history than to come out to this festival and reenactment. If you want to a family friendly, safe, educational environment, this is it," says Larry Spasic, president of the San Jacinto Museum of History.
Hundreds of actors dressed in pioneer clothing and brandishing weaponry from 1836 will participate in a live reenactment at 3 p.m. of the legendary battle. The reenactors will dramatically interpret the Runaway Scrape, the cannon duel and the final charge between the two forces. Afterwards, the reenactors will be scattered throughout the festival in character to share their knowledge of the Texas War of Independence and frontier life.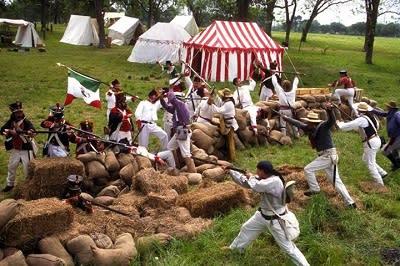 The festival also includes live music and dancing, 15+ food vendors, make-and-take activities and crafts for children, a children's train, a petting zoo, mechanical bull rides, weavers, spinners, blacksmiths and other demonstrators; and dozens of unique hand-crafted items for sale. There will even be camel rides - hearkening back to the 1850s when Texas was used as a ground for an experimental Camel Corps. by the US Army.
When asked what he looks forward to most, Spasic says, "It used to be square dancing but I've since been banned due to my lack of skill! But really, I just enjoy seeing young people so excited about an educational event they do not realize they're learning from, they're just enjoying it. And I love seeing parents just as excited as their children!"
Check it out this weekend for free at 1 Monument Circle, La Porte, TX. The festival is open from 10 a.m. - 6 p.m. For more information about Texas history in Houston check out our summary 
here
.
Photos courtesy of the San Jacinto Museum.