School is out for summer, which means the "Oh shoot... what am I going to do with my kids for three whole months?" panic has arrived. And with research showing that kids suffer from learning loss when disengaged from educational opportunities, more pressure is on parents than ever to provide fun and educational experiences even after the final school bell rings.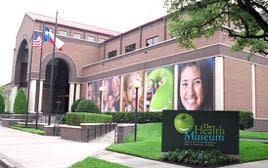 The Health Museum, Houston

Rather than leave your busy readers wondering if their kids' brains will turn to mush, why not offer some entertaining (and educational) last-minute itinerary options? Here are some classic examples to spark readers' creativity, as well as some options within a sunny and kid-friendly city, Houston.

Children's museums. Being that there are so many scattered throughout the country, this is a classic way to keep kids' attention while they learn and grow in an interactive environment.

Historic adventures. If it's a hot summer day, a history museum isn't a bad place to be.
But to exercise kids' minds and bodies, try a walking tour of Houston landmarks, Space Center and various other culture-rich spots downtown. Make it a day trip by hitting multiple spots.
Get hands on at the George Ranch Historical Park during their Hands-On History Hour this summer. Here kids can travel back in time and get a century's worth of hands-on skills living and surviving off the land.

Food appreciation. When kids are in the kitchen, they're not only gaining an appreciation for the process, but they're using math and learning the importance of eating healthily.
Take the kids to see how the pros get to work - and how it pays off. Houston hosts several culinary tours throughout the summer, including chef-led tours so kids can see how the chefs eat.
Learn healthy habits at The Health Museum by enrolling your kids in Lil' Chef's Academy.

Citypass. Save 50% off admission to Houston's 5 must-see attractions with Houston CityPASS. You'll skip most ticket lines, too. CityPASS ticket booklets are valid for nine days beginning with the first day of use. Cost: Adult $51 (value $101.10); Child (3-11) $41 (value $73.70). The CityPASS pocket-sized booklets include admission to all of the major Houston attractions.

Each of these summer itinerary ideas are not only fun and educational, they're easy enough to pull off with little planning or preparation.