Houston's 2015/16 performing arts season has something for everyone-Tony Award winners, seasonal favorites and timeless classics. We've scoured the lineup and pulled together our list of not-to-miss shows this season. See you at intermission!

The Houston Ballet presents Manon, a modern classic about the romantic adventures of an  irresistibly beautiful femme fatale and her one true love, the impoverished student Des Grieux. Choreographer Sir Kenneth MacMillan has created a brilliant dance drama that explores the relationship between love, sex and the corrupting power of money. Sept. 10-20, 2015.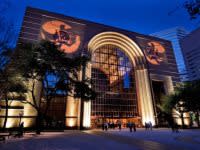 Wortham Theater
Celebrate Jean Sibelius' 150th birthday year with two-time Grammy Award®-winning violinist Hilary Hahn as she plays the Finnish composer's passionate violin concerto with Andrés and the Houston Symphony. Be entranced from the icy opening to the searing Adagio and the virtuoso finale with its foot-stomping "polonaise for polar bears." Sept. 25-27, 2015.

Join Da Camera for a festive all-star opening night featuring legendary soprano and five-time Grammy Award winner Dawn Upshaw, noted pianist Gilbert Kalish, So Percussion and special guests. Snapshots: Time and Place takes off with a compelling look at the American landscape as experienced through music. Guests will experience Aaron Copland's landmark composition, Appalachian Spring, select songs by composer Charles Ives and George Crumb's Winds of Destiny. Sept. 26, 2015.

At the height of the Great Depression, Bonnie Parker and Clyde Barrow went from two small-town nobodies in West Texas to America's most renowned folk heroes and the Texas law enforcement's worst nightmares. This season, TUTS Underground takes on the fearless, shameless and alluring Tony-nominated musical about an electrifying story of love, adventure and crime. Oct. 1-4, 2015.

Winner of 50 international awards, including four Tony Awards®, Matilda The Musical is the story of an extraordinary girl who, armed with a vivid imagination and a sharp mind, dares to take a stand and change her own destiny. Presented by TUTS, the beloved novel by Roald Dahl continues to thrill sold-out audiences of all ages on Broadway and soon in Houston's Hobby Center for the Performing Arts. Oct. 6-18, 2015.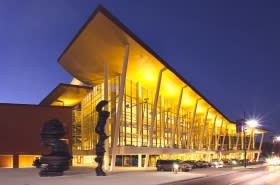 Hobby Center
Pippin is Broadway's high-flying, death-defying hit musical. Full of extraordinary acrobatics, wondrous magical feats and soaring songs from the composer of Wicked, Pippin will lift you up and leave you smiling. This unforgettable new production, offered through Broadway Across America at The Hobby Center, is the winner of four 2013 Tony Awards® including Best Musical Revival. Oct. 20-25, 2015.
Catch the regional premiere at Stages Repertory Theatre of The Elaborate Entrance of Chad Deity is a body-slamming theatrical spectacular! In this satire, young Latino wrestler Macedonio "Mace" Guerra is content to be the fall-guy for "THE" Wrestling, taking beating after beating from charismatic all-star Chad Deity-until Mace discovers an Indian-American street hustler whose appeal might outshine even the mighty Chad's. Brash, edgy and vibrantly entertaining, Chad Deity takes corporate entertainment and geopolitics to the mat. Oct. 14 - Nov. 08, 2015.

The Houston Grand Opera presents Tosca, a story of deceit set in Rome during one of history's most turbulent times. Truth is nowhere to be found and even love is tainted by suspicion for the tragic heroine Floria Tosca. Intrigue, cruelty and betrayal swirl about a doomed diva in a riveting drama sung to one of Puccini's most beautiful scores. Oct. 23 - Nov 13, 2015.

Elizabeth Streb, the Evel Knievel of Dance and the STREB Extreme Action Company, form a motley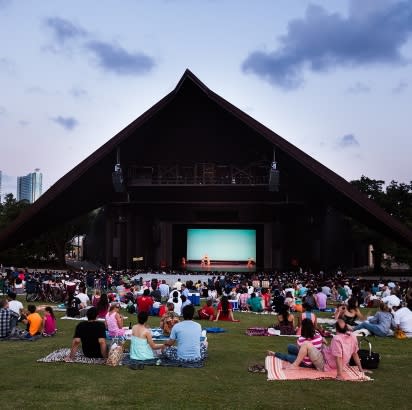 Miller Outdoor
troupe of flyers and crashers. Performing at Miller Outdoor Theatre, Streb Forces challenge the assumptions of art, aging, injury, gender and human possibility as they incorporate dance, boxing, rodeo, circus acts and Hollywood stunt-work to create a bristling, daring muscle and motion experience. Oct. 30-31, 2015.

An out-of-this-world true story about love and discovery hits the stage with Silent Sky at Main Street Theater. Meet Henrietta Swan Leavitt and the real women "computers" working at Harvard Observatory at the dawn of modern astronomy. In this exquisite blend of science, history, family ties, and fragile love, a passionate young woman must map her own passage through a society unaccustomed to strong women in a man's world. Nov. 7 - 29, 2015.

Ina Garten shares her natural approach to food; entertaining tips, stories and maybe even some recipes in a special Society for the Performing Arts Q&A at Jones Hall. The Emmy Award-winning host of the Barefoot Contessa television show on Food Network and a New York Times bestselling author will be joined on stage with a local moderator. Nov. 4, 2015.

Alley Theatre company artist Todd Waite reprises his role as "Crumpet the Elf" in the outlandish, and true, chronicles of David Sedaris' experience as a worker in Macy's SantaLand display. This compact, one-character comedy is a hilarious cult classic, featuring comic encounters during the height of the holiday crunch. Dec. 4-31, 2015.

For more upcoming performances and ticket information, log on to VisitHouston.com.