It's a summer-time grilling favorite and a meal that will satisfy a crowd. As if you needed a day to make it official, May 28th is National Burger Day. While there are many places all around Houston to grab a great burger there are also great options for those who prefer the less meaty version of the popular sandwich meal.
Despite slinging delicious, often indulgent burgers, fries and milkshakes, Bernie's Burger Bus also makes it easy to eat well on the lighter side. One option available at all three Bernie's locations: The Falafel burger. The house-made falafel patty can be swapped out for any of the burgers on the menu. The "Cheerleader" option includes crispy jalapeños, slow roasted garlic tomatoes, shredded lettuce, and jalapeño ranch.
Balls Out Burger recently added a vegetarian burger patty as an option for customers. You can sub out any of the burgers with the tasty patty, made with ground and seasoned black beans. Take your pick on a side of fries that include shoestring, hand-cut and sweet potato. Balls Out Burger also has a food truck, so keep your eyes peeled for delicious food on the go!
Barnaby's Cafe has several options when it comes to veggie burgers. The Boca Burger is a soy patty topped with monterey jack and cheddar cheese and served with lettuce, tomato, onion, pickle and a side of 1000 Island dressing for dipping. You can also try the Chipotle Black Bean Burger - a black bean patty topped with jalepeno jack cheese and avocado slices served with chaloula mayo, lettuce, tomato and onion. There are now eight Barnaby's Cafe locations around town.
Buffburger allows guests to enjoy gourmet food in a fast casual setting. For a veggie option, they serve a Fritter Burger made "Street Corn" style and served with chunky guacamole, pickled red onion, lettuce and tomato. Delicious sides include parmesan truffle fries or steamed edamame.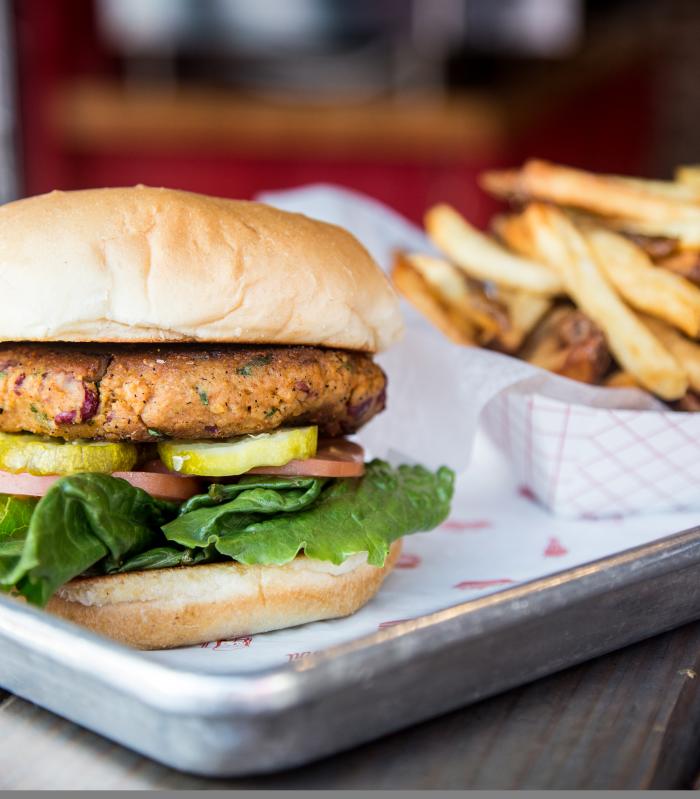 The Burger Joint has a savory homemade veggie burger made with chickpeas, red beans, mushrooms, and Japanese curry. They've got fresh fried onion rings or fresh cut french fries as tasty side options. Check out the spacious patio at the Montrose location or check for the latest location of the Burger Joint Food Truck.
Elevation Burger believes you can satisfy your appetite and your conscience. They focus on using the highest quality ingredients and only grass fed, free range beef. They serve a veggie burger and even have a vegan option! The patty is packed with whole grains and veggies and seasoned with organic spices. It's one of the largest sized veggie options we have come across, so make sure you have an appetite.
Local Foods is known for using fresh, local foods and making something creative and unique. The veggie burger option is no exception. The Quinoa Burger features a smoked quinoa-bean patty with avocado, tomato, house pickles, red onions and secret sauce served on a pretzel bun. It's available at the Rice Village and Upper Kirby locations.
One of True Food Kitchen's most popular dishes is the signature Inside Out Quinoa Burger. Considered a "complete protein" for its essential amino acids, quinoa has been shaped into two patties to replace the traditional burger bun. With hints of cumin, mint and lemon, the quinoa bun is then smeared with hummus and tzatziki. Stacked inside you'll find tomato, cucumber, red onion, avocado and feta for a guilt-free, gluten free vegetarian sandwich (might we suggest eating with a fork and knife?).
Rodeo Goat in East Houston has 20+ burgers on the menu, including several veggie options. The Neil Young Burger is a homemade veggie patty, hydroponic sprouts, beefsteak tomato, avocado and green goddess dressing. Another veggie option is the Billy Gibbons - a patty made with brown and red quinoa, barley, radish and mushrooms with hydroponic sprouts and spinach mayo. (Either of these patty options can be substituted out with any other burgers on the list.)