One of the best times to be in Houston is during the Houston Livestock Show and Rodeo! Besides the exhibits, games, rides and concerts, the starring attraction is undoubtedly the food. With more than 70 food vendors on site, there is no shortage of selections for pretty much any palate. The Rodeo is a great opportunity to break out of your normal routine and let your taste buds take a ride on the wild side.
EXTREME FRUITY GOODNESS
If you just want to feel like you're eating healthy while taking in the rodeo sights, head over to Fruiteria Cano. This Mexican frutería's mainstay is fresh fruit in a cup, saturated with chili and lemon. Can't be that many calories, right? You'll also have your choice of a few signature items, which include the shaved ice treat Diablitos (which means "little devil" in Spanish), Magonada, a Mexican fruit drink and non-alcoholic Pina Coladas.
WHO WANTS PIE?
Nothing is more American than apple pie … unless you deep fry it. Minneapple Pie takes the traditional dessert to a whole new level. Whether it's apple, pumpkin or chocolate flavored, everything is made from scratched and served with a side of vanilla or cinnamon ice cream. Just forget your diet altogether.
WE SEE FOOD
Mouth-watering catfish friend to a golden crisp is just one of the items on the menu at Sudie's Catfish House. The family-owned vendor has been a staple at the rodeo for 15 years, and crowd favorites include the boiled shrimp, crab legs, potatoes and corn on the cob and hush puppies.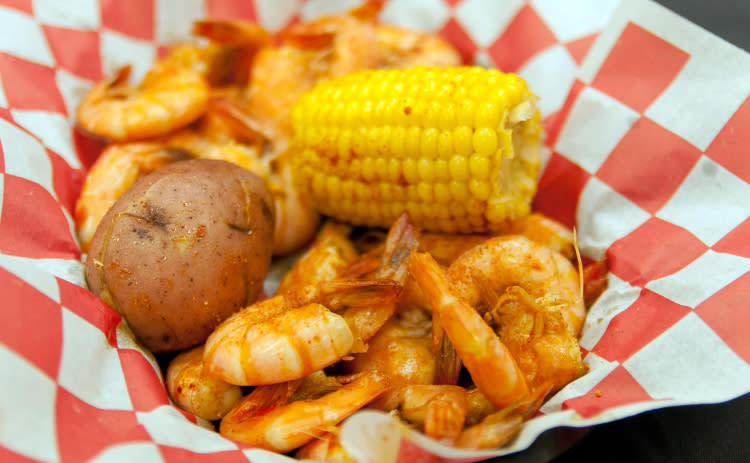 GOURMET FRIES
You've never had French fries like this before. #GetFried is bringing its specialty potatoes all the way from Buffalo, New York, to the rodeo. The eatery is known for its delicious fry baskets with your choice of toppings including mushrooms, peppers, steak, chili, cheese and bacon. And of course, if you have a sweet tooth, you can order sweet potato fries drizzled with maple syrup, powdered sugar and cinnamon. This is the perfect finger food to satisfy your appetite while taking in the sights.
OLD TIME SALOON
The only newcomer food vendor at the rodeo this year is the Float Saloon. You'll take a walk back in time with traditional ice cream floats and drinks at this food stand. And you won't be able to miss this stand – it's shaped like a vintage Coca-Cola can.
C IS FOR COOKIE
Who can resist a PAIL of delicious cookies? We can't! Totally Baked Cookie Joint is back with their bucket of ooey, gooey chocolate chip, oatmeal raisin, peanut butter and macadamia nut cookies. As if that's not enticing enough, they also offer giant ice cream sandwiches and dippers cups with cold mike, coffee or Frappuccino on the side.
GET YOUR FRY ON
No trip to the Rodeo is complete without a stop at Fried What! Even if you don't try any of the treats there, it's always fun to see what crazy fried concoction they've come up with this year. Some of the classics include fried Twinkies, fried ice cream, fried pickles, fried pumpkin pie, and just about any fried fruit or vegetable you can think of. New for this year are the fried strawberry shortcake, fried ice cream and fried brownie.
See the full list of rodeo dining vendors here.