Beach Day Trips from Houston
Looking to escape the hustle and bustle for a day at the beach? Visitors looking to party, surf, observe wildlife or to just kick back and relax will find the perfect beach for them in Houston's surrounding areas. Read on to discover the best places to enjoy some fun in the sun.
Miles of sandy beaches with interesting seashells and marine life make Brazosport a perfect retreat for recreational sports, sun worshipers and nature lovers alike. 
In Surfside Beach, visitors will find plenty of beach house rentals, fishing charters, restaurants and souvenir shops, as well as surfboard, jet-ski and kayak rentals. Surfers will find some of the best surfing conditions on the Texas coast thanks to Surfside Beach's moderate climate and gulf waves. Since the waves are generally small to moderate, they are perfect for novice or less experienced surfers. (Bonus: you can rent surfboards, jet-skis, kayaks or arrange horseback riding!) A beach permit is required to drive or park on the beach, but there are pedestrian only parts of the beach available. 
At Quintana Beach County Park, visitors will find day-use and overnight facilities, as well as a pedestrian beach, a lighted fishing pier, restrooms and showers, playground, volleyball court, horseshoe pits, and more. To read more about the beaches in Brazosport, click here.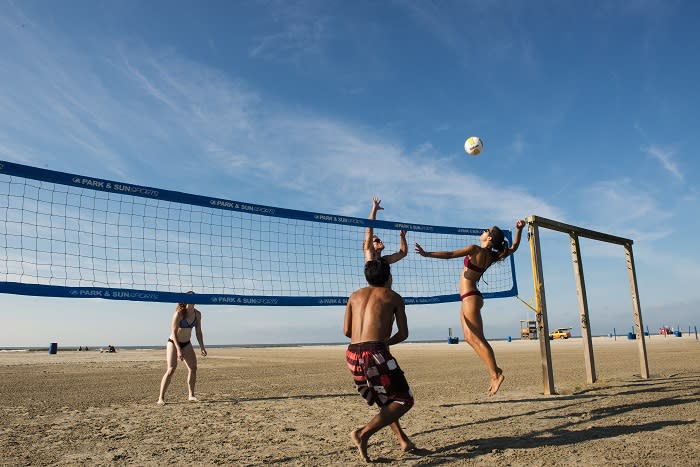 Named one of the "10 Best Beaches for Families" by Family Vacation Critic in 2013, Stewart Beach is Galveston's premier family beach park. Located where historic Broadway Avenue meets the Seawall, Stewart Beach offers plenty of amenities, including regular supervision of highly trained lifeguards. The park is home to a pavilion, concessions, restrooms, showers, chair and umbrella rentals, beach volleyball courts, children's playground and more.  
If you're looking to party, East Beach is your ultimate destination. Located at the far eastern tip of the island, East Beach is famous for its great festivals and live concerts during the summer months. The beach park is home to a pavilion, boardwalk, and entertainment stage, as well as restrooms, showers, chairs and umbrella rentals, concessions and other amenities. Unlike at most of Galveston's beaches, alcohol is permitted at East Beach.
The center of Galveston's beach activity takes place along the island's famous Seawall Boulevard. This 10-mile stretch offers plenty of beach and is famous for being the nation's longest continuous sidewalk. You can find locals and visitors alike running, biking or people watching at the beachfront restaurants, resorts and attractions along the seawall. Check out other summer activities in Galveston here. 
Gulf meets marsh at Sea Rim State Park, a scenic span offering 5 miles of natural beach. The West Dune boardwalk gives visitors a high view of the Gulf of Mexico and the birds that flock to the shore. 
Stroll along the Gambusia Nature Trail boardwalk for sightings of crabs and fish nestled in water, surrounded by the rustling cane that protects wildlife. Make sure to not tease the gators that also call the Sea Rim home. 
The park offers 4,000 acres of marshlands and three levels of paddling trails. Explore with your kayak or rent one. Book ahead for the popular marsh unit cabin that sleeps up to 6 on the new overnight floating raft. Read more about the parks here.