Family Experiences
There are some family experiences you can have anywhere, but we're not here to entice you with those. Around Houston your family can pet a penguin, go on a treasure hunt and meet a real-life Willie Wonka without having to drive more than an hour or two. If you're looking for activities that are anything but average, you've come to the right place!
Explore
Play explorers for a day by participating in Baytown's GeoTour. Baytown is home to one of only four GeoTours in the state of Texas. Through the "Family, History, Nature Together GeoTour" visitors get the chance to hunt for hidden containers at 31 of Baytown's landmarks, piece together a puzzle through codes on the containers, and earn swag at the end of the journey. While on this expedition through Baytown, families will visit the Eddie V. Gray Wetlands Center to see live baby gators, Pirate's Bay Waterpark, Royal Purple Raceway, the Baytown Nature Center and more.
Don't forget to stop by the tourism kiosk in the Baytown Buc-ee's to pick up a passport or print a passport online here. The passport is your guide book for the journey and, when completed, your ticket to prizes like our minted Texas geocoin. The best part is that the GeoTour is free and fun for the entire family.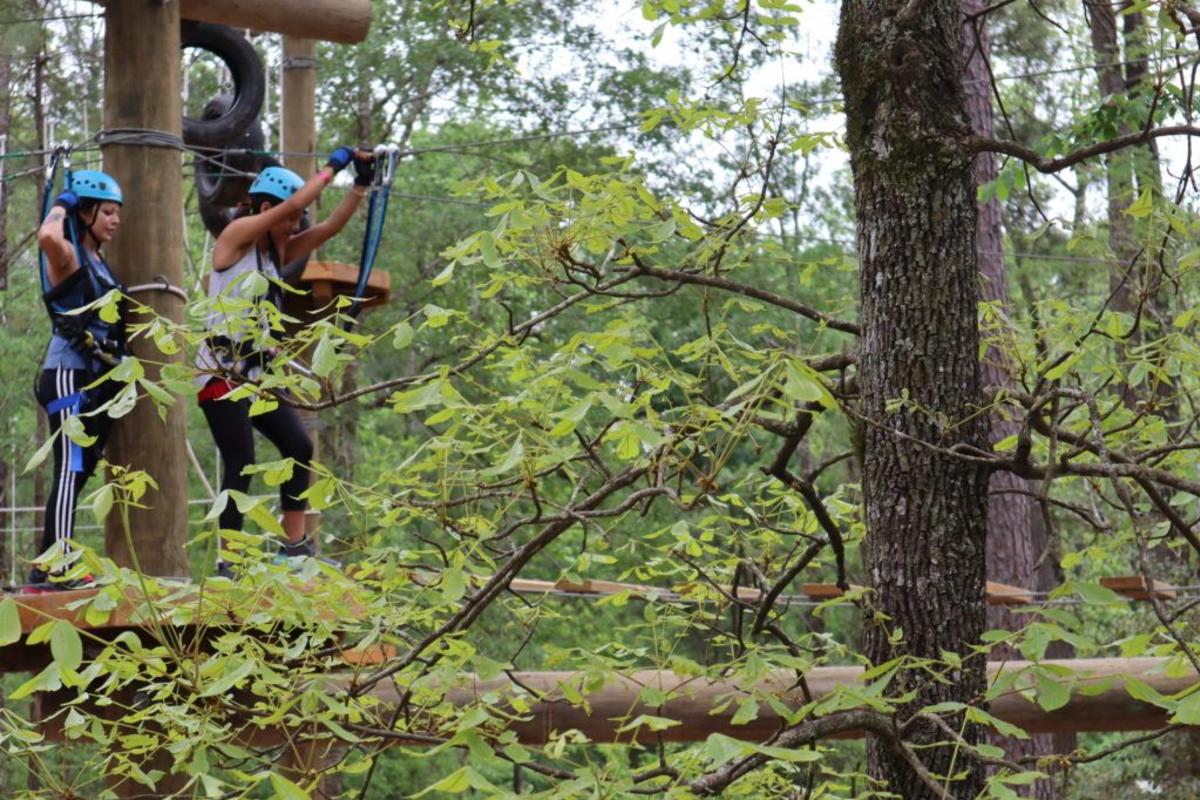 Hoping to swing from the trees with the greatest of ease? Explore nature and see views of The Woodlands area like never before. The outdoor climbing adventure park called Texas TreeVentures is a three-level aerial course features layers of challenging and thrilling elements. With over 70+ courses, entry buys you 3 hours to explore the treetops and navigate the course via harness. The minimum age for participants is 6 years old with age-appropriate obstacles throughout the site for both kids and adults. No matter if you're toting around toddlers or wrangling teenagers, there are many things to do with kids in The Woodlands that are fun for all ages—from one to one hundred. 
If you'd rather be an astronaut than an explorer, make plans now to visit Space Center Houston. Families can check out the largest collection of space artifacts in the southwestern United States or meander through more than 400 space artifacts including flown spacecraft, the largest collection of moon rocks on public display and at least three major exhibits a year.
Tame a beast
Gator Country is an alligator theme park perfect for families who love daring adventure and learning. Guests get the chance to see small baby alligators, as well as Big Tex and Big Al, who both weigh in at 1,000 pounds and almost 14 feet. Gator Country has over 500 alligators and four species of crocodiles along with caimans, alligator snapping turtles, snakes and other reptiles, which means there is always something new to see. Don't forget to take a photo with Big Beau, the 135-foot alligator welcoming you to the park. 

For most of us, watching the "March of the Penguins" movie is the closest we've ever been to a penguin, but you don't have to travel to Antarctica to go into the chilly world of these tough and resourceful birds. Moody Gardens' 45-minute Penguin Encounters allows you to get up close to penguins from the Aquarium Pyramid. The good news is you only need to travel to nearby Galveston!
A short drive from Houston, guests can get up close and personal with more than 500 different animals from 19 different countries at the Bayou Wildlife Zoo. During this 80-acre experience, visitors go on a safari-like adventure feeding everything from ostriches and deer to bison and camels. Make sure you bring cash! The zoo doesn't accept credit cards.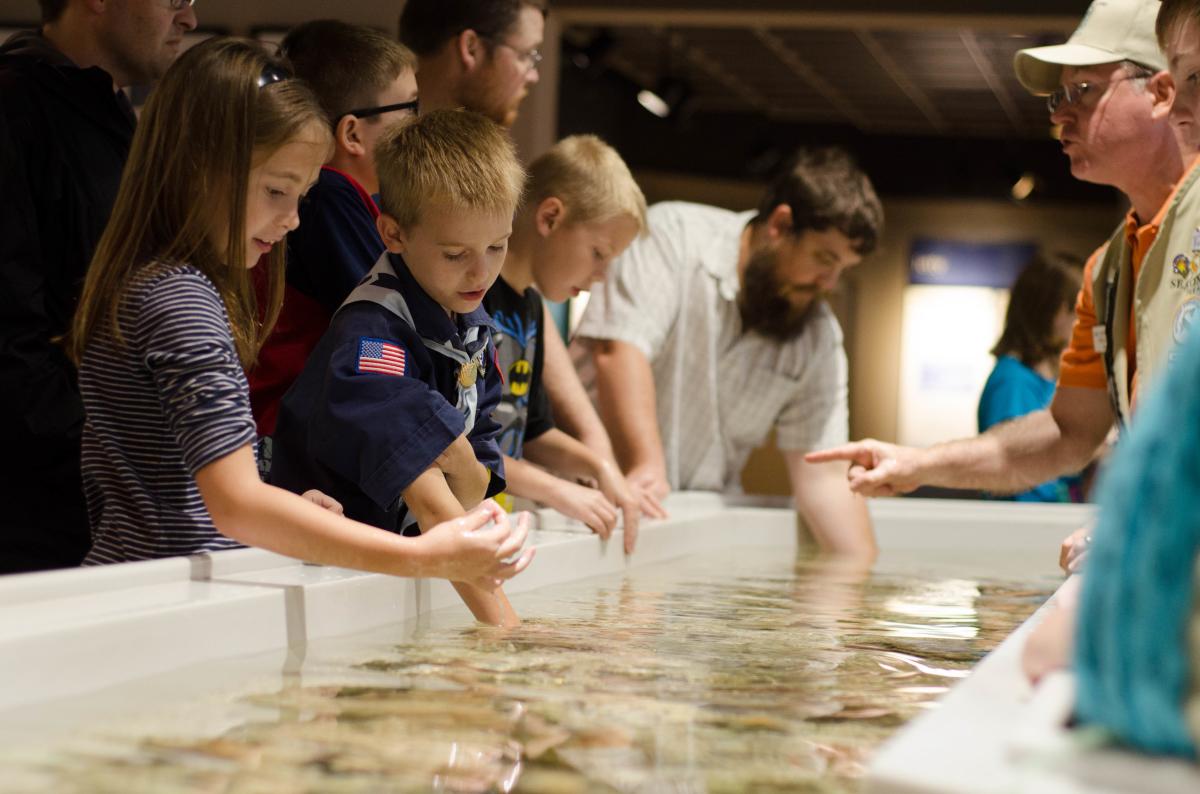 A combination aquarium and fish hatchery awaits visitors at Sea Center Texas in Lake Jackson. Besides the fact that you'll be hard pressed to find a better exhibit of Texas marine life, the free admission can't be beat. Stroll lazily in the vast aquariums that include the Gulf of Mexico, Salt Marsh, Coastal Bay, Jetty and Artificial Reefs or visit the 20-foot touch pool and handle marine animals such as blue crabs, hermit crabs, urchins and anemones.
Play Around

Baseball games are long, which is why kids can sometimes get bored somewhere around the seventh inning stretch. Sugar Land's Constellation Field had this in mind when it built the Children's Memorial Hermann Play Land. Kids can cool off during the game with a variety of jungle equipment and slides, a carousel and splash pad. Parents have the added benefit of getting to watch Sugar Land's minor-league baseball team, the Skeeters, fight their way to the next Atlantic League Championship game while their kids play.
Walk along the seawall in Galveston Island where laughter fills the air near the Pleasure Pier courtesy of 100-foot vertical drops at 52 miles per hour on the Pier's Iron Shark. Other thrill-seeking offerings include a log-flume ride, the high-spinning 'Revolution' and the Texas Flyer—the tallest swing ride in the state. This summer, tack on a trip filled with aquatic adventure at Schlitterbahn Galveston, which offers more than 32 amazing rides and attractions, including a large wave pool, uphill water coasters, thrilling speed slides, kid's water playgrounds, whitewater rapids, relaxing hot tubs, family raft rides, and the Boogie Bahn surf ride.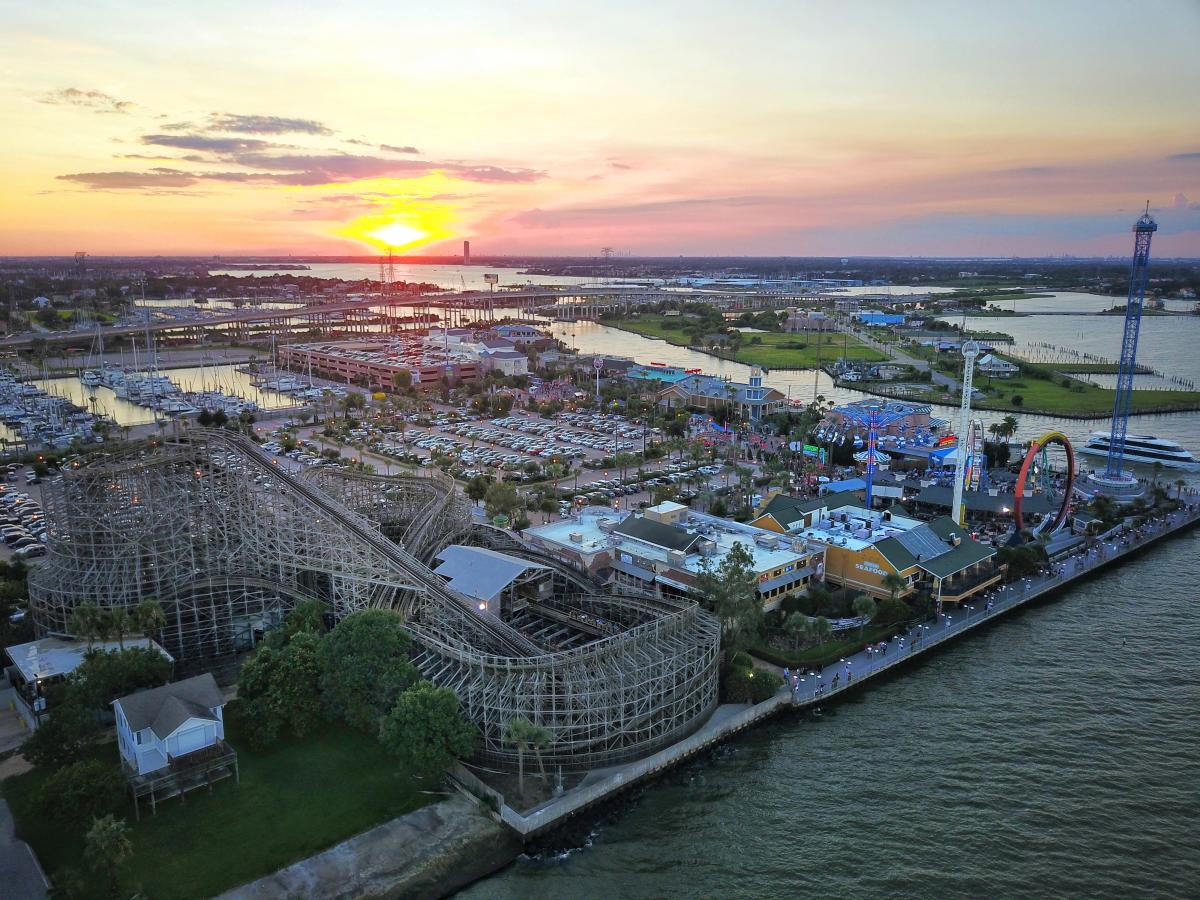 Kemah Boardwalk is a 35-acre carnival-like atmosphere in Bay Area Houston that features a 36-foot carousel, a 65-foot Ferris wheel and rides like the Aviator and the Boardwalk Tower. Don't miss the arcade and Midway games. And for thrill seekers, there's the Boardwalk Beast, an adrenaline rush of a boat ride that takes passengers four miles into Galveston Bay at speeds up to 40 mph.