Enjoy Turkey Day To Go! 
Thanksgiving is a day to reflect and give thanks. If you're stressing over turkey cook times, warming six different sides and stuck washing dishes for the remainder of the afternoon, you might want to rethink your turkey day game plan. Houston has some delicious options for to-go items that'll make any holiday relatively less stressful. Plus, there are some places that are open with prix fixe options, but we always recommend reservations for such establishments.
Houston's New York-style deli Kenny & Ziggy's offers a variety of appetizers including franks-in-a-blanket and mini potato pancakes, knishes, sides, salads and meats for Thanksgiving Day. But if you truly want to make it easy, their complete Thanksgiving meal is a good choice.
For $275, get a fully cooked 16 lb. whole turkey, 2 qtrs. of gravy, wild mushroom and chestnut stuffing, apple pie and cranberry-pineapple-nut relish, plus two sides. The meal feeds 10-12 people.
Deadline: Place your order by Nov. 21st and pick-up at the Post Oak location. The holiday complete meal is available through Jan. 2 and requires 48-hour order turnaround.
Revival Market
Get as much or as little help as you need at Revival Market. The Heights restaurant's Thanksgiving menu includes a variety of meats. Items for purchase include a good old fashioned turkey, duck, sides like roasted Brussels sprouts and stuffing, pumpkin pie and apple pie for dessert and "cooking aides," such as homemade stocks, lard and pie shells.
The menu also includes a selection of breads to accompany your dinner. Bonus, you can order wine, cider and beer for added convenience.
Deadline: Order via the website by 4 p.m. on Fri., Nov. 22.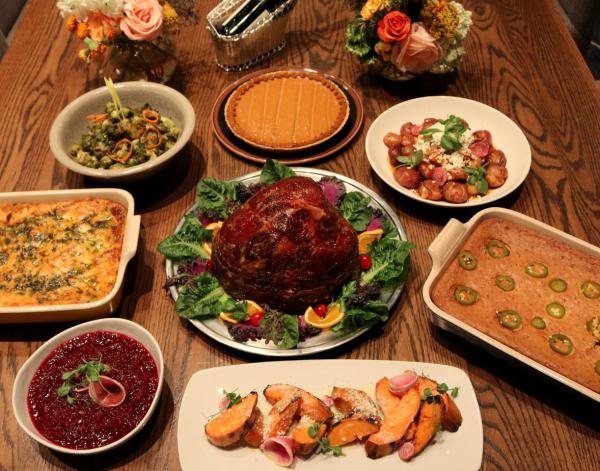 Let Caracol and acclaimed chef Hugo Ortega help take care of all the fixings for your Thanksgiving feast! Chef Hugo's versions of traditional classics are a must for every holiday occasion. The Family Feast is $224 and feeds 8-10 people. Choose from items like the whole pineapple and habanero spiral ham, coal-roasted sweet potatoes with condensed milk, charred Brussels sprouts, tres leches cake and more. There's also a Couple's Feast option that feeds two people for $95 and has a lot of the same delicious dinner choices.
Deadline: Family Feast dinners or à la carte items should be ordered by Mon., Nov. 25 for pickup on Wed., Nov. 27 between 11 a.m. and 9 p.m. The order form can be found online at www.caracol.net or call 713.622.9996.
The Goode Thanksgiving Feast at Goode Co. BBQ, isn't just good, it's great! Between a mesquite-smoked turkey, complemented by sides like potatoes au gratin with bacon, cheese and green onion and the sausage and pecan bread stuffing, topped off with the Brazos bottom pecan pie, you can't go wrong.
Don't need the full meal? The Brazos Bottom Pecan Pie and Chocolate Cream Pie do not require a pre-order and are available in the pie drive-thru at all barbeque locations. The entire feast serves 6-8 people for $195.
Deadline: Place orders before Nov. 15 for the Goode Thanksgiving Feast and pick up on Nov. 26 or 27.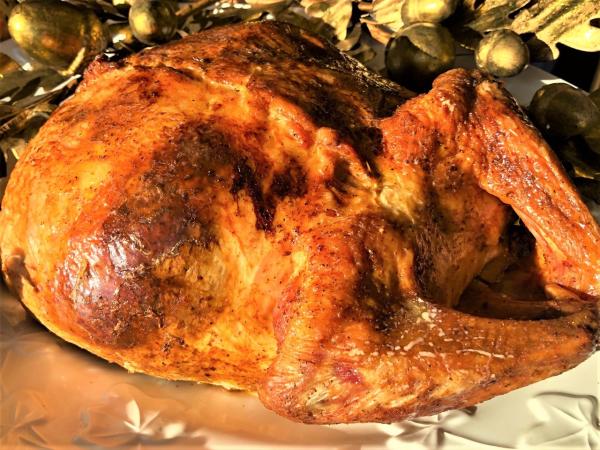 Herbert's Specialty Meats
Hebert's Specialty Meats carries a deboned stuffed turkey is a perfect holiday turkey option. The stuffed turkey comes with your choice of cornbread dressing, rice dressing, shrimp/rice dressing, or crawfish/rice dressing.
Hebert's also offers the infamous turducken, another deboned turkey that is stuffed with boneless duck and chicken. The layers of poultry are separated by cornbread dressing and pork stuffing. While you're there, check out some of Hebert's other delicacies like crawfish pies, gumbos and kabobs.
Deadline: There are two locations in Houston and one location in The Woodlands, call the location nearest to you to place an order. There are limited quantities and they ship anywhere in the U.S.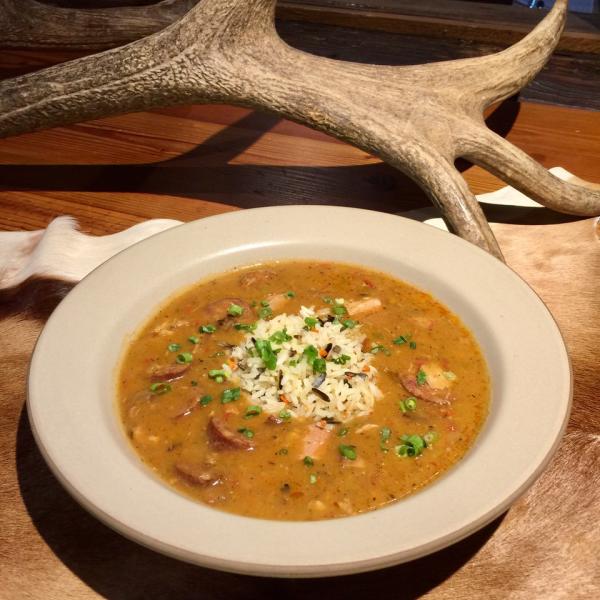 No one does bird and wild game like Rainbow Lodge. Take advantage of the restaurant's holiday to-go menu that lasts through Dec. 24. The menu offers a wide range of choices. From turkey to a whole roasted suckling pig, game birds like duck and quail, along with "lodge classics," which include the restaurant's buffalo and black bean chili, crab cakes and smoked duck gumbo.
Deadline: To order call 713.861.8666 from Nov. 15 -Dec. 24. Orders must be placed at least 48 hours in advance.
This Houston favorite, won't offer dine-in service on Thanksgiving but is offering pick up for a convenient Thanksgiving spread. Thanksgiving To-Go includes a 12-14 lb. whole roasted turkey for $75. Sides can be ordered to fit any number of people. These sides include green bean casserole, garlic mashed potatoes, honey-braised carrots, sweet potato casserole, cornbread stuffing, buttered rolls, cranberry sauce and turkey gravy.
Deadline: All orders should be sent to jonathansthanksgiving@gmail.com on or before Thurs. Nov. 15. Pickup is between 10 a.m. and 3 p.m. on Thanksgiving Day.
Need to get out of the house?
Enjoy Thanksgiving with a Louisiana twist at Brennan's of Houston. For $62 per person, the Brennan's of Houston Thanksgiving feast includes your choice of a starter, entrée and dessert. The options are seemingly endless with starters like snapping turtle soup, duck crêpe and Texas wild shrimp remoulade.
Entrees include a classic Creole roasted turkey, pork osso bucco, roasted duck and filet mignon. Bayou Rum carrot cake and Brennan's bananas foster are just a few of the desserts available. Call 713.522.9711 to reserve your spot today.
The Classic
Thanksgiving at The Classic is the perfect way to enjoy a low-key Thanksgiving day. With the restaurant's prix fixe menu, guests pay $45 for a starter, entrée and dessert. The Indian Creek mushroom bisque and warm spinach frissée salad are starters followed by the maple-glazed turkey, local catch or the herb-crusted butcher's cut.
All entrées are served with four cheese potato gratin, fall market vegetables and challah dressing. For dessert indulge in the mom's chocolate cake, caramelized apples kugel or Makers Mark pecan pie.