Quicker than Coldplay's appearance at the Super Bowl 50 Halftime Show, the sports world has shifted its focus from San Francisco to Houston, home of Super Bowl LI. The last time Space City hosted the Big Game was 12 years ago. Needless to say, a lot has changed for the fourth-largest city in the U.S.

Here's a quick peek at Houston of Super Bowls Past vs. Houston of the Future:

Population
In 2004 the Houston metro population was 5.1 million; in 2017 an estimated 6.6 million will call Houston home.
Transportation
In 2004 Houston airports served 44 million passengers; in 2015 that figure grew to 55 million and is expected to continue to expand in 2016 with new direct service. In 2004 the two passenger airports served 100 domestic and 50 international destinations; in 2015 that figure grew to 124 domestic and 74 international destinations.
In 2004 Houston had 7.5 miles of rail; in 2017 it will boast nearly 23 miles.
Hospitality and Tourism
In 2004, the Houston area had roughly 44,000 hotel rooms; by 2017 there will be more than 84,000 hotel rooms.
The Houston Zoo saw 1.4 million visitors in 2004; that grew to 2.55 million in 2016.
Space Center Houston, the visitors center for NASA Johnson Space Center, saw attendance of just over 704,000 in 2004; in 2016 that figure is expected to be close to 1 million visitors.
In 2004 about 17 million people visited the Houston Galleria (the largest shopping complex in Texas); in 2015 more than 30 million people passed through the Galleria.
In 2004, roughly 6,000 restaurants and nightlife establishments were active in the Houston area; in 2015 that number had expanded to approximately 10,000.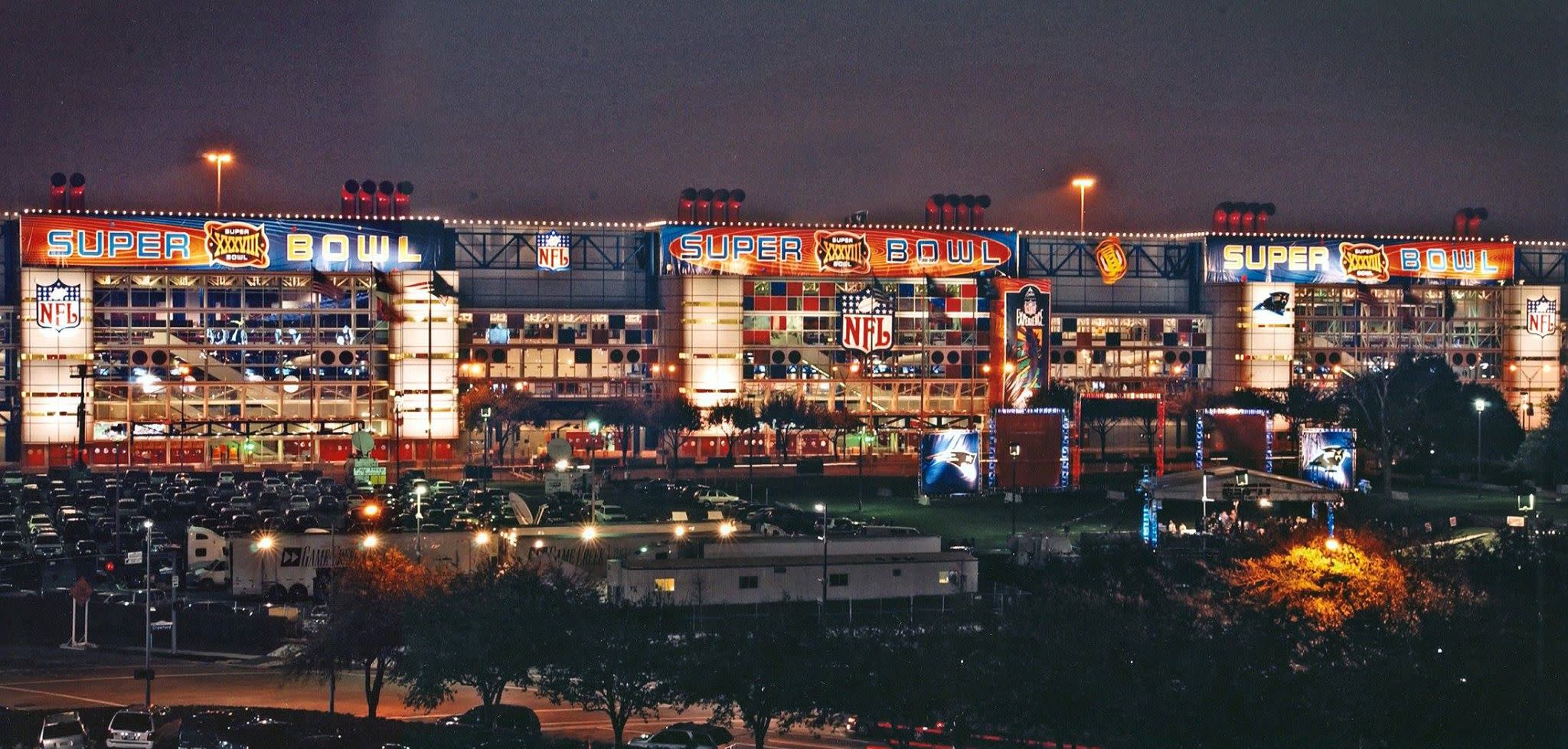 Discovery Green was still just a parking lot during the 2004 Super Bowl festivities downtown.
Parks
In 2004, Discovery Green was just a parking lot. Since it's opening in 2008, the 12-acre park has become downtown's premiere green space and entertainment destination. Discovery Green and Kinder Lake will serve as party headquarters for the Super Bowl LIVE festival leading up to the big game.
In 2004, Hermann Park, the heart of the Houston Museum District, had recently undergone a $9 million renovation. Since then more than $46 million has been spent to add major additions like McGovern Centennial Gardens, the Bill Coats Bridge, extensive landscaping, and Lake Plaza.
Houston ranks first among the nation's 10 most populous cities in total acreage of parkland - 49,643 acres of total park space.
Sports
Technology
How people share their Super Bowl experience will be dramatically different compared with 2004. Consider this: Twitter was still two years from being invented and Facebook would launch just three days after Super Bowl XXXVIII. Friendster and MySpace were at their zenith but smartphone technology allowing mobile uploading was still years away.
In 2017, sharing the Super Bowl will be easier than ever. Reliant and its parent company NRG Energy, the namesake of NRG Stadium, have installed a dozen NRG Go stations across the facilities. These stations each have 120 portable power chargers available for free on game days, so fans can grab a charger and keep using their phones to take action shots, share moments and keep connected.
Additionally, the recently renovated George R. Brown Convention Center included upgrades to the wireless technology in and around that building. The GRB is part of the new Avenida Houston that will serve as headquarters for Super Bowl Live! Officials worked with the company Crown Castle International to dramatically improve the area's connectivity through the use of small cell technology. That will allow the hundreds of thousands expected to visit the NFL Experience and Super Bowl Live! to share without a backup.
Sources: VisitHouston.com, Houston.org, U.S. Census Bureau.
And here's a look back at the Big Game in 2004 vs. What's to Come in 2017:
Pre-Game Festivities
In 2004, a then record 200,000 attended the "NFL Experience" inside the George R. Brown Convention Center. In 2017, the 10-day Super Bowl LIVE festival will spread over 35 blocks of downtown and is expected to attract over 1 million fans with free concerts by some of the biggest names in music, local culinary experiences, NFL fan games, and much more.
Halftime Show
The infamous 2004 act introduced to the world two words that have become an unforgettable part of pop culture (and the dictionary): "wardrobe malfunction." Will the 2017 act make as big a mark on history? It's all up to Lady Gaga who has been confirmed as this year's halftime entertainer.
Main Event
In 2004, the New England Patriots defeated the Carolina Panthers 32-29 at Reliant Stadium. According to sports analysts, we could see this exact same matchup in the newly renamed NRG Stadium in 2017. Will Cam & Crew have a major chance at redemption? Only time will tell…
Interested in covering Houston in preparation for the Super Bowl? Check out this helpful link with story ideas, guides, photo and video galleries and more.