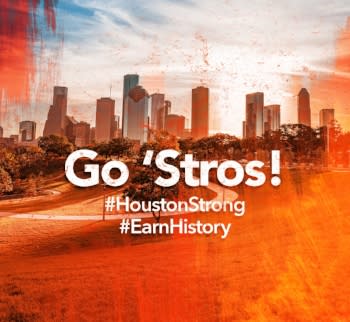 The last time the Astros made the World Series was 12 years ago. Needless to say, a lot has changed for the fourth-largest city in the U.S.
Here's a quick peek at Houston's Past vs. Houston of the Future:
Population
In 2005 the Houston metro population was 5.2 million; in 2017 an estimated 6.6 million will call Houston home.
Transportation
In 2005 Houston airports served 44 million passengers; in 2015 that figure grew to 55 million and is expected to continue to expand in 2016 with new direct service. In 2005 the two passenger airports served 100 domestic and 50 international destinations; in 2015 that figure grew to 124 domestic and 74 international destinations.
In 2005 Houston had 7.5 miles of rail; in 2017 it will boast nearly 23 miles.
Hospitality and Tourism
In 2005, the Houston area had roughly 44,000 hotel rooms; by 2017 there will be more than 84,000 hotel rooms.
The Houston Zoo saw 1.4 million visitors in 2005; which grew to 2.55 million in 2016.
Space Center Houston, the visitors center for NASA Johnson Space Center, saw an attendance of just over 704,000 in 2005; in 2016 that figure is expected to be close to 1 million visitors.
In 2005 about 17 million people visited the Houston Galleria (the largest shopping complex in Texas); in 2015 more than 30 million people passed through the Galleria.
In 2005, roughly 6,000 restaurants and nightlife establishments were active in the Houston area; in 2017 that number has expanded to nearly 11,000.
Discovery Green was still just a parking lot during the 2005 World Series festivities downtown.
Parks
In 2005, Discovery Green was just a parking lot. Since it's opening in 2008, the 12-acre park has become downtown's premier green space and entertainment destination. Discovery Green and Kinder Lake will serve as party headquarters for the Super Bowl LIVE festival leading up to the big game.
In 2005, Hermann Park, the heart of the Houston Museum District, had recently undergone a $9 million renovation. Since then more than $46 million has been spent to add major additions like McGovern Centennial Gardens, the Bill Coats Bridge, extensive landscaping, and Lake Plaza.
Houston ranks first among the nation's 10 most populous cities in total acreage of parkland - 49,643 acres of total park space.
Sports
In 2005, Houston was home to three major league sports teams with the Houston Astros (baseball), Houston Rockets (basketball) and Houston Texans (football); now two more teams have joined the roster, the Houston Dynamo, and Dash (soccer)
Sources: VisitHouston.com, Houston.org, U.S. Census Bureau.