The holidays season in the nation's fourth-largest city brings stunning light displays, world-renowned performances and much more. Check out all that Houston has to offer in the coming months.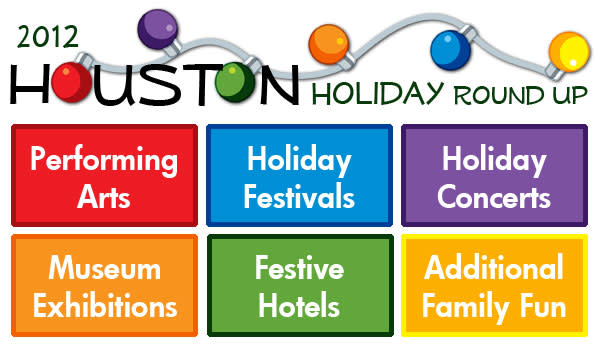 Performing Arts
A Christmas Carol - A Ghost Story of Christmas
Nov. 18-Dec. 24
A Christmas Carol - A Ghost Story of Christmas returns this year with a re-telling of Charles Dickens' classic story that follows Ebenezer Scrooge's journey with the three ghostly spirits that visit him on Christmas Eve.

The Santaland Diaries by David Sedaris
Nov. 29-Dec. 30
Company Actor Todd Waite will reprise his role as "Crumpet the Elf" in the outlandish, and true, chronicles of David Sedaris' experience as a worker in Macy's SantaLand display. The Santaland Diaries is a hilarious cult classic, featuring comic encounters during the height of the holiday crunch.

Houston Ballet's The Nutcracker
Nov. 23-Dec. 30
Set in nineteenth century Germany, the ballet opens at a charming Christmas party at which the mysterious Dr. Drosselmeyer gives his little niece Clara a magical toy that takes her on an unforgettable journey. From the Christmas tree that grows to a towering forty feet in the first act to the cooks who fly magically through the air in the second act, The Nutcracker is sure to enchant audiences of all ages.

Peter Pan
Dec. 11-23
Tony-Award nominee Cathy Rigby takes flight in an all new production of Peter Pan. Discover the magic all over again of this two-time Emmy Award winning and two-time Tony Award nominated production. Filled with tunes including "Neverland" and "I Won't Grow Up," the young and young-at-heart will relive the wonder of one of the most beloved family musicals.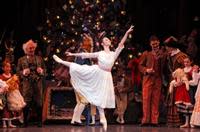 Houston Ballet's The Nutcracker

A Very Merry Pops
Dec. 14-16
Back again in 2012 is this much loved holiday tradition, this year featuring Broadway star Ashley Brown.

Handel's Messiah in Candlelight
Dec. 21-23
Every year, your symphony brings you this holiday favorite, where you'll hear your favorite arias and choruses from "For Unto Us A Child Is Born" to the majestic "Hallelujah Chorus." Enhanced lighting will create an ambiance invoking the candle-lit style of Handel's 1700s.

Shen Yun Performing Arts
Dec. 26-Jan. 1
Discover classical Chinese dance and music in a lavishly colorful and exhilarating show. Its masterful choreography ranges from grand imperial processions to legions of thunderous drums, with gorgeously costumed dancers moving in stunning synchronized patterns. A novel holiday experience.

Winter Wonderettes
Nov. 7-Dec. 30
The Wonderettes are back again for the holidays! It's 1968 and Betty Jean has organized the holiday party at Harper's Hardware. She's hired the hottest group in town to entertain--the Marvelous Wonderettes.

Holiday Festivals
Zoo Lights
The Houston Zoo transforms into a winter wonderland, filled with brilliant displays of colorful lights and festive holiday music. Sip hot chocolate as you stroll through the Zoo and take in all the awe-inspiring sights, including thousands of twinkling lights adorning the magnificent live oak trees, whimsical colorful projections over 15 feet tall, and life-size animated animal sculptures.

Nutcracker Market
Nov. 18-11
This year's market, will feature more than 300 national and international merchants carefully selected for their unique offerings selling gifts for the entire family-home décor, gourmet food, garden, clothing, novelties, accessories and more. All proceeds from the market benefit the Houston Ballet Foundation.

Festival of Lights
Nov. 10-Jan. 5
The Gulf Coast's largest holiday lighting event features a mile-long trail of more than a million lights and 100 sound-enhanced animated displays sparkling over the beautiful Galveston Bay. Photos with Santa will be available nightly throughout the festival, and it will snow in Galveston every Friday night.

7th Annual WHAM (Winter Holiday Art Market)
Nov. 16-18
This juried weekend art sale and celebration of Houston's talented and diverse artists offers a wide variety of art and specialty items made by 60 local artists of all disciplines-paintings, sculpture, photography, jewelry, clothing and more.

63rd Annual H-E-B Holiday Parade
Nov. 22
Thousands of spectators make their way Downtown for Houston's signature H-E-B Holiday Parade with fantastic floats, high-flying hot air balloons, marching bands and costumed characters.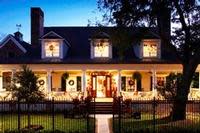 Heights Holiday Home Tour 

Annual Uptown Holiday Lighting
Nov. 22
On Thanksgiving evening, thousands of Houstonians and out-of-town guests will gather along Post Oak Boulevard for the Uptown Holiday Lighting, an event now in its 27th year. This fun-filled family event will ring-in the holidays with more than a half-million twinkling lights; festive music; holiday characters including clowns, larger than life Santa's reindeer; a special appearance from Santa and a fireworks extravaganza. The holiday ambiance created by 80 brilliantly-lit holiday trees standing guard over Post Oak Boulevard will continue into the holiday season.

Holiday Home Tour
Nov. 30-Dec. 1
Celebrate the holidays with a stroll through one of Houston's most delightful neighborhoods. Tour homes reflect the rich architectural tradition of the Houston Heights, which maintains its small-town feel while located in one of the nation's largest cities.

Mayor's Holiday Celebration
Nov. 30
Mayor Annise Parker will host her second Holiday Celebration at City Hall's Hermann Square. The annual event will include the Mayor's Official Tree Lighting Ceremony, music, a fireworks extravaganza and more. This popular event is free and open to the public.

Dickens on the Strand
Dec. 1-2
Bah, humbug! The 40th Annual Dickens on The Strand is a holiday festival, where bobbies, Beefeaters and the Queen herself will be on hand to recreate the Victorian London of Charles Dickens. Characters from Dickens novels walk the street. Food and entertainment fill the area with sights and smells that take you back to another era.

Heritage Society's 50th Annual Candlelight Tours
Dec. 7-9
Step back in time and tour eight of Houston's oldest historic homes, trimmed to perfection in traditional 19th century décor. Children may also visit with Santa, play in the snow, enjoy a holiday story reading and make crafts at Santa's Workshop.

Campfire Christmas
Dec. 14-15, 21-22
Enjoy a progressive Christmas dinner, music, hay ride, exclusive evening tours of the 1890s Davis Victorian Mansion and 1930s George Ranch Home and finish up with dessert around the campfire with the George Ranch cowboys.

Lasers Lights & Magic in the Park
Nov. 24-Dec. 31
Lasers, Lights and Magic in the Park transforms Galveston's Saengerfest Park into a holiday spectacle with music, a special appearance by Santa Claus, twinkle lights synchronized to music, and culminating with a holiday themed laser light show.
Holiday Concerts
Hip Hoppin' Nutcracker
Dec. 8
This year, celebrate the holidays with a hip to the hop! The INERTIA Dance Co. joins the Houston Symphony to add their characteristically fun and explosive dance routines to the festivities. Enjoy Duke Ellington's hoppin' Nutcracker Suite and Leroy Anderson's Sleigh Ride.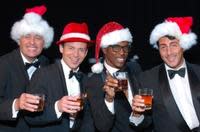 The Rat Pack celebrates the holidays

Houston Symphony Holly Jolly Spectacular
Dec. 7
For only the second time in 23 seasons, The Pavilion rings in the holidays with a heartwarming celebration that features the sounds of the season. Join in as The Pavilion is magically transformed into a Winter Wonderland! The evening's musical holiday merriment features the Houston Symphony performing holiday classics and popular carols. Bring your family to this holiday spectacular to visit with Santa, enjoy carolers and play in the snow.

The Rat Pack is Back!
Dec. 7
Celebrate the holidays with the swingin', free-wheeling sounds of Frank Sinatra, Sammy Davis, Jr., Dean Martin and Joey Bishop. The Rat Pack is Back recreates one of the famous "Summit at the Sands" nights, when the ring-a-ding group known as "The Rat Pack" was creating hipster legend with a no-holds-barred nightclub act.

The Baltimore Consort: Wassail Wassail
Dec. 11
The Baltimore Consort's performance features voices and instruments - lute, cittern, viols, crumhorns, recorders, rebec and percussion - and a mélange of carols and dance tunes from the British Isles, Germany, France, Spain, and the New World.

The Brian Setzer Orchestra: Christmas Rocks
Dec. 15
Brian Setzer's signature sound is a consistent musical institution. Enjoy he and his orchestra's holiday stylings live at the Arena Theatre.

Kingston Trio Holiday Show
Dec. 22
Transforming folk music into a hot commodity, these singers/musicians are legendary with their easy listening performances of 1960s folk and pop music. Hailing from San Francisco's North Beach, The Kingston Trio remain popular for their ageless sounds that have been entertaining audiences through these changing times.

Exhibitions/Events
Annual Interfaith Thanksgiving Service
Nov. 15
Representatives of the Baha'i, Buddhist, Christian, Hindu, Jain, Jewish, Muslim, Sikh, and Zoroastrian Faith Traditions offer personal reflections on Thanksgiving.

TXU Energy Turkey Trot
Nov. 22
Grab your running shoes before you eat up that Thanksgiving dinner. This competitive run or fun run/walk benefiting Sheltering Arms Senior Services. There will be a 10K, 5K and a Kids Run (>1 K) on Thanksgiving Day.

German Christmas Market & Festival
Dec. 7-9
Come and enjoy the family-friendly ambiance - Gemütlichkeit - of this unique music/street festival with three stages of live music and an open air market along with antique shops in the old town area.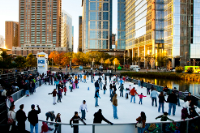 Ice at Discovery Green

Holiday Home Tour at Rienzi
Dec. 19
Get in the spirit of the season by touring Rienzi when the house museum is beautifully decorated to celebrate the holidays. Guests enjoy live seasonal music and a reception of holiday goodies. Stationed docents guide visitors through the house, highlighting the Masterson family Christmas ornaments.

Yuletide Holiday Time at Bayou Bend
Nov. 23-Jan. 6
From a celebration of the first national day of Thanksgiving in 1789 to a Twelfth-Night anniversary dinner with George and Marsha Washington to a 1950s Houston Christmas, Holiday Time at Bayou Bend will be an especially festive stroll through two hundred and fifty years of history to see how our ancestors celebrated with family and friends during the holidays.  

Additional Family Activities
Ice at Discovery Green
Nov. 22-Jan. 22
Discovery Green will be transformed into a Winter Wonderland with the Ice at Discovery Green, a 7,200-sq ft. outdoor ice skating rink constructed on a portion Kinder Lake. Park-goers will enjoy a variety of family-friendly programming throughout the holidays, including concerts, movies and more.

4th Annual Gingerbread Build-Off
Dec. 8
Sponsored by Architecture Center Houston (ArCH) and the Downtown District, teams of artistic and architecturally talented individuals will be supplied with gingerbread, icing, gumdrops, candy canes and other holiday treats to create the most innovative gingerbread houses.

Chevron Jingle Bell Run and Walk
Dec. 9
The Downtown Houston YMCA's 2012 Chevron Jingle Bell Run and Walk gives Houstonians the perfect opportunity to shed those extra holiday calories while raising funds and awareness for a valuable Houston program.

Meineke Car Care Bowl of Texas
Dec. 28
Kick off your New Year's Eve with the Meineke Car Care Bowl of Texas as the Big Ten faces off against the Big 12 in Houston's annual college bowl game.
Festive Hotels

Holidays at the Houstonian
(all season long)
Hundreds of thousands of lights sparkle throughout the property, as dozens of Christmas trees are decorated with ornaments, poinsettias, ribbon and lighted garlands. Each night from 6 to 7 p.m. in the lobby, holiday entertainment is provided by local organizations, from high school and church choirs to local pianists, bell ringers and instrumentalists. Cookies and hot chocolate are available for everyone. The pastry team creates several Gingerbread Houses to adorn the mantle in the lobby, each six feel tall and made of 325 pounds of a variety of colorful candies. A train continuously circles through the houses on the mantle.

Holidays at Hotel ZaZa
(all season long)
The lobby will have urns of either hot chocolate or hot wassail for the guests to enjoy at the hotel, or on the go. Monarch Bar will feature a holiday drink menu with famous winter delights, such as Café Diablo & the refreshing candy cane martini. Every Thursday and Friday, there will be Christmas carolers in the lobby area to spread the holiday cheer.

Holidays at the St. Regis
Warm up this holiday with Afternoon Tea at The St. Regis Houston where tea service is a time-honored tradition. Experience legendary St. Regis Butler Service and delight in a traditional menu of petits fours, tea sandwiches, scones and Devonshire cream. For the little ones, there's the Teddy Bear Tea.

Holidays at the Four Seasons
Enjoy S'More Fun each Thursday evening at the Four Seasons during the holidays, with s'more roasting and great drink specials on the pool deck. Kids will enjoy the Gingerbread Workshop each Saturday. 


Note: Some organizations have not yet finalized their holiday plans. Please check back on this page for updates.