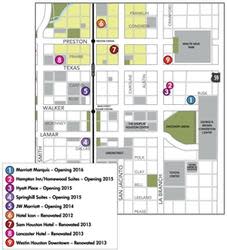 The Downtown Houston convention package continues to grow with the addition of six properties and 2,000 rooms by 2016.  These hotels, all just a few blocks from the George R. Brown Convention Center, make Houston even more competitive in the quest for major citywide conventions.

"These new properties will give Houston the opportunity to host a significant number of conventions that we couldn't before, due to lack of hotel inventory," said Greg Ortale, president and CEO of the Greater Houston Convention and Visitors Bureau. "We can now compete for any piece of business. This city has so much to offer."

Marriott Marquis: Opening Spring 2016
1,000 Rooms
Connected to the George R. Brown Convention Center

Last December, RIDA Development Corp. and Houston First announced plans for a new 1,000-room Marriott Marquis that will rise adjacent to the GRB Convention Center. The massive hotel, along with the existing Hilton Americas Houston, will bookend Discovery Green and dramatically increase Houston's ability to host major conventions. In addition to the hotel's 100,000 square feet of meeting space, it will also feature a Texas-shaped lazy river, retail shops on the ground floor and an attached 1,800-car garage.

Hampton Inn/Homewood Suites: Opening September 2015
300 rooms
2 blocks from the George R. Brown Convention Center

American Liberty Hospitality is developing a 14-story property with two brands under the same roof. The two properties will have separate identities--different exterior architectural styles, separate entrances, check-in desks and dining options.  Guests will share elevators, an outdoor pool and 6,000 square feet of meeting space. Both properties will offer a daily complimentary breakfast, and Homewood Suites will offer a light dinner.

Hyatt Place: Opening Summer 2015
261 Rooms
3 blocks from the George R. Brown Convention Center

This 11-story hotel is considered a select-service hotel, which will include free breakfast and complimentary Internet.

JW Marriott: Opening Spring 2014
323 rooms
7 blocks from the George R. Brown Convention Center

The 102-year-old Samuel F. Carter Building at 806 Main has been gutted as crews work to transform it into a 323-room JW Marriott. Pearl Hospitality is spending $80.8 million to develop the new luxury hotel at the corner of Rusk Street in the center of Downtown. The hotel will include a full-service bar, spa, health club, executive lounge, swimming pool and 10,000 square feet of meeting space. The Carter building is hailed as one of the city's architectural gems, but had fallen into disrepair in recent years. When it was first constructed, it was the tallest building in Houston.

Springhill Suites: Opening Mid-2015
166 rooms
7 blocks from the George R. Brown Convention Center

The historic Humble Oil Building complex at Main Street and Dallas, already home to a 191-room Courtyard and 171-room Residence Inn, will add a third hotel to its offerings. The property's owner, RLJ Lodging, intends to convert an existing 82-unit apartment tower into a new Springhill Suites. This complex is directly across the street from the GreenStreet entertainment complex and is right on the METRORail.

Recent Downtown Renovations

Hotel Icon: Renovated in 2012
This 135-room property, located inside the 1912 Union National Bank building, welcomed a $5 million renovation in 2012, which included an exterior restoration, interior updates and upgrades to guestrooms. Now part of Marriott International's Autograph Collection, Iconjoins an elite collection of independent hotels worldwide. Line & Lariat--a modern culinary concept inspired by the Texas coast, farms andranches-now inhabits the property's prime Main Street dining space.

Sam Houston Hotel: Renovating in 2013
Listed on the National Register of Historic Places, this 97-room hotel recently went back to its original name, the Sam Houston Hotel. The boutique property, which opened in 1924 and reopened in 2002 as the Alden after a period of closure, will complete an extensive renovation of the guest rooms, meeting spaces, restaurant and bar by the end of the summer. The hotel also features 7,000 square feet of event space, including the rooftop Veranda.

Lancaster Hotel: Renovating in 2013
Work began in April on a $10 million renovation of the historic Lancaster Houston Hotel. The family-owned Lancaster is getting an extensive redesign that will include the hotel's lobby and meeting spaces, as well as all guest rooms and suites. The project will also include upgrades to the property's technology and mechanical systems. The Lancaster opened as the Auditorium Hotel in 1926 and reopened as the Lancaster in 1983. The hotel will remain open during renovation as work proceeds one wing of the hotel at a time. Completion is targeted for mid-summer 2013.

Westin Houston Downtown: Renovating in 2013
The Inn at the Ballpark, located across the street from Minute Maid Park, is rebranding as the Westin Houston Downtown. The conversion to a Westin began earlier this year with renovations that will include updated furnishings and finishes throughout, an expansion of the fitness center and a brand new lobby and lobby bar. The renovations to the Landry's-owned property will be complete by year-end, but the hotel will officially change its name in July.

###

Lindsey Brown
Director of Marketing and PR
Greater Houston Convention and Visitors Bureau
(713) 437-5275
lbrown@visithouston.com