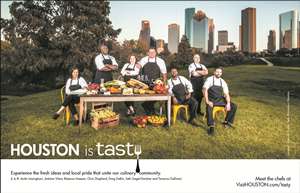 HOUSTON (Feb. 6, 2013)--How do you tell the story of a city? Five years ago, the Greater Houston Convention and Visitors Bureau (GHCVB) launched the My Houston campaign. The city's celebrity sons and daughters touted what they love about Houston, and the unscripted results ran in a highly successful print and broadcast campaign. On the anniversary of that initiative, the GHCVB sought to reimagine the campaign through the eyes of local residents who are moving the city forward in imaginative ways--chefs, artists, performers and others who make the city a dynamic place.

Each year, the GHCVB commissions a third-party organization--international research group TNS--to look at who is visiting Houston and why. What this information shows is that that people visit Houston for two things above all else:
Variety of dining options
Cultural/performing arts 
With that in mind, the team developed a plan to highlight the people pushing Houston's arts, culture and culinary industries forward, giving them a chance to tell their story and that of their city. The GHCVB worked with award-winning Houston photographer Julie Soefer and set designer Maggi Poorman to develop and execute a vision for each shoot.

The ads will be featured in the national editions of The Wall Street Journal and The New York Times and regionally in Texas Monthly, Bloomberg BusinessWeek, Forbes, Fortune and Cooking Light. The first national ads will run the week of Valentine's Day and will continue through May 2013.