Top 18 Houston Coffee Shops
Where You Bean?
 
Sure, Houston might land on the national radar for its position in the energy, medical and aerospace sectors, but the Third Coast city is also a front runner in the coffee biz, too.
It's been more than a decade since Houston was designated as a green coffee exchange port on the New York Board of Trade--one of only four in the U.S.--a designation that enables un-roasted beans to be stored and distributed in the nation's fourth-largest city.
Houston's baristas deliver enough brew to keep Houston buzzing all-year-long. Check out these not-to-miss coffee emporiums:
Situated in what was once a large, Westheimer-fronting home, Agora is a Greek-owned coffee shop and meeting place boasts a mix of European ex-pats and low-key neighborhood regulars. There are plenty of tables, chairs, couches and conversation-starting tchotchkes scattered throughout. Up the steep staircase, cozy seating areas and a large-screen TV offer a quiet respite. Expect a vast drink selection-wine and beer, too-along with light bites.

Heights hipsters flock to the shopping-center-set Antidote Coffee House for its caffeine-laden offerings and laid-back, at-home vibe. The loft-like interior-with its rubbed concrete floors, exposed brick walls and open vent-work-is filled with an array of eclectic furniture and artwork produced by local artisans. There's free wi-fi and plenty of plug-ins, but you know what they say about all work and no play-head there for happy hour Monday through Friday (4 to 7 p.m.) and enjoy $1 double espresso.
Kick back on vintage, mid-century couches and snack on house-made pastries at Black Hole, a relaxed, St. Thomas University-area coffee house. Created by the same folks behind Antidote and Montrose's Poison girl, Black Hole is a welcome escape for study-filled afternoons. Go for the Cajeta Latte (a special blend of goat's -milk-based caramel and coffee) and one of the tasty menu items like the spinach quiche, caprese sandwich or vegan cookies.
Greenway Coffee and Tea owners David Buehrer and Ecky Prabanto partnered with the owners of Underbelly and The Hay Merchant to develop their Blacksmith coffee shop on Lower Westheimer. Blacksmith's baristas hail from around the country (New York City, New Orleans, Grand Rapids and Seattle), as well as from Houston. Although the spot appeals to the every day, coffee-on-the-way-to-work crowd with its full menu of traditional coffee shop offerings, guests that want to spend a little more time at the Montrose-set venture will also find an expanded, sit-down menu on offer.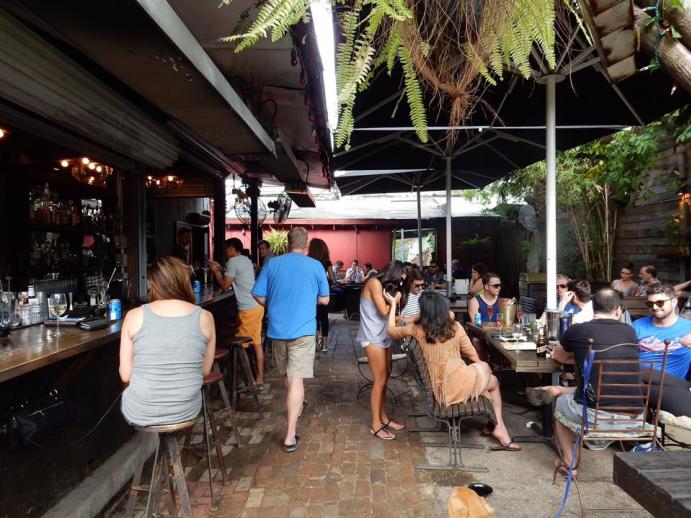 Charm and old-world accents abound at Houston native Morgan Holleman's Montrose-set outpost Boheme. The unpretentious, laid-back spot is popular with nearby residents and a post-college crowd that comes for happy hour specials, free WiFi, and live jazz music, as well as a killer cup of coffee. Choose from an array of organic, fair trade varieties brewed fresh-to-order and espresso made using vintage equipment.
What better name for a Houston coffee shop than Boomtown? This eclectic little café on 19th Street in the Heights sports a gushing oil derrick on its signage—homage to the black stuff that helped build Houston and a fitting tie to the other black stuff served inside. Boomtown Coffee offers its own small-batch artisan roasts, sourcing quality beans from around the world and, if guests get hungry, they can find food trucks frequently parked out front.
Artsy types, poetry buffs and music lovers from all walks of life count Montrose's warm Brasil coffeehouse as a favorite. Brasil frequently hosts musicians of all persuasions, from fusion jazz to experimental noise to ambient grooves and, if you get thirsty during performances, Brasil boasts a wide selection of coffee, wine, beer, soft drinks and herbal teas. You can also order pizza, sandwiches or Brasil's spinach quiche, a fan favorite.
Named one of the '100 Best Places to Drink in the South,' by Imbibe magazine, Catalina Coffee is serious about its brew. The independently-owned, Washington-Avenue-set shop offers up art-worthy lattes and cappuccinos. Display cases offer an assortment of pastries and light-bites, too. Need to get some work done? CC's has free wi-fi, but outlets are hard to come by, so make sure that computer is juiced-up before stopping in.
Crepes may be the main claim-to-fame at this Midtown spot, but visitors to Coco's Crepes & Coffee can also expect a bevy of espresso-infused drinks, teas, smoothies and a solid panini selection. Grab a seat inside or score a table on the patio and dig into a signature crepe or build your own from an array of options like roasted-red peppers, feta, basil pesto and several other selections.
Just a short distance away on the light rail line, Double Trouble Caffeine & Cocktails is a comfortable space to enjoy a morning coffee...or have an evening cocktail. The two female proprietors created a sophisticated tiki look that mixes bamboo and wood elements with antique chairs and vintage details. While the interior is on the smaller side, there is a covered patio with reliable WiFi and a pleasant soundscape that allows for studying and socializing alike. 
A Montrose mainstay, Empire Cafe is a funky, yet friendly vibe, with good food and great desserts. The magic words: half-price cake night. Every Monday, you can sample a slice of pineapple-carrot, French chocolate or Toll House Cookie Crunch cake, among others, on the cheap. Pair it with the Peruvian brew. This hip coffeehouse is a hotspot for students busily debating how many piercings are too many, while the more buttoned-up crowd stays for the omelets and fluffy frittatas served all day.

A major piece in the renaissance of the Downtown Historic District debuted in summer 2014. The Honeymoon adds coffee, light bites and cocktails to the already bustling area near Market Square Park. Boomtown Coffee is sourcing and roast all beans used at The Honeymoon. The coffee program features a slimmed down version of the coffee menu at Boomtown in the Heights, with a focus on classic coffee drinks. The vibe switches to a loungey atmosphere in the evenings with craft cocktails and light bites.
A meeting ground for artists, art lovers, neighbors, friends and visitors, Inversion Coffee House--located at the Art League of Houston--is the product of art-loving entrepreneurs, aiming to bring coffee, community, and creativity together under one roof. After years of tasting, roasting, purchasing and selling coffee, Michael Terrazas and his creative crew are offering up some of the world's most flavorful beans. Stop by anytime for its artistically inspired brew and a tempting array of hearty snacks, artisan-baked pastries, and other indulgent offerings.
With more than 60 flavors, Katz Coffee remains the go-to roaster for many of H-Town's top coffee shops and restaurants. And while you won't find owner Avi Katz running his own brew shop, he does sell his selections online and stocks some of the city's most beloved coffee bars. Craving a cup? Find Katz at Agora, Empire Café, Waldo's and Inversion Café.

Set on the ground floor of the old Rice Hotel--just steps from the MetroRail - Minuti Coffee perks up the Downtown district seven days a week with its Italian-inspired caffeine concept. Inside, the red and black interior pays homage to Italy with Ferrari and Vespa artwork hanging on the walls and opera playing overhead. It's the real deal in each cup, too. The well-prepared coffee is created by a 'roast master' in Italy, before making its way into the hands of loyal patrons. Be sure to sample some of Minuti's fresh-baked pastries, too.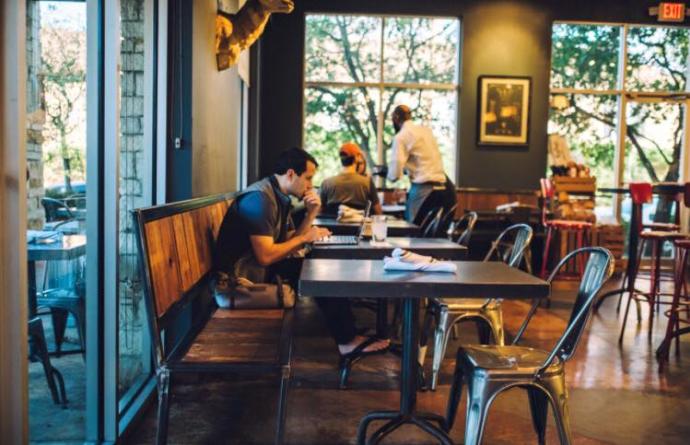 Business partners Ryan Pera and Morgan Weber opened their Heights-set Revival Market several years ago, touting everything from produce and dairy to full-service coffee drinks and artisan breads. Local roasters like Katz, Amaya, and Fusion are all on offer, along with made-to-order items that can be purchased to-go or enjoyed at Revival's in-store dining space.
From a brewing technique perfected over 160 years ago, Siphon Coffee in Montrose brings a slow-brewed cup of joe only found in a handful of places in the U.S. Formed via a vacuum process, water is pulled through a filter, extracting oils and flavors from the coffee beans along the way to create a rich flavor. So flavorful, in fact, added sweetener are said to take away from the natural taste. Siphon also offers baked goods and small bites made in-house including paninis, Argentine-style empanadas and breakfast tacos. 
In 2012, Sean and Michelle Marshall unveiled their craft coffee and wine bar, Southside Espresso, in Houston's Montrose neighborhood. Tucked away, right behind Uchi, the shop is open daily turning out caffeinated art, vino and small plates to loyal locals. Beyond ample outlets, free wifi and relaxed ambiance, guests find a menu touting Fusion Beans coffees, as well as a rotating line-up of guest coffees. Local pastries, meats, cheeses and other light bites are also on offer, along with a well-informed beer and wine selection.