10 Unique Houston Wedding Venues 
Deciding where to get married is a huge decision. There are all kinds of questions to address. Formal or casual? Big or small? Indoors or out? What kind of couple are you? Kitschy? Cool? Glam? Traditional? What kind of photos are you hoping for? Clever? Classic? Surreal? How many guests will you have? What kind of budget are you working with? How important is choosing your own caterer? Open bar? Dance floor? You get the idea.
H-Town is home to so many killer places to tie the knot from old school to super modern. Here are just a few examples of places that are definitely worth considering!
Silver Sycamore
You can have a whole Western town to yourself complete with chapel and saloon! Have the ceremony in the chapel, the bar in the saloon, the reception in the dining hall, and dance right outside on a dance floor in the middle of it all! more...
Nouveau Antique Art Bar
Covered in Tiffany style lamps, this bar venue is heaven for the art-minded. With a raised "stage" and plenty of space, you can have drinks, ceremony, dinner, and dancing all in one location. more...
Avant Garden
A garden porch, a killer back patio, and a lovely old building rife with bohemian charm mark this unique venue. more...
Lyceum
Historic, spiritual, graced with the loveliest of stained glass, many describe this Galveston venue as truly dreamy. With Galveston just a short ride from Houston, you can get the best of city and shore all in one wedding weekend. more...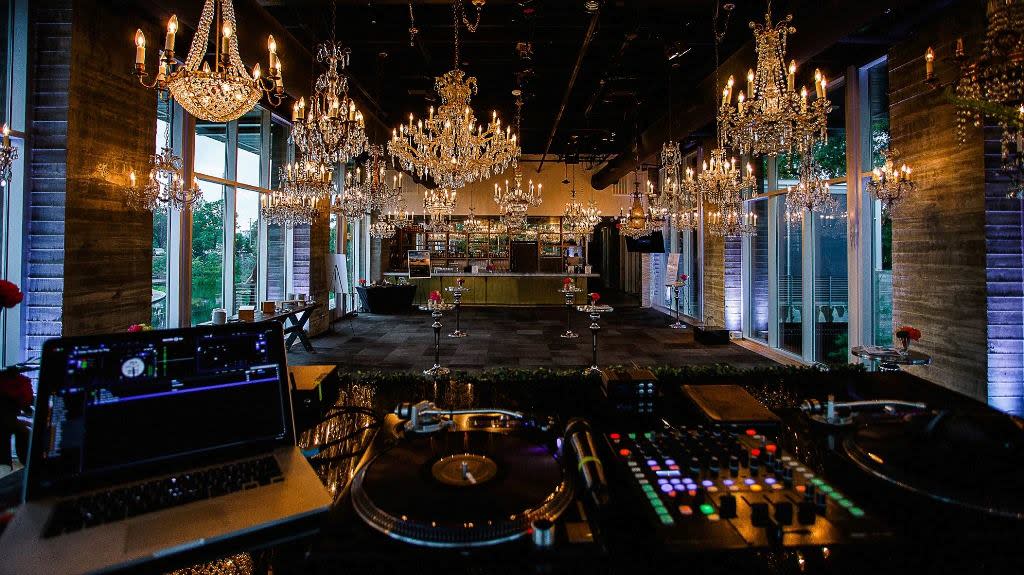 The Dunlavy
It overlooks the banks of Buffalo Bayou and Lost Lake in Houston and has a glorious park setting. A glass tree house is how some say it is best described. This is a nature loving couple's dream. more...
The Astorian
This venue can only be described as sublime. Words like posh, glam, chic, and elegant all come to mind as you enter the incredibly impressive space. The view is drool-worthy with all of Houston at your feet and the space allows wedding couples to have it all and put on the kind of dream wedding that will leave guests' jaws dropping. more...
The Grove
Right in the center of it all, this modern venue has floor to ceiling windows and a large upstairs bar that makes guests feel like they are floating amidst the massive oaks. more...
1940 Air Terminal Museum 
This unique venue lends itself to couples who want something out of the ordinary that will serve as a photographer's dream. The venue is rife with open space and natural light. more...
Station 3
If kitsch and history are on your list of venue must haves, then Station 3 will likely be right up your alley. Built in 1903 and known as Stonewall, this was one of Houston's very first fire stations. more...
Museum of Fine Arts Houston
There's nothing quite as glamorous or memorable as being married in a place that is home to such beauty and history. MFAH creates some of the most elaborate and exciting events in the city. more...

And there are many more: the Magnolia Ballroom, Corinthian, Crystal Ballroom at the Rice Hotel, Centennial Gardens, and Gardens of River Oaks just to name a few. Whatever your budget or taste, Bayou City has a venue that will suit you and your love. Keep an open mind and be creative, you found your true love, this part will be easy in comparison. Trust me!
By Jenny Block