In a city as diverse as Houston, you're bound to come across unique and unusual foods. From pigs feet and fish heads in Chinatown to menudo (tripe) or goat's head in Mexican restaurants, there are many unique foods to explore in town. Of course what's unique or adventurous to one person may not be unique or adventurous to another but read on for some unusual dishes to try. Do you dare?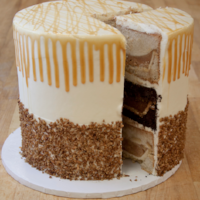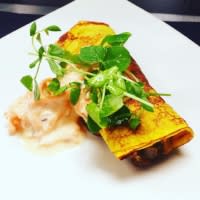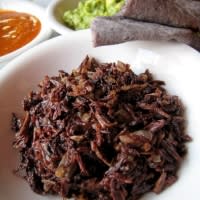 Chapulines and Insect Vending Machines
Insects as food may be a hard sell but many cultures include them in their diets. For a taste, head over to Hugo's and try the crispy chapulines, or grasshoppers, which are sauteed and served with tortillas, guacamole and chipotle tomatillo salsa.
Speaking of insects, if you happen to visit the Houston Museum of Natural Science, check out its insect vending machine. The carefully curated vending machine sells anything from ant candy to protein bars and chips made with cricket flour.  It's not a restaurant, we know, but if hunger strikes while you're at the museum and you're feeling adventurous, you know where to grab a snack.
Cuy Chactado
David Guerrero's South American restaurant, Andes Cafe, serves a Peruvian and Ecuadorian delicacy not commonly found in the United States: guinea pig. Known as cuy in Spanish, the meat is said to taste like a cross of duck and rabbit meat. At Andes Cafe the guinea pig is deep fried and served with roasted potatoes and Peruvian rocoto chile cream sauce. The restaurant suggests calling in advance to ensure availability.
Pig Head
If you can't handle having your dinner stare back at you, you may want to get past that fear to try the half pig head at The Hay Merchant. Served as part of Chris Shepherd's family style dishes at the Montrose restaurant, the dish, which feeds four to six people is served whole with tortillas, lettuce cups, kimchi salsa and pickled veggies so you can build your own tacos. The 8- to 10-pound pig head takes 45 minutes to prepare so make sure you have time to spare. If you're not ready for a pig's head, the restaurant's crispy pig ears pair well with ice cold beer.
Bath Chaps
Before opening Hunky Dory, chef Richard Knight served delectably prepared dishes using ingredients such as kidneys, beef cheeks and pigs feet at Feast. While the focus at Hunky Dory isn't so much on nose-to-tail cooking, you'll find some adventurous dishes such as Bath Chaps -- pan-fried pork cheek and tongue served with greens and a rutabaga mash. Past menu items and specials at Hunky Dory have included pig head, crispy pig tails, beef cheeks and a beef tongue sandwich, so make sure to check in to see what Knight may have in store.
Bheja Masala
Several countries around the world consume brains and if you've lived in Houston long enough you may have come across tacos de sesos (brain tacos) somewhere. You can also try brain at Indika, Anita Jaisinghani's Indian fine dining restaurant, where she serves curried goat brain, or bheja masala, wrapped in a chickpea crepe with saffron yogurt.
Anticuchos
These skewers are popular in the streets of Peru where you'll find them in food carts and stalls. While they can be prepared with a variety of meats, the most popular version of the dish uses heart. In Houston, you'll find grilled beef heart anticuchos served with roasted potatoes and corn at Latin Bites on Woodway.
Pumpecapple Pie Cake
Unlike some of the other unusual eats in this guide, there may be nothing to fear about this Three Brothers Bakery dessert other than its enormous size. Deemed the "Turducken of Pie Cake," this decadent dessert consists of a pumpkin pie baked into a pumpkin spice cake, a pecan pie baked in a chocolate cake, and an apple pie baked into a spice cake. Cream cheese icing holds each layer together and covers the entire cake, which is then garnished with pecans and a generous caramel drizzle. With a $250 price tag, the Pumpecapple Pie Cake is only made to order and requires four days to one week of preparation.