Birding in Southeast Texas
The area between Houston and the Gulf is a birding mecca
 
The upper Texas Coast south of Houston and surrounding Galveston Bay has been described as a bird lover's paradise. Winged beauties of all kinds are found here, particularly during the colder months of November to March when many species migrate to the area to escape frigid northern temperatures.

As an activity, birding continues to be popular among both travelers and those looking for nature in their own backyard. Whether hiking the trails of area wildlife refuges in search of birds or driving along the bayous and preserves of the region, there are a number of ways to see species such as whooping cranes, egrets, blue herons and roseate spoonbills.

The Texas Parks and Wildlife Department offers good information on popular birding destinations across the region, which are all part of the Great Texas Coastal Birding Trail, a system of hundreds of viewing sites covering more than 40 counties from Beaumont to the Mexican border.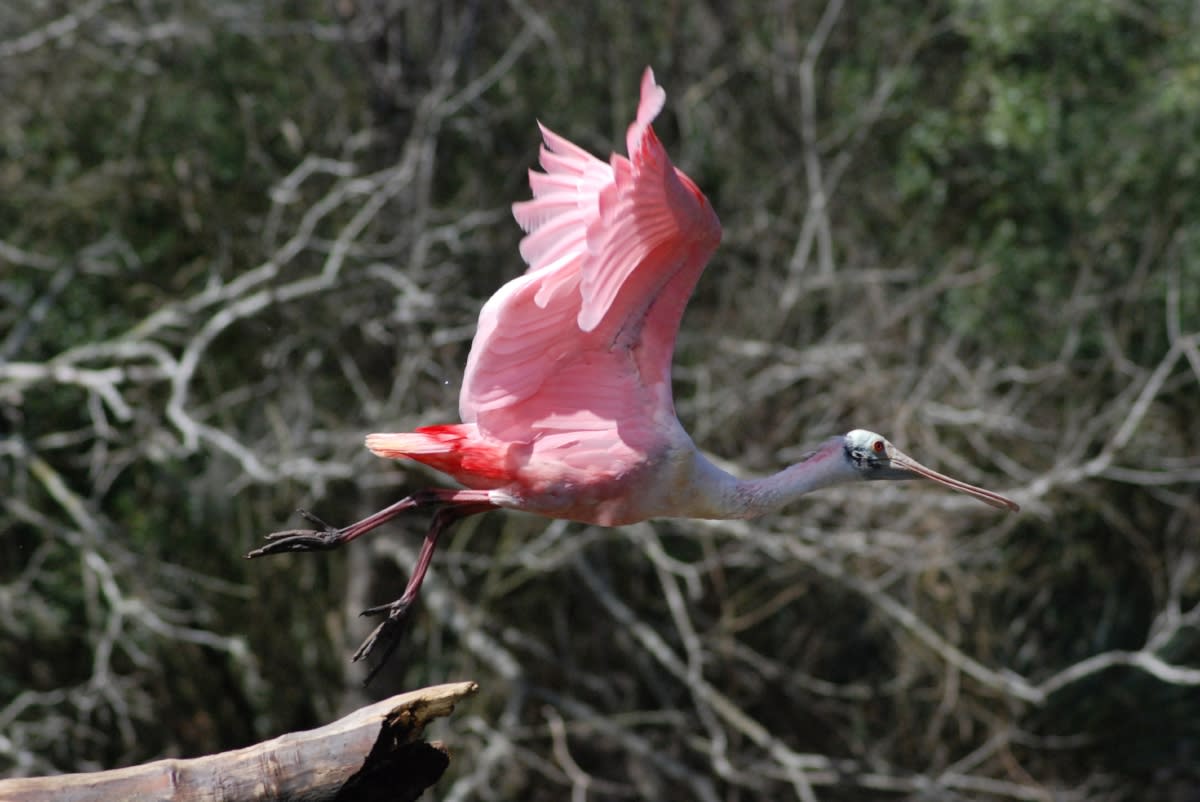 Here are a few of the more popular spots in the Greater Houston area:

Around Anahuac. Sites such as White Memorial Park and Anahuac National Wildlife Refuge offer an impressive selection of woodland and coastal species.

Around the Katy Prairie. A series of interconnected lakes within Paul D. Rushing Park make up the 100-acre Chain-of-Lakes habitat. You'll find summer birds such as the black-bellied whistling duck and black-necked stilts. Winter brings waterfowl, bald eagles and crested caracaras. 

Around Bolivar Peninsula. A number of bird sanctuaries dot this peninsula southeast of Houston where you'll find mostly shorebirds and gulls mixed with warblers and others.

Around Clear Lake/Bay Area. The Mustang Bayou Trail, Nassau Bay Park and Armand Bayou Nature Center are all great places to bird in and around Galveston Bay, where you'll find sedge wrens and Le Conte sparrows.

Around Galveston. Parks and refuges including Harborside Wetlands of Galveston and San Luis Pass offer a breadth of coastal species such as terns, black skimmers and Bonaparte gulls.
Around Baytown. Official locations on the Great Texas Coast Birding Trail include two Baytown stops: the Baytown Nature Center and the Eddie V. Gray Wetlands and Recreation Center. 
Around Beaumont. A local favorite for bird watching is Cattail Marsh Scenic Wetlands, which features a boardwalk with covered viewing platforms and 900 acres of scenic wetlands.
Around Huntsville. For the bird enthusiast, Huntsville State Park is a 2,083.2-acre wooded recreational area within the Sam Houston National Forest, is a great destination to spot waterfowl, wading birds, songbirds, woodpeckers and many more species.
Around Brazosport. The Brazoria and the San Bernard National Wildlife Refuges both have excellent driving loops, many wooded trails and wetlands that are ideal for birding.