Faith and Culture
Explore the City Through Its Religious Communities
How better to understand a culture than to consider the choice made in constructing a place of worship? Houston is home to more diverse cultures than many major cities, so make sure to allow a few days to explore some of the area's religious sites. Here is just a sample of the many sites in Houston.
Historical
St. John Church - Sam Houston Park
The 1891 St. John Church was built by German farmers in northwest Harris County and was later moved from its original site on Mangum Road to Sam Houston Park in 1968. The handmade cypress plank pews in the interior highlight this elegantly simple, historic place of worship. 1100 Bagby Street, Houston, 77002; 713-655-1912.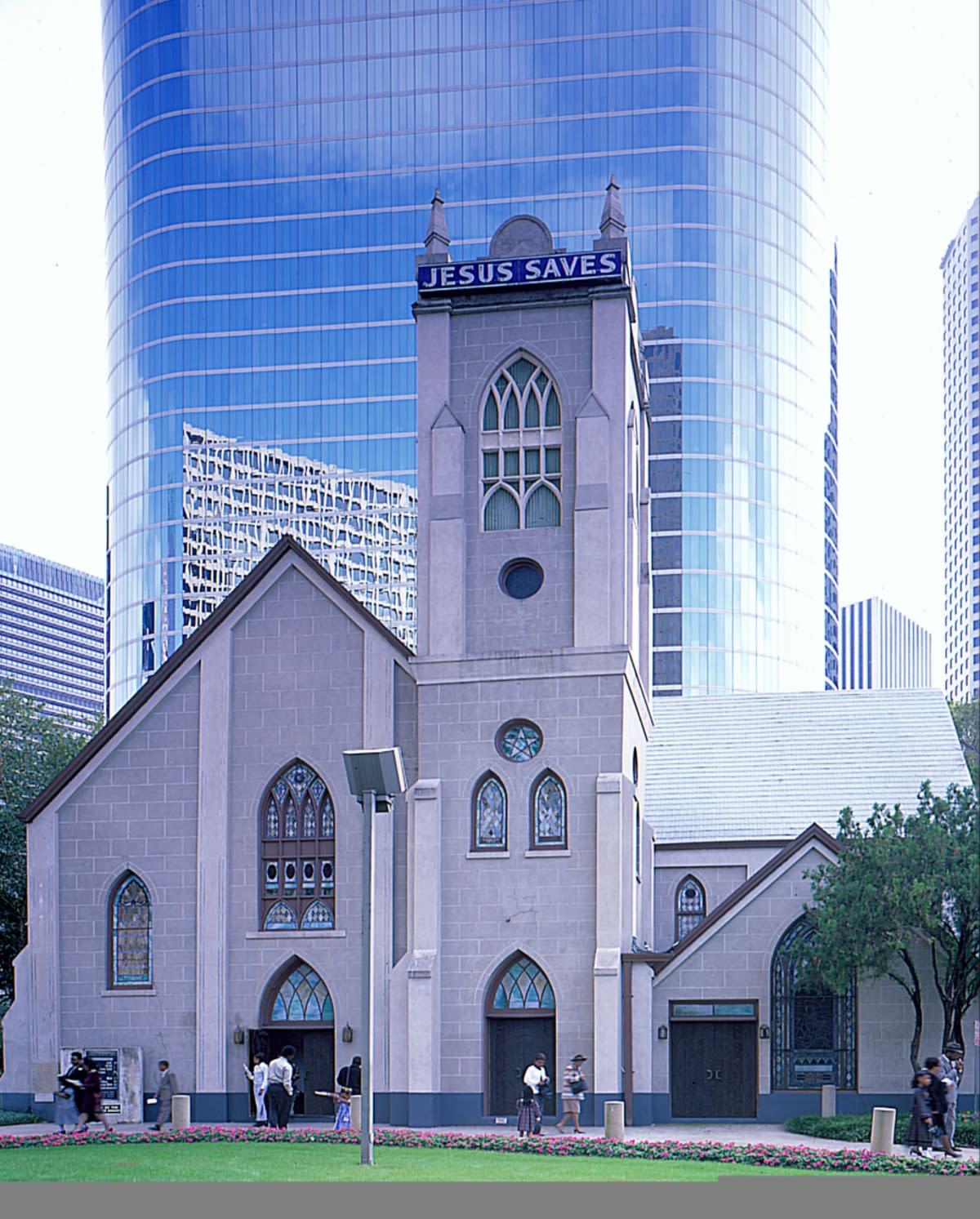 Antioch Baptist Church
The Red Brick Church was designed by African-American Richard Allen, who was also a member of the Texas Legislature.  Erected in 1875, the church was the first brick structure owned by African-Americans in Houston.  The second story was added in 1890. Today, members still worship at the sanctuary's original handmade pews. 500 Clay Ave, Houston, TX  77002; 713-652-0738.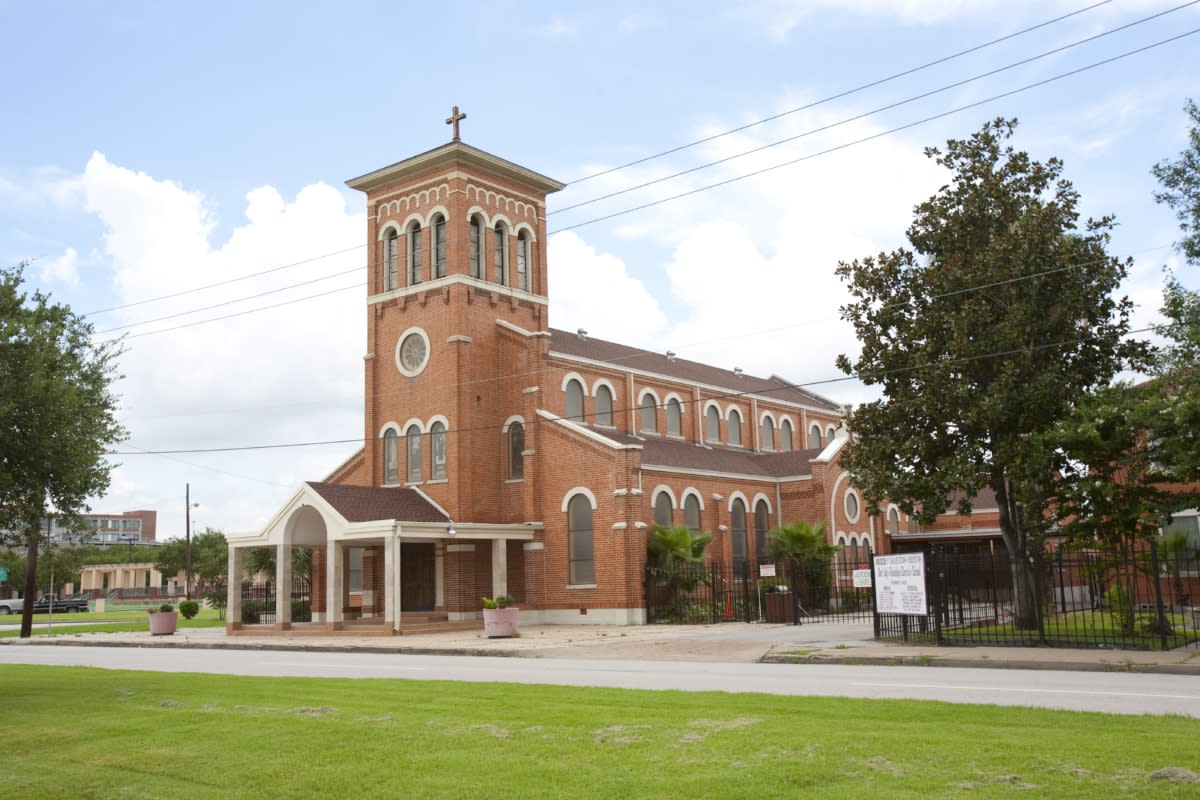 Christ Church Cathedral
The Christ Church Cathedral was established in 1839, when Texas was still an independent republic, and stands as the oldest congregation in Houston. 1117 Texas Ave, Houston, TX 77002; 713-222-2593.
 
Annunciation Catholic Church
The Annunciation Catholic Church, listed on the National Register of Historic Places, is the second oldest Catholic Church in Houston. The bricks from the old Harris County Courthouse were purchased and used for the construction of the church, which was started in 1867 and completed in 1874. The church is located at the corner of Texas Ave and Crawford and is the oldest existing church building in the city. 1618 Texas Ave, Houston, TX  77001; 713-222-2289.
First Evangelical Lutheran
The First Evangelical Lutheran Church was founded in 1851 in downtown Houston and has been in Midtown since 1927. First Lutheran was in fact the first Lutheran congregation in Houston and the second Lutheran congregation in Texas. 1311 Holman Ave, Houston, TX  77004; 713-529-3589.

Annunciation Hellenic Eastern Orthodox Church 
In 1917, the Annunciation community organized the first Greek Orthodox Church in Houston, located on Walker Avenue in the present-day Tranquility Park in downtown Houston. Required to move because of city construction and its own expanding membership, the congregation erected its present sanctuary on Yoakum Boulevard in 1952. 3520 Yoakum Blvd, Houston, TX; 713-526-5377.
 
St. Martin's Episcopal Church
St. Martin's was founded by Rev. J. Thomas Bagby in 1952 and its membership includes former president George H.W. Bush and First Lady Barbara Bush. It is also the second largest parish, and the largest in the United States in terms of average weekly attendance. 717 Sage Rd, Houston, TX; 713-621-3040.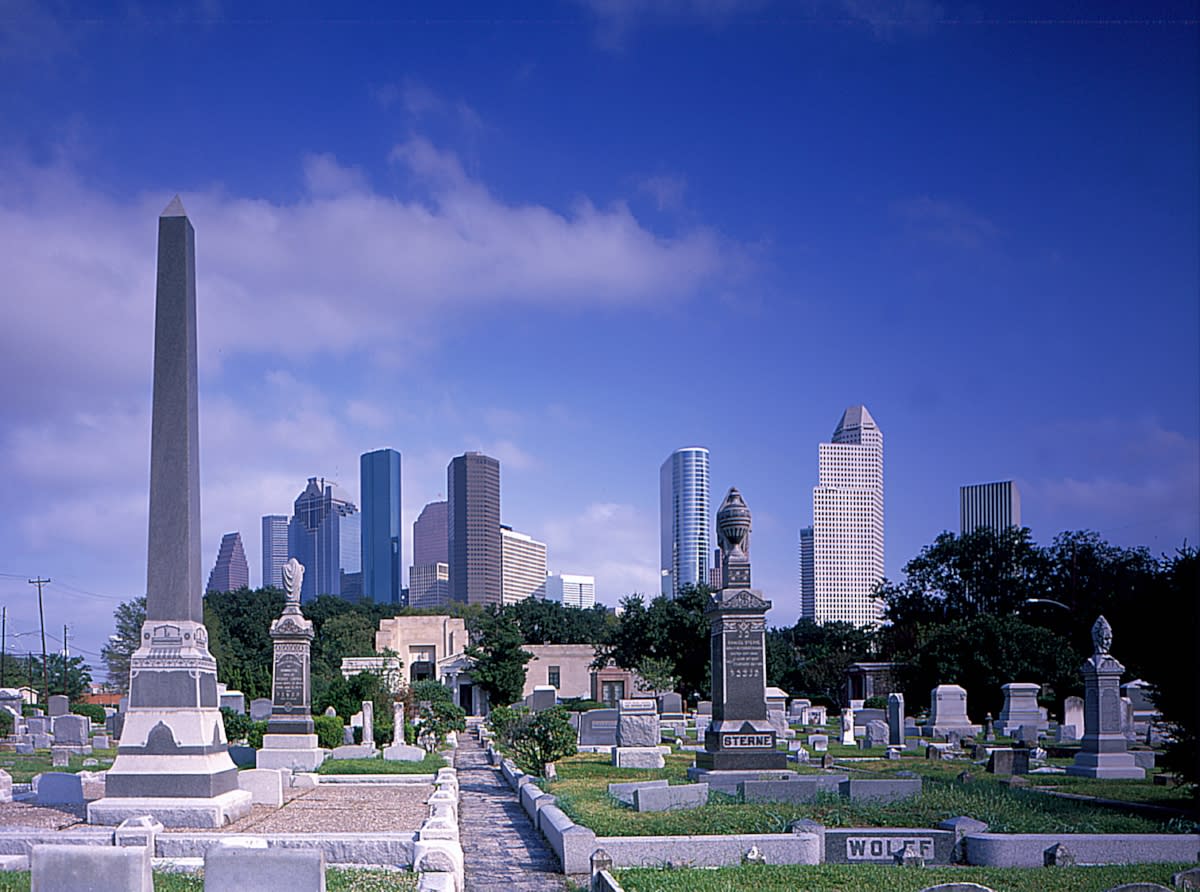 Beth Israel and Cemetery Temple of Rest
Dedicated in 1844, the cemetery owned by Congregation Beth Israel is the oldest Jewish cemetery in Houston. Tombstones list places of birth from across the globe, such as Bohemia, Bavaria, Prussia, Alsace, Poland and Holland. Ten years after dedicating the Beth Israel Cemetery, Beth Israel Temple was erected. Since then, the congregation has expanded and now resides in the fourth and current temple, built in 1967, on North Braeswood. 1207 West Dallas Ave, Houston, TX.
Architectural
Rothko Chapel
The non-denominational chapel, created by John and Dominique de Menil, serves not only as a chapel but also as a major work of modern art. Fourteen paintings by Mark Rothko hang from the walls of the octagon shaped building. This modern work of religious art commissioned for Houston is comparable in importance to the Chapel of the Rosary in Venice by Henri Matisse or the Chapel in Ronchamp by Le Corbusier in France.1409 Sul Ross Ave, Houston, TX 77006; 713-524-9839.

The Chapel of Saint Basil
The Chapel of St. Basil is located on the campus of the University of St. Thomas in Houston and serves as both a working Catholic worship center and iconic masterpiece. Designed by the late architect, Philip Johnson, the structure consists of three basic geometric forms-the cube, sphere and the plane. Guests enter the building through a curtain-like opening that leads to a covered outdoor area, before proceeding through a glass doorway into the chapel.  Inside, wooden pews line the interior, marked by a 14th-Century crucifix, pipe organ and gold dome overhead-the latter of which is visible from miles away. 3800 Montrose Blvd., Houston, Texas 77006; 713-525-3589.
Live Oak Friends Meeting House
Established in 1954 by the Quakers in Houston, the meeting was originally hosted in the home of Walter and Myra Whitson. It took several years to find the right fit, but in the late 1990s, a new meeting house was established. The meeting house has now developed into more than a place for worship thanks to the Quaker artist, James Turrell. Turrell created the Skyspace which has become the heart of the meeting house. The Live Oak Friends Meeting House has become a popular destination among Quakers and Houstonians alike. Thirty minutes before sundown on the first Sunday evening of the month and every Friday evening, the meeting house is opened to the public for viewings. Private group views may also be arranged. 1318 West 26th St., Houston, Texas, 77008; 713-802-0622.
 
BAPS Swaminarayan Sanstha, Shri Swaminarayan Mandir - Houston
BAPS Shri Swaminarayan Mandir in Houston opened in 2004 as the first traditional Hindu Mandir of its kind in North America. The mandir was created entirely according to ancient Hindu architectural manuscripts and also meets all modern regulations. The solid white building was constructed entirely of marble and limestone from Turkey, without any use of iron or steel. The stone was then shipped to India where it was hand-carved with traditional motifs. In total, there are five towering pinnacles, 12 domes and 136 marble pillars. 1150 Brand Lane, Stafford, TX 77477; 281-765-2277.

Our Lady of La Vang Catholic Church
The construction of Our Lady of La Vang Catholic Church was inspired by a fusion of Chinese, Vietnamese and European architectural traditions, which some have stated is a nod to the cultural diversity of Houston. The centerpiece of the building is the 40-foot tall statue of Our Lady of La Vang. 12311 Old Foltin Rd, Houston, TX  77086.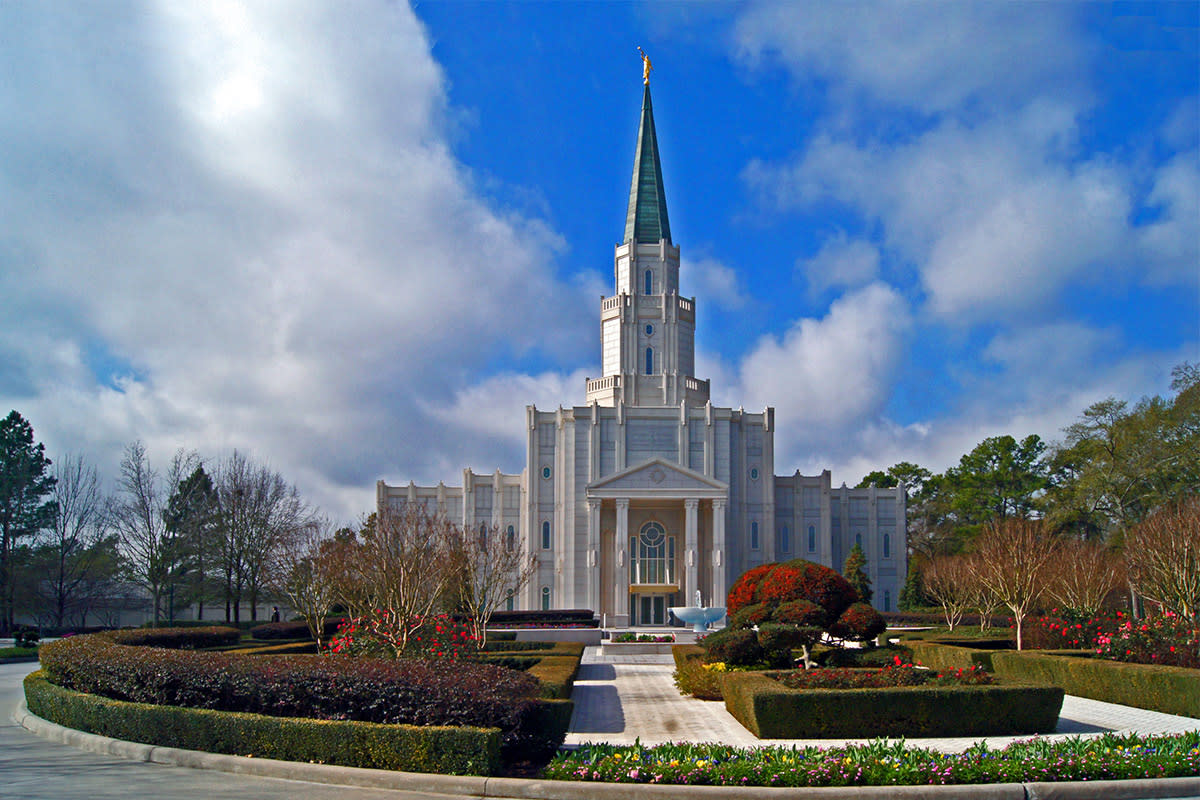 The Church of Jesus Christ of Latter-Day Saints
Built in 2000, The Houston Temple was the second temple built in Texas, following the Dallas Temple. The temple's classic modern, single-spire design is made of Luna pearl granite and spans 33,970 square feet.15725 Champion Forest Drive, Klein TX 77379; 281-376-6804.
Vietnamese Buddhist Center
Most notable of the structures at the Vietnamese Buddhist Center is the 72-foot tall standing figure of Guanyin, bodhisattva of compassion. Set in a bend of Keegan's Bayou, the building focuses heavily on exterior landscaped spaces. 10002 Synott Rd, Sugar Land, Texas 77478; 281-575-0910.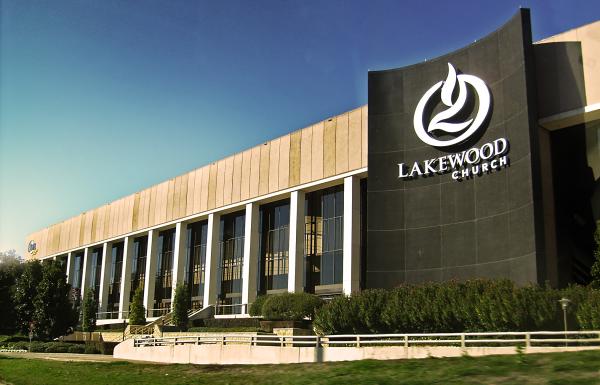 Lakewood Church
Lakewood Church is the largest Christian church in North America, has more than 40,000 weekly attendees for English and Spanish services and is broadcast to more than 200 million households around the U.S. Lakewood Church is held in the arena previously known as The Summit, which was home to the Houston Rockets until 2003. 3700 Southwest Fwy, Houston TX 77027; 713-635-4154.  
 
Sri Meenakshi Devasthanam
The Sri Meenakshi Devasthanam temple spans over twenty-three acres and boasts intricate carvings and attention to detail throughout each structure, which includes an outer prakaram for the main temple, priests quarters, kalyana mandapam, youth center, library and a visitors center.  The main temple was finished in 1982, however construction of the ever expanding place of worship continues, with additional temples added every few years. The Pearland temple is said to be modeled after the famous temple in Madurai, India. 17130 McLean Road Pearland, TX 77584; 281-489-0358.

St. Basil the Great Greek Orthodox Church
1100 Eldridge Parkway Houston, TX 77077; 281-679-5395.
Cultural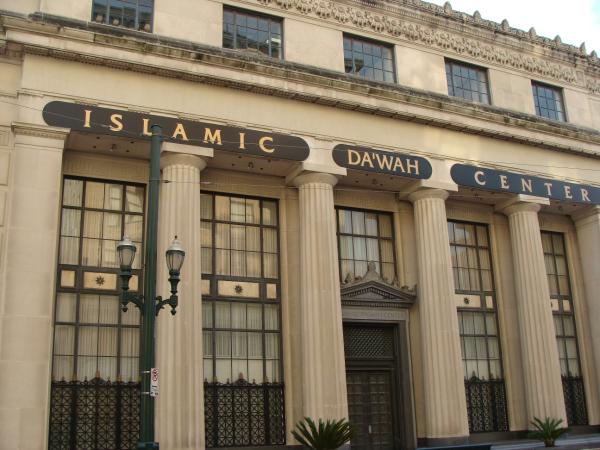 Islamic Da'wah Center
The Islamic Da`wah Center houses the first Mosque in downtown Houston, and it is also the first center dedicated for Da`wah in Houston. In 1994, Hakeem Olajuwon purchased the property in an effort to turn the building into an Islamic Educational Center. After years of renovations the center opened to the public in 2002 and took the name of Islamic Da`wah Center. The first prayer was held on the last Friday of Ramadan, November 29, 2002. 201 Travis Street Houston, Texas 77002; 713-223-3311.
Pearl Fincher Museum of Fine Arts
The Pearl Fincher Museum of Fine Arts is more than a museum, but a collection of mixed-use facilities within the complex. Opening in 2008, the county-owned buildings share space with the Barbara Bush Branch of the Harris County Public Library, Cypress Creek Christian Church, and the Centrum, a performance space. 6815 Cypresswood Dr, Spring, TX  77379; 281-376-6322.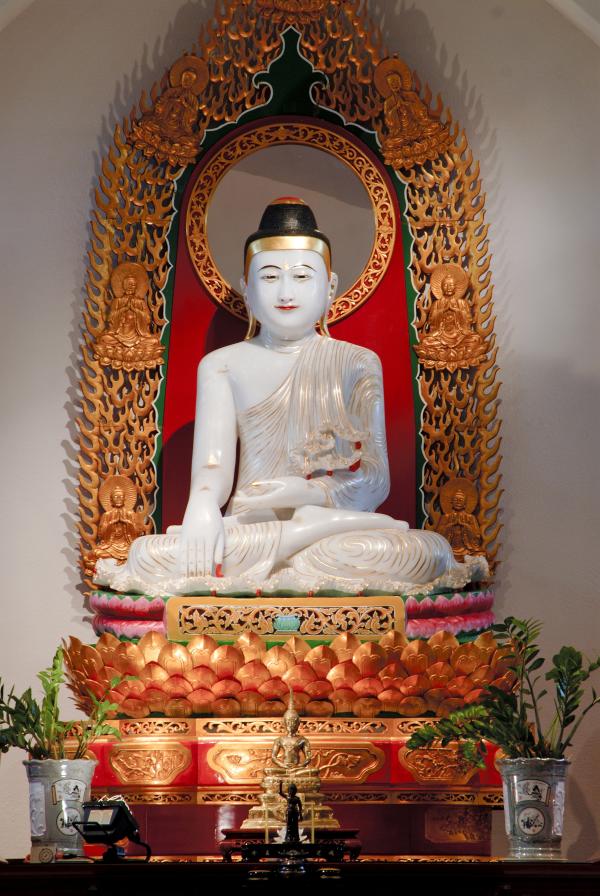 Jade Buddha Temple 
The two-and-a-half-acre Jade Buddha Temple was completed in 1990 and serves as the headquarters for the Texas Buddhist Association.  Currently, the complex consists of the Grand Buddha Hall (which can seat 500), Kwan-Yin Meditation Hall, the Youth Activity Center, a library with a large Chinese and English collection of Buddhist literature from varying traditions, a cafeteria, several living quarters, and a lotus pond with a statue of Kwan-Yin as its centerpiece. In addition to serving the religious and spiritual needs of its members, the Temple functions as a Buddhist study and research center for several educational institutions. 6969 Westbranch, Houston, TX.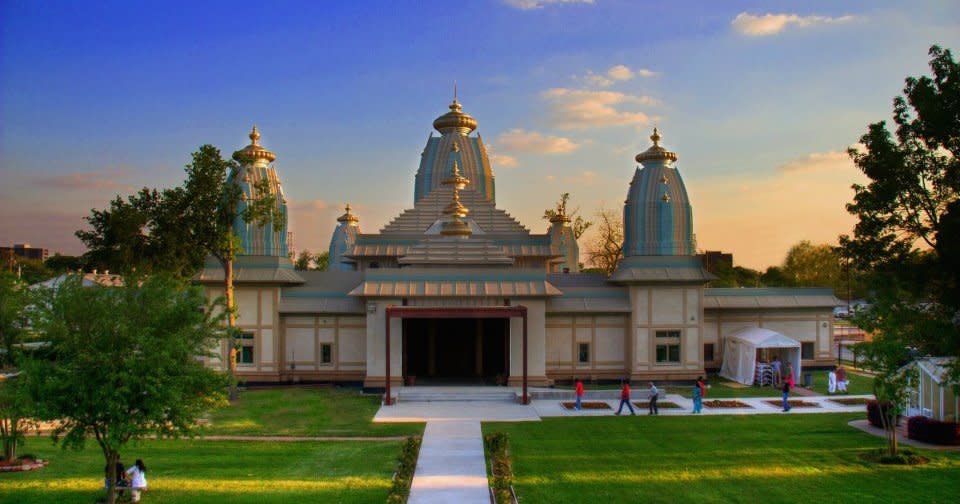 Hare Krishna Temple & Cultural Center (ISKCON of Houston)
Already a unique architectural landmark in Houston, the former Baptist church stands as Houston's new Hare Krishna temple. The 24,000-square foot Vedic style temple features a grand teakwood altar that took seven artisans nearly one decade to carve, Spanish marble details, devotional art and a central dome standing 72-feet high. The state-of-the-art facility includes not only worship space, but also a restaurant, bookstore and school.
1320 W. 34th Street, Houston, TX; 832-884-1477. 

Sri Saumyakasi Siva Temple of Houston, Chinmaya Prabha
Sri Saumyakasi Sivalaya is the first free standing Siva temple of its kind in Houston . The 4,000-square foot house of worship was inaugurated on December 18, 2007. The temple is part of the Chinmaya Prabha campus, a 43,000 square foot facility housing a large satsanga hall, 17 classrooms, a library, bookstore, kitchen and dining area. 10353 Synott Rd, Sugarland, TX; 281-568-1690.

Nathdwara Hindu Temple, Shri Vallabh Priiti Seva Samaj
What was once intended to be a subdivision of apartments now stands as a subdivision of Asian religious institutions. Among these, Nathdwara Hindu Temple is a distinctive architectural structure. Built in 2005, the temple steers from traditional folkloric imagery and serves as a more modern space with subtle references to Hindu identity. 11715 Bellfort Village Dr, Houston, TX; 281-564-8777.
Sikh Center Gurdwara
Established in 1972, Sikh Center Gurdwara is the oldest temple in the Southwest United States for the Sikh community. With an emphasis on youth education, the center also added a school to instruct young members on the Sikh community and values. In the late 1960s and early 1970s when Houston was attracting people from all over the country and the world, there were eight Sikh families in Houston. Within a few years, that number grew to 1,000 and there was a need for a Gurdwara. The original one-story structure was destroyed in a fire in 1974 and replaced with a two-story steel building that still today hosts ample community events. 8819 Prairie Drive, Houston Texas.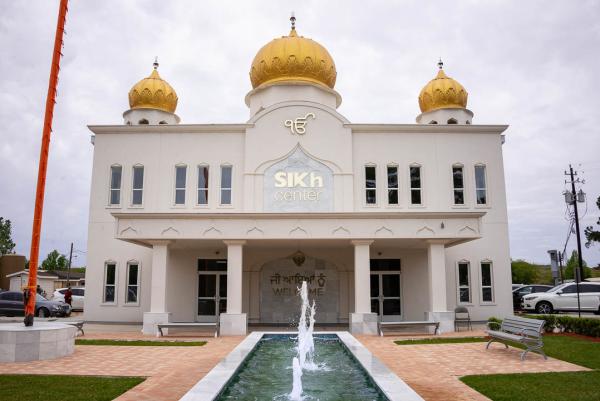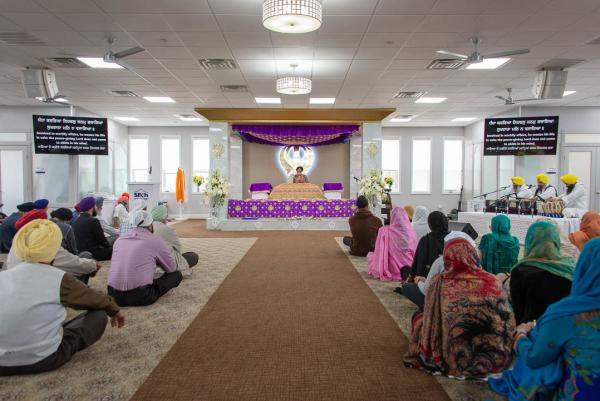 Teo-Chew Temple
A Vietnamese Buddhist Temple with Chinese-inspired architectural design, Two-Chew Temple is a sight to behold in Houston's Chinatown. Guests often report the fragrances from burning incense outside the temple are enchanting and relaxing. The ornate rooftops can be spotted from afar drawing visitors in to admire the structure. 10599 Turtlewood Ct, Houston, TX; 281-983-0097.
ElFarouq Mosque
The ElFarouq Mosque structure was completed in 1998 by way of the ElFarouq Foundation whose mission was to educate and further the teachings of Mohamed as well as allow guests to practice Islam religion. The center offers marriage and funeral services, lectures, sermons, a health clinic and many events throughout the year. The center also hosts the ElFarouq School on Saturdays and Sundays to provide children with an Islamic education. 1207 Conrad Sauer Dr, Houston, TX 77043; 713-465 - 2020
The Houston Blue Mosque & The Islamic Institute
Since 2001 the Houston Blue Mosque has been operating as a non-profit, non-political organization with the mission to educate people on the religion of Islam. Offering daily prayers, celebrations and marriage and funeral services, the mosque also organizes panels, symposiums, and conferences. 9301 W Bellfort St, 108, Houston, TX 77031-2101; 713-730-9391.
Cao Dai temple
The largest Cao Dai temple outside of Vietnam is Houston's own Cao Dai temple in located in the southwest area of town. Donned in yellow on the interior and exterior, the temple measures greater than any of its kind outside of Vietnam. 8415 South Breeze Street, Houston, TX 77071.