Inner-Loop Green Space
Uncover close-by parks and green spaces. 

Four miles from downtown, you'll find 14 acres of lush gardens at Bayou Bend, the former home of philanthropist Ima Hogg. The historic home now houses the American decorative arts collection of the Museum of Fine Arts, Houston, but the gardens are an attraction in itself. Bayou Bend Gardens were originally, in Miss Hogg's words, "nothing but a dense thicket." Undaunted, she created several gracious and beautiful gardens while appreciating the beauty of the area's natural environment. The River Oaks Garden Club now supervises the gardens, and Bayou Bend is the only formal public garden in Texas currently practicing organic gardening. The Bayou Bend gardens are open every day but Monday. Check their website for special events like candlelight tours and family days. Bayou Bend is a permanent stop on the River Oaks Garden Club's annual Azalea Trail, which takes place the first weekend each March.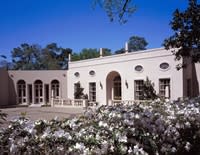 A few miles away at Rienzi, the home that houses MFAH's European decorative arts collection, is another stunning garden worth visiting. Noted landscape architect Ralph Ellis Gunn designed the gardens, an accomplished combination of formal gardens and native plants that form a protective screen at the perimeter of the property. Today the gardens are a project of the Garden Club of Houston. Check Rienzi's website for special events. It's also a permanent stop on the annual Azalea Trail.
The Houston Arboretum and Nature Center, a lush 155-acre forest, is located just a few miles from Rienzi. In addition to the free acres of trails, you'll find birds and butterflies, woods and meadows and tranquil ponds where turtles and fish swim...all less than 8 miles from downtown Houston.
Hermann Park, one of the crown jewels of Houston, is located less than 10 miles from the Arboretum. Bordered by the Museum District, Rice University and the Houston Medical Center, Hermann Park is a 445-acre urban park offering a gamut of activities including peddle boats on Lake McGovern, antique miniature train rides, an 18-hole golf course picnic areas, a large amphitheater for live performances, multiple children's play areas and much more. Grab a bite or pick up a picnic basket at the park's new Pinewood Cafe.
The Japanese Garden inside Hermann Park is an island of serenity nestled in a pine grove near the Sam Houston Monument. The garden was designed by world-renowned Japanese landscape architect Ken Nakajima and built to symbolize the friendship between the U.S. and Japan. Recognizing Houston's thriving Japanese community, the garden is built on 5 acres and combines a traditional Japanese Garden design with a touch of Texas.
Hermann is also home to the Houston Zoo,one of the city's most popular attractions showcasing more than 4,500 exotic animals from all over the world. See big cats up close, visit the Wortham World of Primates and hang out with a large herd of Asian elephants.