Outdoors: Day Trips
Up for a little adventure? Take a ride to these hotspots. You could probably easily get lost in the backwaters of the Armand Bayou Nature Center, a sprawling 2,500-acre preserve situated between the town of Pasadena and Galveston Bay. But that's what the guided tours are for. You can experience a leisurely morning canoe ride through the park, observing numerous species of wildlife, from alligators to deer to waterfowl. There are also miles of hiking trails that take visitors through the three different ecosystems present at the center-tall grass prairie, bayou and forest. For a little taste of 1890s farm life, there's the Martyn farm house, which offers a glimpse of rural life more than a century ago. Next, check out the center's Bison Observation Deck, where you can see the two bison Armand Bayou acquired in 2008. For a slightly spooky experience, consider a night tour. The center conducts a moonlight pontoon boat cruise or a hayride through the prairie. With help from spotlights guides will show you the nocturnal creatures such as raccoons and armadillos that call this place home.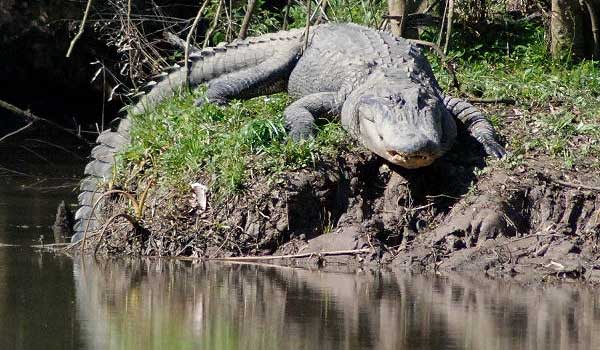 Armand Bayou Nature Center
The 32-acre Sylvan Beach Park, less than 10 miles from Armand Bayou, is the perfect place to get away from the hustle of city life and experience a nice beach with a refreshing ocean breeze. Unlike other beaches in the area, this Harris County park boasts fine sand, no seaweed covering the beach and smaller waves for more enjoyable swimming.

The Mercer Arboretum and Botanical Gardens, a 250-acre preserve set on Cypress Creek north of Houston in Humble, has one of the largest collections of native and cultivated plants in the Houston region. Here you'll find miles of hiking trails, picnic areas a butterfly house and a boardwalk over a cypress swamp among other features. You'll also see a wide ranging collection of flora and fauna, from vibrant camellias and orchid trees to Pine Warblers and Black-capped Chikadees. The arboretum is always free.

The 2,168-acre Bear Creek Pioneers Park features walking trails, an equestrian trail, a small zoo (including buffalos, an ostrich, and emus) and aviary, playgrounds, soccer fields, little league and softball fields, four lighted tennis courts, eight picnic pavilions, horseshoe courts and hundreds of picnic tables and grills. Near the aviary, ducks can been seen walking freely around a pond.

Named in honor of the 41st president of the United States George H.W. Bush, the 7,800-acre George Bush Park, located on the far west side of Houston, serves as a major attraction and nature reserve. The park has a system of jogging trails, many surrounded by swamps, forest, and bayous. Many of the trails follow Buffalo Bayou, and biking is popular year round. The trail is well known for its flexibility in biking--many speed bikers ride the trails. In addition to the biking trail, there is a large wooden bridge that crosses Buffalo Bayou, dubbed "the Boardwalk." American Shooting Centers is also located inside the park (click here for more details). 
Birding
The upper Texas Coast south of Houston and surrounding Galveston Bay has been described as a bird lover's paradise. Winged beauties of all kinds are found here, particularly during the colder months of November to March when many species migrate to the area to escape frigid northern temperatures. Whether hiking the trails of area wildlife refuges in search of birds or driving along the bayous and preserves of the region, there are a number of ways to see species such as whooping cranes, egrets, blue herons and roseate spoonbills.

The Texas Parks and Wildlife Department offers good information on popular birding destinations across the region, which are all part of the Great Texas Coastal Birding Trail, a system of hundreds of viewing sites covering more than 40 counties from Beaumont to the Mexican border.

Here are a few of the more popular spots in the Greater Houston area:

Around Anahuac. Sites such as White Memorial Park and Anahuac National Wildlife Refuge offer an impressive selection of woodland and coastal species.

Around Bolivar Peninsula. A number of bird sanctuaries dot this peninsula southeast of Houston where you'll find mostly shorebirds and gulls mixed with warblers and others.

Around Clear Lake/Bay Area. The Mustang Bayou Trail, Nassau Bay Park and Armand Bayou Nature Center are all great places to bird in and around Galveston Bay, where you'll find sedge wrens and Le Conte sparrows.

Around Galveston. Parks and refuges including Harborside Wetlands of Galveston and San Luis Pass offer a breadth of coastal species such as terns, black skimmers and Bonaparte gulls.
By AJ Mistretta