Q&A Wedding Dress
Q&A: Wedding Dress Shopping
It's been nearly a decade since Luvi Wheelock opened the doors to her luxury bridal boutique, Casa de Novia. Set in the River Oaks Shopping Center, her light-filled shop is a treasure trove of stunning gowns by fashion frontrunners like Monique Lhuillier, Oscar de la Renta, Ines di Santo and Texas' first Vera Wang shop-in-shop. We recently caught up with Luvi to get her perspective on navigating the great dress search.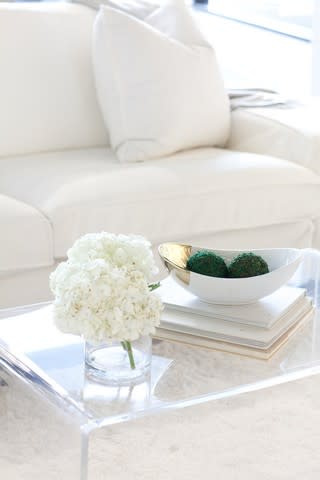 What should a bride plan to bring when she goes to try on dresses for the first time?
If you have a pair of shoes that you are comfortable with bring them. If you're more comfortable with a strapless bra, bring it, though you can have cups sewn into the actual wedding gown, too. Brides should also come in with a budget, as it's very important to stay as close to the budget as possible.
Who would you recommend a bride bring to the dress appointment?
Bring those that are closest to you such as your mom, sister and best friend.  Definitely limit how many girls you bring because more people means more opinions and it can get confusing. Bring the people that you trust the most. I think it's more special when your bridesmaids see you in your dress for the first time on the wedding day.
I would assume most brides come in with a clear idea of what she wants. What advice would you give her?
Bring images or ideas of what you think you want to wear on your wedding day, but be open to trying on different gowns, so you can get a clear idea of what looks good on your body. Many girls end up liking something they never thought they would. You should also trust your consultant, as they know what the gowns look like on. So many gowns look terrible on the hanger!
How early would you recommend a bride shop for her dress?
As soon as you have your venue and date picked, start shopping! It takes about five to seven months for a gown to come in, so we suggest starting eight to nine months before your wedding date. We also suggest brides go to three different shops with different designers and then stop so you do not get overwhelmed.
What advice would you give to a bride that plans to diet before the wedding? How does it affect her dress search?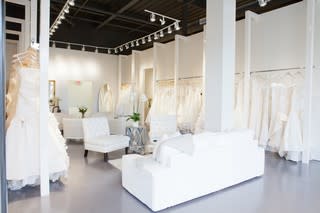 Don't worry about how your dress will fit because alterations are what make the dress a perfect fit! As you work out and diet, please remember that you still want to look like yourself on your wedding day and in the pictures that last a lifetime.  Dieting and working out should not affect how you shop for a dress.
How will they know when they've found the one?
Many brides have "the moment" and some don't. Pay attention to how you feel in each gown and make sure you feel like a bride as well as amazing. Your gown sets your mood for the day and you want to feel like a princess in your gown. Don't overwhelm yourself by going to every bridal store possible.