It's clear Houston is an easy pick for business travel. An array of hotels, restaurants galore for feeding the hungry workforce and the sheer amount of people and businesses in this city make it a common destination. And chances are, if you're traveling for a convention or conference in Houston, you'll likely be spending time in Houston's historic George R. Brown Convention Center. Complete with free Wi-Fi (of course), a Starbucks (also, of course), skywalks, ample parking and ample places to eat, the GRB remains a popular destination for gathering people to work together. But if you're into bleisure travel (and you should be), here are some other hot to dos in and around GRB.
Discovery Green
Starting with the great outdoors, Houston, while not known for it, offers plenty of green space and outdoor activities. Discovery Green spans 12 acres and materialized through a collaboration between the City of Houston and the nonprofit Discovery Green Conservancy. This urban park, inaugurated in April 2008, has played host to more than 20 million visitors and continues to host numerous events annually. Movie nights, dance performances, yoga classes and more are offered regularly, and there's sure to be a fun after 5:00 activity to attend while you're here on work. If nothing else, take a walk around, park your seat on a bench instead of a folding chair and breathe in some fresh air for a few minutes.
Houston's Legendary Graffiti Building
While you're in Hou, you must take a look around at the art this city has to offer — and not just the galleries. Graffiti in Houston is a staple, and the city remains painted top to bottom in many areas in colorful, inspirational murals. Houston's Legendary Graffiti Building is just a few blocks from GRB and is destined to catch your eye. If you're the Instagramming type, this building lends itself as the perfect backdrop to showcase your Houston visit.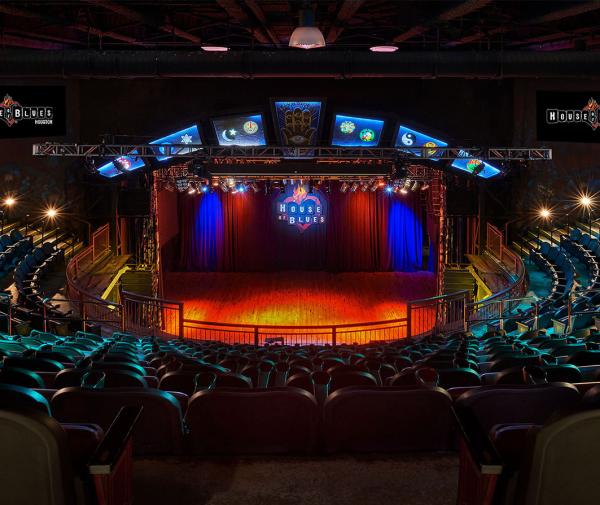 House of Blues
The House of Blues Houston offers their Restaurant & Bar to savor delectable offerings from their Southern-inspired menu, all crafted from scratch. Indulge in not just the menu items, but also the live music that awaits you. Immerse yourself in captivating performances almost nightly and set the vibe for a great night after a long day of working, learning and networking. 
810 Billiards and Bowling
Unwind your big day at 810 Billiards & Bowling. Enjoy drinks, food, bowling, billiards, games, and more with excellent happy hour specials and promotions, along with delicious food. The establishment aims to foster a relaxed and enjoyable environment, ensuring that all patrons feel comfortable and at ease. Whether you're seeking solace in a leisurely game of chess accompanied by a glass of wine or prefer the lively atmosphere of billiards and cocktails, the venue offers a versatile range of options. From sharing a pitcher of beverages, savoring sliders, to engaging in rounds of 10-pin bowling, every preference is catered to with meticulous care.
Minute Maid Park
Catch an Astros games or get a tour of the field at Minute Maid Park. This one-of-a-kind ballpark is an experience in itself. The beautiful indoor/outdoor park was designed with nods to old-timey ballparks — brick walls, big arches — but complete with all the latest ballpark lights and action. A train full of pretend oranges rides around the top of the stadium is known to make the crowd go wild. 
Grab a Bite
If you're looking for a place to grab a bite to eat, you're in luck — Houston is known for it's restaurants, and there are plenty to choose from around GRB. If you're in the mood for stellar Tex-Mex (since you are in H-town, after all), look no further than Houston-staple, El Tiempo. Killer margaritas, mouth-watering fajitas and, of course, chips, salsa and queso up to your ears will leave you satisfied and smiling, undoubtedly. Plus you'll get a real taste of Houston and gain an understanding why Houstonians can't wait to get back to their Tex-Mex after visiting other parts of the country. The Rustic serves up Southern food and lots of charm with live music, great vibes and a stellar atmosphere. If you're in the mood for a good ol' Texas burger, Rodeo Goat is a must-try. Offering all sorts of creative burgers and an impressive craft beer lineup, this is the perfect casual spot to take a load off after a big day. Lastly, if you're looking for something a little on the nicer side but not your typical table-cloth, steakhouse vibe, The Grove is a Houston classic with beautiful views of Discovery Green, a delectable menu and quiet places to chat.