Things to Do With Kids in Houston
Endless attractions that appeal to adults and children alike
From boat tours on Buffalo Bayou to one of the top children's museums in the U.S., Houston offers endless attractions that appeal to adults and children alike. Plan a visit and treat your family to one of the city's fun-filled, action-packed adventures that are as entertaining as they are educational. Check out our money saving experiences and packages for kids and adults alike!
Money-Saving Tips
For families looking to stretch their vacation budget, Houston offers many money-saving perks.
Best Museums
Visiting museums is the obvious thing to do in the Museum District and you'll have a lot to choose from.
Theaters & Performing Arts
Great Outdoors
In Houston, it's just as easy to spend a morning hiking and canoeing through the city's lovely green belt as it is to visit an acclaimed science exhibit.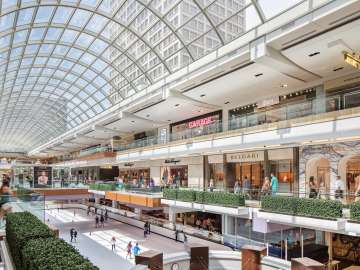 Credit: The Galleria Houston
Local Favorites
 
A dream come true for kids, this sweet place is all about fun, happiness and of course, chocolate! The store is packed with clever little novelties--cell phones, hand tools, cars--all created in luxuriously rich chocolate. Through a large window at the rear, kids can look into the preparation area where all this chocolate magic is concocted. But the heart of the operation is a marvelous ice cream cooler with a dozen stunning, made-on-site flavors that use chocolate to varying degrees.
Get in touch with your artistic side at this paint-your-own-pottery studio where kids and adults alike can try their hand at becoming the next modern-day Michelangelo.
The Little Galleria Play Area located on the second level of, this 2,000-square-foot play area features mini-versions of Neiman Marcus, Nordstrom, Macy's, Saks Fifth Avenue and Williams Tower. Children are invited to play in the soft-foam area — that includes a grand entrance facade, climbers, slides, tunnels, a play wall, shoe keepers, a changing station, hand sanitizer stations, a stroller area and adult seating.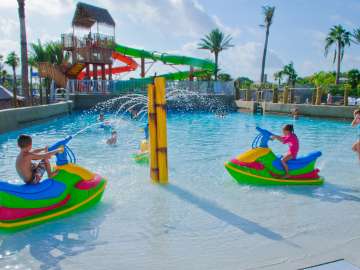 Credit: Moody Gardens, Galveston
Day Trips
Check out a full list of family outings outside of Houston, or read on about a few of our favorites. 
Overlooking Galveston Bay, and just 20 minutes from Downtown Houston, this coastal getaway features themed restaurants, retail shops, and amusements for the whole family. This 35-acre carnival-like atmosphere has a 36-foot carousel, a 65-foot Ferris wheel and rides like the Aviator, the Inverter and the Boardwalk Tower. Kids love the arcade and Midway games.
This tropical destination, less than an hour from Houston on Galveston Island,  is ideal for families and groups alike. Delve into the ocean's depths at the Aquarium Pyramid, explore the extraordinary world of science at Discovery Museum, experience the action of the IMAX® 3D, 4D and enjoy gulf breezes aboard the Colonel Paddlewheel Boat.
Hot or cold, rain or shine, Schlitterbahn – located on Galveston Island - has your family covered with climate-controlled rivers, slides and pools that will put you in a tropical mood! This award-winning park was recently featured on the Travel Channel and also provides free parking, tubes and lifejackets.