Things to Do With Kids in Houston
Endless attractions that appeal to adults and children alike
From boat tours on Buffalo Bayou to one of the top children's museums in the U.S., Houston offers endless attractions that appeal to adults and children alike. Plan a visit and treat your family to one of the city's fun-filled, action-packed adventures that are as entertaining as they are educational. Check out our money saving experiences and packages for kids and adults alike!
Houston Experience Marketplace
Save on your trip to Houston with the exclusive experiences and deals below. Find even more amazing savings on the Houston Experience Marketplace.
Money-Saving Tips 
For families looking to stretch their vacation budget, Houston offers many money-saving perks.
This thin booklet offers tickets to Houston's top attractions and museums at a fraction of the cost, $62 for adults and $52 for children ages 3-11 (a savings of more than 47%). With CityPASS, you can explore the workings of mission control at Space Center Houston; experience the wonder of the underwater world at Downtown Aquarium; walk on the wild size at the Houston Zoo; or stop by the Children's Museum for ultimate kid-friendly fun! Learn how to get your pass today!
View more than 100 special offers—from ticket deals and hotel packages to restaurant perks and transportation promos—here. Don't forget to check out our exclusive experiences that will also help you save here.
Find deals now.
Check out current hotel deals by clicking the button below.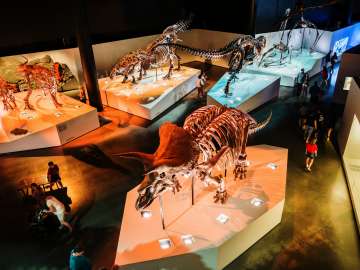 Credit: Houston Museum of Natural Science
Best Museums
 
This world-class museum is crazy fun for all kids, featuring 90,000 square feet of interactive and bilingual exhibitions in the areas of science and technology, history and culture, health and human development, and the arts. Kids can run their own city and compile their own TV news reports at Kidtropolis, make their own gadgets in the Invention Convention exhibit, and check out the forces of hydropower at FlowWorks. And for children three years and younger, Tot Spot provides a fun-filled wonderland of invigorating activities for infants and toddlers.
This extremely kid-friendly museum consistently ranks as one of the most visited museums in the country for a reason. HMNS features a paleontology hall towering with prehistoric critters, a groovy planetarium, a 3D IMAX Theater, a magnificent butterfly exhibit, plus more than a dozen permanent exhibit areas. And make sure to check out the museum's all-new, massive Paleontology Hall.
Start planning your trip to the HMNS
It's anatomy and physiology come to life! The Health Museum takes kids on an interactive, Magic School Bus-like exploration through the human body, letting them identify their personality, view their internal organs, see what they will look like in 30 years and much more.
Learn more about the Health Museum
Families can discover a world of art at MFAH with exciting weekly family programs--including Creation Station, Family Packs, Target Free First Sundays, Story Time and Family Tours--designed especially for children and adults to explore art together.
Learn more about MFAH
This historic home-turned-museum loves kids so much it dedicated the third Sunday of every month to family fun. Bayou Bend Family Days are an amazing day of free entertainment and learning for kids, featuring different outdoor and indoor activities, demonstrations and performances.
Explore the Bayou Bend Collection and Gardens
Here, kids can experience the rich history and the awe of space through Kids Space Place, created for children of all ages who have always dreamed of experiencing the same things astronauts do in space. From the popular Build-A-Rocket to Mission Kidtrol, children will explore, learn the concepts of space and see how these fun activities can be applied to the space program. For a real behind-the-scenes look at NASA, take your kids (ages 14+) on the exclusive Level Nine Tour.
Plan your trip to Space Center Houston
Credit: Miller Outdoor Theater
Theaters & Performing Arts
 
Visit two of Houston's performing arts organizations dedicated specifically to children's performances like Junie B. Jones and Stuart Little.
This series presents shortened versions of traditional and new repertoire for more than 50,000 children and families throughout greater Houston.
Enjoy the sweet sounds of the Family Concerts series (every June).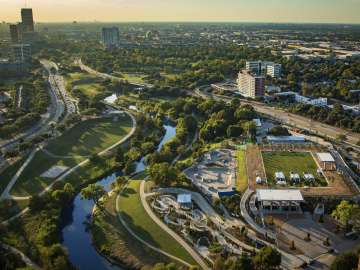 Credit: Houston First
Great Outdoors
In Houston, it's just as easy to spend a morning hiking and canoeing through the city's lovely green belt as it is to visit an acclaimed science exhibit.
Check out the zoo Parents Magazine named one of the "10 Best Zoos" in the nation. In addition to a special children's zoo and an aquarium filled with exotic aquatics, the zoo's Natural Encounters facility gives kids a "nose to nose" experience with animals.  
Explore the best of nature at this 155-acre wooded enclave nestled in the heart of Houston. Kids can participate in fun workshops about plants and wildlife and enjoy more than 5 miles of nature trails, including forest, pond, wetland and meadow habitats.
SplashTown is Houston's largest and most diverse water park, featuring 40-acres and more than two million gallons of summer fun. You'll want to check out the Stingray Racer, the park's newest thrill ride featuring six water slide lanes stretching 55 feet up. And the Tornado, an experience that begins on a platform 75 feet in the air where daring riders are set in motion down a 132-foot long tunnel and thrown into the giant open-ended funnel.
Take a ride on a miniature model train with the Houston Area Live Steamers. With a 4,700-foot track in Zube Park in Northwest Harris County, the group operates monthly free ride days on the third Saturday of each month. The 15-minute rides are fun for the entire family.
Houston's 52-mile Buffalo Bayou has become a prime destination for outdoor recreation near downtown Houston. A fun way for families to explore Houston's green belt is with bikes, boats and bats!
Hike and Bike Trails Call West End Bicycles for rental info, (713) 861-2271.
Canoe and Kayak Trails Call North Lake Conroe Paddling Co. for rental info, (936) 203-2697.
Waugh Bridge Bat Colony Witness 250,000 bats emerge at dusk from under the Waugh Drive Bridge, located over Buffalo Bayou between Allen Parkway and Memorial Drive. Buffalo Bayou Partnership offers Waugh Bridge Bat Colony Pontoon Boat Tours(second & fourth Friday of the month, March-October).
Catch free music, dance and kid-friendly performances like Jack and the Bean Stalk and The Three Little Pigs, at Miller's beautiful outdoor amphitheatre inside Hermann Park.
Downtown's 12-acre park features a model boat pond, children's playground, interactive water features and fantastic year-long programming geared toward families.
This 445-acre urban park, a Nickelodeon Parents' Pick Award winner, is the perfect place to spend a day with kids, whether it's riding the train along Hermann Park Railroad, pedal boating on McGovern Lake, or enjoying a peaceful moment in the Japanese Garden.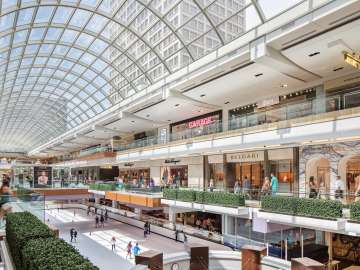 Credit: The Galleria Houston
Local Favorites
 
A dream come true for kids, this sweet place is all about fun, happiness and of course, chocolate! The store is packed with clever little novelties--cell phones, hand tools, cars--all created in luxuriously rich chocolate. Through a large window at the rear, kids can look into the preparation area where all this chocolate magic is concocted. But the heart of the operation is a marvelous ice cream cooler with a dozen stunning, made-on-site flavors that use chocolate to varying degrees.
Get in touch with your artistic side at this paint-your-own-pottery studio where kids and adults alike can try their hand at becoming the next modern-day Michelangelo.
The Little Galleria Play Area located on the second level of, this 2,000-square-foot play area features mini-versions of Neiman Marcus, Nordstrom, Macy's, Saks Fifth Avenue and Williams Tower. Children are invited to play in the soft-foam area — that includes a grand entrance facade, climbers, slides, tunnels, a play wall, shoe keepers, a changing station, hand sanitizer stations, a stroller area and adult seating.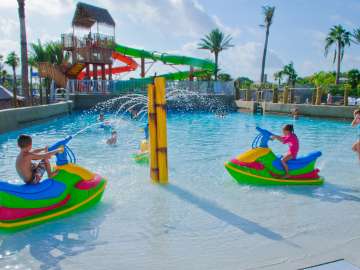 Credit: Moody Gardens, Galveston
Day Trips
Check out a full list of family outings outside of Houston, or read on about a few of our favorites. 
Overlooking Galveston Bay, and just 20 minutes from Downtown Houston, this coastal getaway features themed restaurants, retail shops, and amusements for the whole family. This 35-acre carnival-like atmosphere has a 36-foot carousel, a 65-foot Ferris wheel and rides like the Aviator, the Inverter and the Boardwalk Tower. Kids love the arcade and Midway games.
This tropical destination, less than an hour from Houston on Galveston Island,  is ideal for families and groups alike. Delve into the ocean's depths at the Aquarium Pyramid, explore the extraordinary world of science at Discovery Museum, experience the action of the IMAX® 3D, 4D and enjoy gulf breezes aboard the Colonel Paddlewheel Boat.
Hot or cold, rain or shine, Schlitterbahn – located on Galveston Island - has your family covered with climate-controlled rivers, slides and pools that will put you in a tropical mood! This award-winning park was recently featured on the Travel Channel and also provides free parking, tubes and lifejackets.