Metro Rail Houston
Exploring Houston's Urban Landscape Aboard the METRORail
Heading to Houston? Give the car a brake and let the city's METRORail handle all of the legwork. The recently expanded light rail provides service along nearly 23 miles of central Houston. The 13-mile Red Line runs from Fannin South Station through downtown along Main Street through the Museum District, the Texas Medical Center, University of Houston-Downtown, and ends at the Northline Transit Center/Houston Community College. The Green Line (East End Line) runs 3.3 miles from downtown and east along Harrisburg, and the Purple Line (Southeast Line) travels 6.6 miles southeast connecting downtown from the University of Houston Central Campus to Texas Southern University and Palm Center.

Catch the wallet-friendly rail to more than 100 dining and nightlife options, professional sports arenas, cultural institutions and the largest medical center in the world. 

For those who use the rail regularly, a Q Card allows for great discounts at businesses along the line. 

Below is a breakdown of what there is to see and do off the METRORail's different stops:

METRORail Tips:
Tickets cost $1.25 (one-way) and can be purchased using cash or credit at all rail stops
METRORail hours are:
4:30am - 11:40pm (M-TH)
4:30am - 2:20am (F)
5:30am - 2:20am (SAT)
5:30am - 11:40pm (SUN)
Travel time from end to end is 30 minutes
For METRORail information, call  (713) 635-4000 or visit www.RideMetro.org
Downtown
Rail Stop: UH-Downtown
TO EAT
Spaghetti Warehouse: Traditional, made-from-scratch Italian fare is the specialty here. 3 blocks @ 901 Commerce St.
DON'T MISS
University of Houston-Downtown: UHD is a publicly-supported, urban university located in Houston's central business district. With a student body of more than 13,000, UHD is ranked the second-largest university in the Houston area. 0 blocks @ 320 N Main St.
Allen's Landing: Often described as "Houston's Plymouth Rock," Allen's Landing is the birthplace of Houston.  This historic spot overlooks White Oak Bayou and Buffalo Bayou and features a revitalized concrete paved wharf, promenade, walking trails and a terrace overlooking the bayou. 2 blocks @ 1001 Commerce St.
Rail Stop: Preston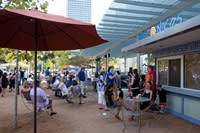 TO EAT
Line & Lariat: The ultra-chic restaurant at Hotel Icon features "modern Texas cuisine." 1 block @ 220 Main St.
Batanga: The restaurant features Latin American tapas, exotic drinks and live music, as well as a large grassy patio that overlooks Market Square Park. 1 block @ 908 Congress.
Mia Bella Trattoria: Inventive Italian fare defines this longtime favorite. 1 block @ 320 Main St.
Hearsay Gastro Lounge: Expect upscale pub grub at this historically-hip downtown spot. 2 blocks @ 218 Travis St.
Frank's Pizza: Downtown pizza joint is known for its hand-tossed specialties and 3 a.m. closing time. 2 blocks @ 417 Travis St.
17 Restaurant: Critically hailed inventive New American cuisine characterizes this chic downtown eatery in the Alden Hotel. 3 blocks @ 1117 Prairie St.
Niko Niko's: Gyro lovers on the go have a new place to snag savory kabobs, hummus and authentic Greek fare at Niko Niko's new Market Square outpost. 3 blocks @ 301 Milam
Bistro Lancaster: Take in a pre-theater meal at this cozy bistro in The Lancaster Hotel. 5 blocks @ 701 Texas Ave.
Vic & Anthony's: Award-winning steakhouse featuring the finest prime beef and seafood and a distinguished wine list. 6 blocks @ 1510 Texas St.
Irma's Southwest Grill: This small upscale bistro serves downtown lunch-goers a short and ever-changing Tex-Mex and southwestern menu. 6 blocks @ 1314 Texas St.
[ back to rail map ]
 
TO DRINK
Dean's: A laid-back mood and hip atmosphere is the feel at this funky downtown bar housed a 1930s clothing store. ½ block @ 316 Main St.
Bad News Bar: This modern American cocktail bar serves up quality drinks in a fun atmosphere. ½ block @ 308 Main St.
Shay McElroy's Irish Pub: Shay McElroy's in the Rice Lofts building downtown takes the Irish-pub-in-America concept to a new level. 1 ½ blocks @ 909 Texas St.
OKRA Charity Saloon:  This bar donates 100 percent of the proceeds to charity. 
1 ½ blocks @ 924 Congress.
Warren's Inn: This classic downtown bar holds its own amid downtown's revitalization. 2 blocks @ 307 Travis St.
La Carafe: Housed in one of the oldest buildings in Houston, this cozy wine bar offers unbeatable ambiance and a very enviable wine selection. 2 ½ blocks @ 813 Congress St.
[ back to rail map ]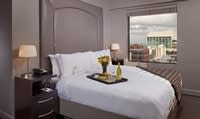 TO SLEEP
Hotel ICON: This cosmopolitan boutique hotel, set in a 1911 bank building, offers timeless design and fabulous amenities. 1 block @ 220 Main St.
The Magnolia Hotel: This upscale luxury boutique hotel offers all the full service amenities and services of a four-star hotel. 2 ½ blocks @ 1100 Texas Ave.
The Sam Houston Hotel: A luxury boutique hotel featuring contemporary design and amenities and the award-winning 17 Restaurant. 3 blocks @ 1117 Prairie St.
Hotel Lancaster: Houston's original small luxury hotel evokes a feeling of comfort and convenience, combining traditional European decor and charm with high-tech amenities. 5 blocks @ 701 Texas Ave.
Westin Downtown: This luxury hotel is directly across from Minute Maid Park and in close proximity to the George R. Brown Convention Center and Dynamo Stadium, among other destinations. 7 blocks @ 1520 Texas Ave.
[ back to rail map ]

DON'T MISS
Market Square Park: Nestled in Houston's Historic District, Market Square Park provides a place for entertainment, dining, public art and-yes-green space. 3 blocks @ 301 Milam
Sambuca: Enjoy live music at this stylish supper club located inside the historic Rice Hotel. 2 ½ blocks @ 909 Texas Ave.
Theater District: Just blocks from the rail, Houston's 17-block Theater District draws a faithful following for Grammy, Tony and Emmy-award winning performances by the Houston Ballet, Houston Grand Opera, Alley Theatre and Houston Symphony. 5 ½ blocks @ 615 Texas Ave.
Minute Maid Park: Root for the Houston Astros at downtown's Minute Maid Park, where a retractable roof affords open-air seating on beautiful Houston evenings. Baseball season is April through October. 8 blocks @ 501 Crawford St.

[ back to rail map ]
Rail Stop: Main Street Square 
TO EAT
McCormick & Schmick's: This popular seafood spot is downtown's leading authority in fresh seafood offering. 1 block @ 1201 Fannin St.
Guadalajara del Centro: An extensive Mexican menu complements the south-of-the-border flair at this bustling eatery. 2 blocks @ 1201 San Jacinto St.
Andalucia Tapas and Taverna:  Provides diners with an extensive menu of authentic hot and cold Spanish tapas and a well-priced wine list. 2 blocks @ 1201 San Jacinto St.
Mia Bella: The second location for this downtown Italian favorite. 2 blocks @ 1201 San Jacinto St.
The Grove: Nestled inside the beautiful Discovery Green park, this two-story, ultra-urban restaurant offers a variety of steaks, seafood and rotisserie specialties. 5 blocks @ 1500 McKinney St.
The Lake House: A family friendly fast casual concept located in the heart of the 12-acre Discovery Green park. 5 blocks @ 1500 McKinney St.
[ back to rail map ]

TO DRINK
Flying Saucer Draught Emporium: A laid-back bar offering 85 taps from all over the world and just down the road. 2 blocks @ 705 Main St.
[ back to rail map ]
 
TO SLEEP
The Courtyard/Residence Inn by Marriott: Located adjacent to one another in the historic Humble Oil building, both these Marriott hotels surround travelers with the conveniences that make business and pleasure travel easy. ½ block @ 904 Dallas St.
Four Seasons Hotel: Located in the heart of downtown Houston, Four Seasons resonates with the cosmopolitan elegance and refined Southern charm that characterizes Houston. 3 blocks @1300 Lamar St.
Hyatt Regency: Provides an upscale experience for convention groups as well as business and leisure travelers. 4 blocks @ 1200 Louisiana St.
Hilton Americas-Houston: Houston's state-of-the-art convention hotel offers over 1,200 guest rooms, including both one and two-bedroom suites. 6 blocks @ 1600 Lamar St.
Embassy Suites Houston Downtown: The new hotel features spacious, two-room suites with separate living areas, private bedrooms and wet bars and overlooks Discovery Green park. 
[ back to rail map ]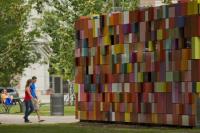 DON'T MISS
GreenStreet: Downtown's sleek entertainment and retail hub offers 700,000 square feet of stylish restaurants, clubs and shops.  1/2 block @ 1201 Main St.
Discovery Green: Houston's 12-acre downtown park offers year-round activities and arts programming, as well as two destination restaurants. 5 blocks @ 1500 McKinney St.
Houston Visitors Center: Make a stop at the Hilton Americas-Houston for maps, guides, tours and Houston information. 5 blocks @ 1300 Avenida de las Americas.
Toyota Center: Watch the red-hot Rockets lay-up and dunk in downtown's Toyota Center. Basketball season is October through April.  Fans also flock to the Toyota Center for high-energy Aeros hockey and action-packed AHL competition. Hockey season is October through April. 6 blocks @ 1510 Polk St.
George R. Brown Convention Center: Located in the heart of thriving downtown Houston, the GRB is the City's premier convention venue, playing host to hundreds of conventions, tradeshows, meeting and events annually. 6 blocks @ 1001 Avenida De Las Americas
The Heritage Society at Sam Houston Park: Learn about Houston's past at Sam Houston Park on the western edge of downtown and take a guided tour of the eight historic structures in the park, all maintained by Houston's Heritage Society.  6 blocks @ 1100 Bagby St.
[ back to rail map ]
Midtown

Rail Stop: Downtown Transit Center 
TO EAT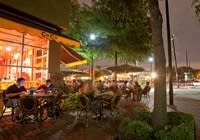 Cyclone Anaya's: This tasty Tex-Mex restaurants brings its mix of margarita-fueled fun and upscale casual dining to Midtown. 8 blocks @ 309 Gray St.
The Fish: This Midtown sushi stop scores high on glam with mood lighting and above-average fare. 8 blocks @ 309 Gray St.
Coco's Crepes and Coffee: Coco's has great drinks, a friendly staff and the best crepes in town! 9 blocks @ 218 Gray St.
[ back to rail map ]
TO DRINK
Christian's Tailgate:  Christian's Tailgate is a Midtown favorite for burgers, beer and sports. 6 blocks @ 2000 Bagby St.
Front Porch Pub: This Midtown favorite boasts 44 draught beers and more than 50 bottles. 9 blocks @ 217 Gray St.
[ back to rail map ]

Rail Stop: McGowen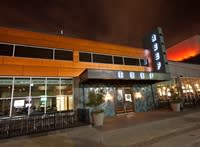 TO EAT
Reef: Celebrity chef Bryan Caswell's flagship restaurant, named the No. 1 seafood restaurant in America by Bon Appétit. 1 ½ blocks @ 2600 Travis St.
Ibiza Food and Wine Bar: As sexy as its island namesake, this hot spot buzzes with Mediterranean bites and airy, clean-edged design. 3 blocks @ 2450 Louisiana St.
Gloria's: Expect a modern yet elegant atmosphere, along with authentic Mexican and Salvadorian dishes--including award-winning margaritas and black bean dip. 4 blocks @  2616 Main St.
Damian's Cucina Italiana: Perched on the edge of downtown, this eatery balances novelty Italian with a palatable sophisticated freshness. 8 blocks @ 3011 Smith St.
[ back to rail map ]
 
TO DRINK
Mongoose Versus Cobra: Craft cocktails and a stellar beer selection are on tap inside this comfortable, yet industrial, space. 1/2 block @ 1011 McGowen.
Nouveau Antique Art Bar: Dozens of reproduction Tiffany lamps hang from the ceiling of this romantic Midtown watering hole. 3 blocks @ 2913 Main St.
Bar Munich: At Midtown's Bar Munich, every day is Oktoberfest. Here you'll find great German beer plus bartenders ready to mix up creative cocktails and shots-including the signature "Munich Bomb." 3 blocks @ 2616 Louisiana St.
13 Celsius: Old-world ambiance and a well-edited wine list find a home at this charming Midtown wine bar and retail shop. 6 blocks @ 3000 Caroline St.
Howl at the Moon: This dueling piano bar creates a lively scene, with singing and celebrating and occasional table-standing debauchery. 6 blocks @ 612 Hadley St.
Pub Fiction: This Midtown pub offers live music, plenty of drink specials, and ample outdoor patio. 6 blocks @ 2303 Smith St.
Little Woodrow's: This relaxed beer garden boasts more than 100 beers (22 on tap), happy hour specials and a sports-friendly crowd. 7 blocks @ 2306 Brazos St.
[ back to rail map ]
 
DON'T MISS
Houston Fire Museum: This museum is dedicated to educating the community on fire, life safety and the history of the fire service. 3 blocks @ 2403 Milam St.
Spec's Liquor Warehouse: Spec's is a true destination shopping experience, offering over 40,000 labels of wines, spirits, liqueurs, beers, and finer foods in its 80,000 square foot building. 6 blocks @ 2410 Smith St.
[ back to rail map ]
Rail Stop: Ensemble/HCC
TO EAT
Tacos a Go Go: Good food and good prices define this casual, yet funky Midtown restaurant.  ½ block @ 3704 Main St.
The Breakfast Klub: Catfish and grits, wings and waffles top a tempting array of breakfast favorites at this cozy comfort food zone. 1 ½ blocks @ 3711 Travis St.
Artisans: This chic bistro is serving traditional yet unpretentious French food in a refined setting. Think seared red snapper Marseillaise-style and New York strip loin topped with Béarnaise sauce. 6 blocks @ 3201 Louisiana St.
Piola: This eatery fuses fast-casual and full-service dining in a vibrant, modern space. Raid the menu for one of more than 50 thin-crust pizza variations. 6 blocks @ 3201 Louisiana St. 
Brennan's of Houston: Brennan's Texas Creole-inspired menu is a longtime favorite for lunch, dinner and the popular Creole Jazz Brunch on Sundays. 7 blocks @ 3300 Smith St.
[ back to rail map ]
 
TO DRINK
Double Trouble Caffeine & Cocktails:  Whether by yourself or with friends, Double Trouble is a comfortable space to enjoy a morning coffee, relax with an after-work beer, or have an evening cocktail. 1 block @ 3622 Main St. 
Shoeshine Charley's Big Top Lounge: Decorated in quaint circus paraphernalia of yore, Big Top is a great place to get a drink before hitting up Continental Club for a show. ½ block @ 3714 Main St.
Maple Leaf Pub: This neighborhood pub offers a solid mix of draft beers, as well as several bottled varieties of Canadian, Texan and American brews. A full menu of food ensures dancing tastebuds 7 ½  blocks @ 514 Elgin St.
[ back to rail map ]
 
DON'T MISS
Continental Club: For live music in a small venue with a distinctly Texan feel, there's no better place in Houston. Local and touring acts tend toward rock, blues and country-tinged tunes. ½ block @ 3700 Main St.
The Ensemble Theatre: The largest African-American professional theatre company in the U.S. produces a repertoire of critically acclaimed dramas, comedies and musicals. ½ block @ 3535 Main St.
Sig's Lagoon: This rad record store is located next door to the Continental Club, offering a wide variety of CDs, vinyl albums, books, and all sorts of knickknacks. ½ block @ 3710 Main St.
Station Museum: A Midtown-set museum dedicated to an always-changing, thought-provoking mix of contemporary art displays. 7 blocks @ 1502 Alabama St.
[ back to rail map ]

Rail Stop: Wheeler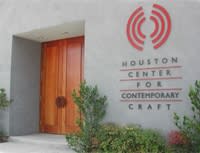 DON'T MISS
Houston Center for Contemporary Craft: One of the few venues in the country dedicated exclusively to craft, highlighting art made of glass, fiber, clay, metal or wood. 5 blocks @ 4848 Main St.
Lawndale Art Center: A non-profit alternative space that exhibits contemporary works in all media, unique in its focus on Houston area artists. 6 blocks @ 4912 Main St.
[ back to rail map ]


Museum District

Rail Stop: Museum District 
TO EAT 

Lucille's: Here, Southern cuisine reigns supreme, with specialties such as braised oxtails, oyster sliders, fried green tomatoes and Lucille's famous chili biscuits which she once served to Eleanor Roosevelt and Martin Luther King Jr.4 blocks @ 5512 LaBranch St. 
TO SLEEP
Hotel ZaZa: The museum district's modern luxury hotel is awash in green space and within steps of Hermann Park. 1 block @ 5701 Main St.
[ back to rail map ]
DON'T MISS
Museum of Fine Arts, Houston: The museum district's anchor and the nations sixth largest art museum, MFAH offers 300,000 square feet of exhibit space and presents more than 30 changing exhibits each year. 1 block @ 1001 Bissonnet St.
Holocaust Museum Houston: Educates students and the public about the dangers of prejudice and hatred in society. 2 blocks @ 5401 Caroline St.
Contemporary Arts Museum Houston: An art fan's favorite, showcasing innovative works from established and up-and-coming artists. Check out the CAMH gift shop, one of the city's best. 3 blocks @ 5216 Montrose Blvd.
Children's Museum of Houston: Touted as the No. 1 children's museums in the country by Parents magazine, CMH is packed with 90,000 square feet of innovative, interactive bilingual exhibits for kids of all ages. 3 blocks @ 1500 Binz St.
The Health Museum: Provides innovative and interactive health and science educational experiences to promote an understanding of the human body. 4 blocks @ 1515 Hermann Dr.
[ back to rail map ]
Rail Stop: Hermann Park/Rice U 
TO EAT
Bodegas Taco Shop: The custom taco shop, located at the corner of Caroline and Ewing, offers a choice of rotisserie chicken, ground sirloin or fajita steak, topped by more than 10 salsa flavors.  1 block @ 1200 Binz St.
Pinewood Cafe: The spot located on Hermann Park's McGovern Lake serves up picnic-friendly foods (customizable picnic baskets are available) and full sit-down meals.  1/3 mile at 6104 Hermann Park Dr.
[ back to rail map ]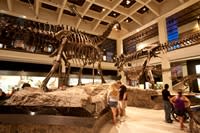 DON'T MISS
Hermann Park: This cultural and recreational hub invites visitors to explore the parks 445+ acres of gardens, picnic spaces, lakes and beautiful green space. 3 blocks
Houston Museum of Natural Science: The fourth most visited museum in the country features an IMAX theatre, Planetarium, Cockrell Butterfly Center, permanent exhibit halls and traveling exhibitions. 3 blocks @ 1 Hermann Circle Dr.
Miller Outdoor Theatre: Located inside Hermann Park, Miller is Houston's premier outdoor theater, offering FREE music, jazz, ballet, dance and film performances from April through October. 1/3 mile @ 6000 Hermann Park Dr.
[ back to rail map ]

Rail Stop: Memorial Hermann Hospital/Houston Zoo 
DON'T MISS
Houston Zoo: Houston's 55-acre zoo is home to 4,500 animal residents, representing more than 500 species, from winged creatures that fly free in the Tropical Bird House, to the slithering reptiles that constitute one of the nation's largest collections of venomous snakes. 1/3 mile @ 6200 Hermann Park Dr.
[ back to rail map ]
Texas Medical Center

Rail Stop: Dryden/TMC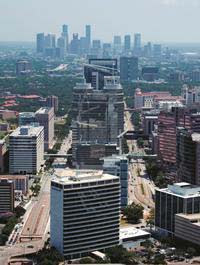 TO EAT
Driscoll's: Located on the second floor of the Houston Marriott Medical Center. Driscoll's offers delicious, regionally-inspired cuisine freshly prepared to order, open for breakfast, lunch and dinner.
Paladora Lounge: Contemporary lounge located in the Houston Marriott Medical Center. Relax over cocktails, beer or wine and enjoy happy hour specials every Monday- Friday from 5pm - 7pm. 

[ back to rail map ]
TO SLEEP
Hilton Houston Plaza: This property provides the finest and most stylish accommodations, with 141 luxurious suites, 42 deluxe guestrooms, and a rooftop pool. The hotel is conveniently located near Rice University, the Museum District and the Texas Medical Center. 6633 Travis St.
Houston Marriott at the Texas Medical Center: Located in the heart of the Texas Medical Center and connected with a climate controlled skyway to world-renowned hospitals, medical schools, Scurlock and Smith Towers. 1 block @ 6580 Fannin
DON'T MISS
Texas Medical Center: With 49+ member institutions, 5 million patients annually and more than 72,000 employees, it's no wonder it's the largest medical center in the world. The entire Texas Medical Center covers more than 1,100 acres. 0 blocks @ 2450 Holcombe Blvd.
[ back to rail map ]

NRG Park

Rail Stop: NRG Park 
TO SLEEP
Crowne Plaza Houston near NRG Park: Located across the street from NRG Park, the hotel offers 85,000 square feet of meeting space. 1 mile @ 8686 Kirby
Holiday Inn Houston NRG Park: The recently-renovated 238-room hotel offers direct pedestrian access into NRG Park.  .9 miles @ 8111 Kirby
DON'T MISS
NRG Stadium: Cheer on the Houston Texans at NRG Stadium. Here, tailgating is as important as the game, so make sure to come early and bring an appetite. Football season is August through January.  0 blocks @ 2 NRG Park
NRG Park: A variety of events and conventions take place at NRG Park, including the annual Houston Livestock Show and Rodeo, the world's largest rodeo, and Houston Ballet Foundation's Nutcracker Market. Conventioneers rely on the METRORail to facilitate travel between downtown's George R. Brown Convention Center and downtown hotels and NRG Park. 0 blocks @ 1 NRG Park
[ back to rail map ]