Getting to Houston
By Air 
The Houston Airport System (HAS) is one of North America's largest public airport systems and positions Houston as the international passenger and cargo gateway to the world with its two commercial airports, IAH and HOU.
George Bush Intercontinental Airport (IAH)
Located approximately 23 miles north of Downtown Houston
In 2019, IAH was served by 27 passenger airlines to 187 non-stop destinations for more than 45.2 million passengers and it was one of only few airports with flights to all six inhabited continents
For IAH's current list of airlines and destinations, please visit https://fly2houston.com/iah/airlines
William P. Hobby Airport (HOU)
Located approximately 7 miles south of Downtown Houston
In 2019, HOU was served by 4 passenger airlines to 83 destinations and more than 14.4 million passengers 
For HOU's current list of airlines and destinations, please visit  https://fly2houston.com/hou/airlines

By Train
The Sunset Limited runs along Amtrak's Southern-most route from New Orleans, LA to Los Angeles, CA. This includes a stop in Houston where the train departs towards California on Mondays, Wednesdays, and Saturdays and toward Louisiana on Tuesdays, Fridays, and Sundays.
The station is located at
902 Washington Avenue
Houston, TX 77002
Services include Superliner Sleeping, dining car accommodations and a sightseer lounge car. Depending on your destination, you have the option of connecting to Amtrak's Texas Eagle, Coast Starlight, Pacific Surfliner, and San Joaquin.

For more information, please visit www.amtrak.com/sunset-limited-train
By Bus
Since 2012, Houston is served by the Megabus line which provides a low-cost alternative if traveling from Austin, Dallas, Galveston, San Antonio, or New Orleans, LA. Tickets are available online and can be as low as $1 per person. Megabus coaches are primarily double decker and offer free Wi-Fi, at-seat plug-ins, and panoramic windows. 

Houston's pick-up and drop-off location is 815 Pierce, across Travis from Metro's Downtown Transit Center.

Click here for more information and tickets. 

Houston has the 9th busiest Greyhound station in the nation and connects you to countless locations in the U.S. Besides the regular routes, Greyhound offers its express service to Austin, Dallas, and San Antonio.
The Greyhound terminal is located at
2121 Main St
Houston, TX 77002
Visit www.greyhound.com for more information and reservations.
Between Galveston and Houston
Visitors looking to travel between Houston and Galveston Island can use the Island Express. The service runs each weekday with departures in the morning, midday and afternoon each way. The total ride cost each way is $9. Click here for more details.
By Car
Houston is well-served by a system of radial and ring highways that provide excellent access to other regions in Texas and beyond. The city lies at the crossroads of Interstates 10 and 45 that connect it to cities from Florida to California and from the Gulf of Mexico all the way up to the Canadian border.

Many of the major highways in the city have at least two names, so it's unusual for visitors to get a little confused. Here's a list to help you decode the nicknames: 
Interstate 10 West: Katy Freeway, West Freeway
Interstate 10 East: East Freeway
Interstate 45 North: North Freeway
Interstate 45 South: Gulf Freeway
Interstate 45 through Downtown: Pierce Elevated
Interstate 610: The Loop, often preceded by North, South, East or West
U.S. 59 North: Eastex Freeway
U.S. 59 South: Southwest Freeway, Sen. Lloyd Bentson Highway, Future Interstate Corridor, NAFTA Superhighway, I-69
U.S. 75: See Interstate 45
U.S. 90 East: Beaumont Highway
U.S. 90 West: See Interstate 10 
U.S. 290: Northwest Freeway, Hempstead Highway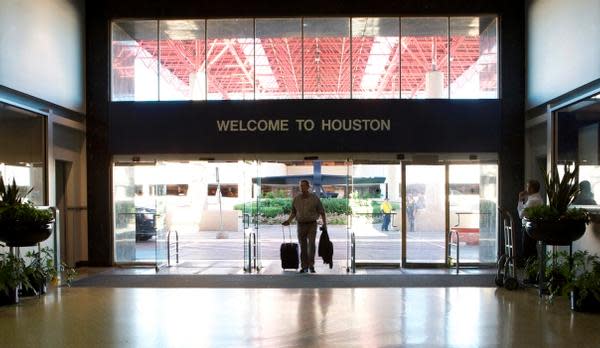 Houston's Hobby Airport is just one of the spots where visitors arrive in Houston.