Searching for the best movie theater in Houston? Cinephiles are in good company in H-Town. From drive-in movies and retro cinemas to independent film outlets and dine-in theaters, Houston is a great place to catch all sorts of Big Screen flicks. Want to know where to watch the next blockbuster? Check out our top movie theaters in Houston.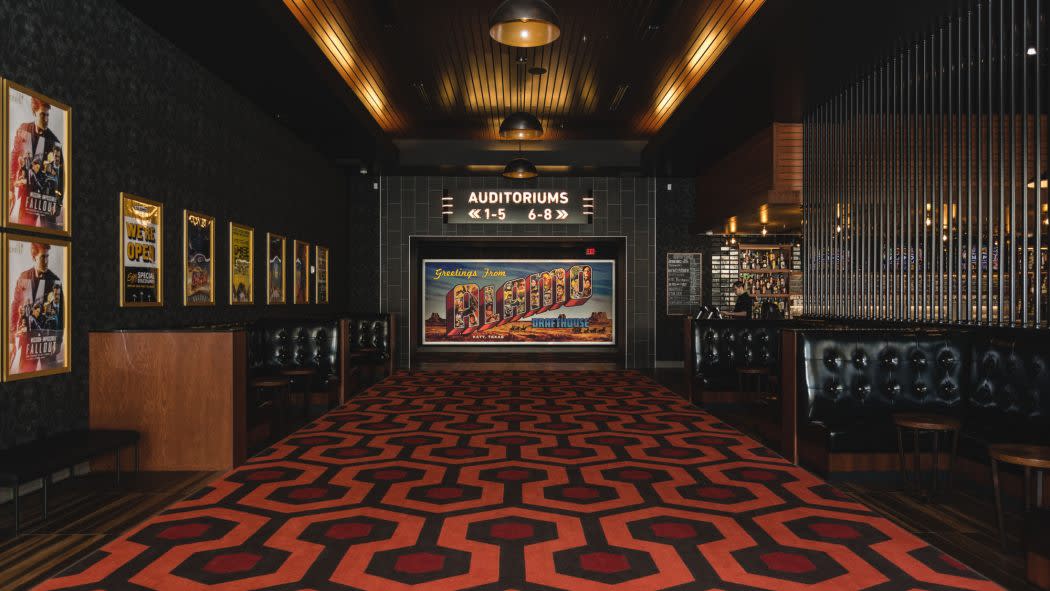 Don't even think about talking during a movie at Alamo Drafthouse. The Austin-born concept is as known for its no mid-show chatting policy, as it is for its chef-driven menu. Sure, it's not Houston's only eat-while-you-watch outpost, but Alamo does make a commitment to made-from-scratch fare. You can't go wrong with the carnivore pizza or hatch green chile burger, which comes topped with queso blanco.
Regal Grand Parkway 22
Richmond might seem like a long way to go for a movie, but the Regal Grand Parkway 22, formerly the Santikos Palladium AVX, is not just any theater, it's a destination. The 22-screen cinema and features an arcade, bowling alley and expansive food options—from gelato and sushi to truffles and gyros. Once inside the theater, guests enjoy pre-selected seating and can pay extra to sit in the VIP section with extra leg room or, for certain shows, they can kick back in a D-Box seat, which feature motion-controlled seats that allow moviegoers to "live the action."
Sure, Downtown's park scene might not fall into the traditional movie theater category, but Market Square Park and Discovery Green have proven to be great settings for an al fresco flick. Grab a blanket and watch classics at both greenspaces, both of which show free films, year-round. For movies at Market Square, be advised that children over six must be accompanied by an adult and children under six are not allowed. Discovery Green does offer fun, kid-friendly options for all ages.   
In an era where technology reigns supreme, it's sometimes nice to get back to basics and that's exactly what patrons love about The Showboat Drive-In. Located in Hockley, which is about 45 minutes northwest of Downtown Houston, is a great place to catch blockbuster movies on a budget. Prices are $8 per adult, $6 for children ages three to 12 and children under two are free! Admission includes two feature films to be enjoyed in the comfort of your car. We recommend packing your own picnic, because although the concession stand turns out a good burger, the wait time can be especially long.
Inner Loopers looking for a cosmopolitan movie-going experience should head to AMC Houston 8, formerly Sundance Cinemas, in Downtown Houston's Bayou Place. The 8-screen spot is known for showing a mix of mainstream and indie films and for guests' ability to reserve their seats in advance. Prior to showtime, make a stop by the Sundance bar for a glass of wine or beer to sip on during the movie. (Tip: Park in the Theatre District garage and Sundance will validate your ticket, good for up to three hours.)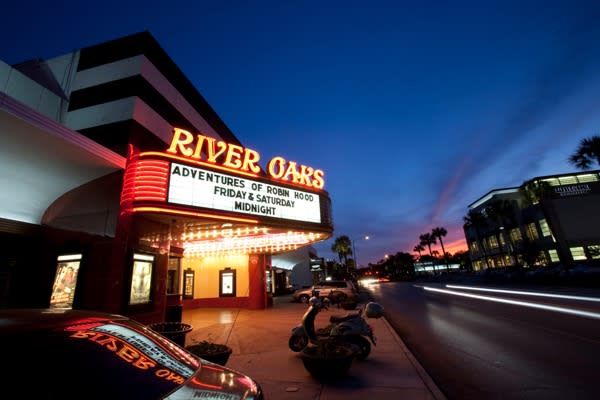 Houston's oldest theater may not boast cutting-edge technology or fancy stadium seating, but it doesn't stop Landmark River Oaks Theatre from being a true gem in the city. Built in 1939, the art deco space remains true to its era, all the while showcasing a mix of independent and foreign films. Venture upstairs, prior to showtime, to grab a cocktail and a box of Junior Mints—they keep them in the freezer, which makes them extra delicious. Make plans to see (and participate in) The Rocky Horror Picture Show, shown at midnight on the second Saturday of every month.
Set in the space that once housed the Aurora Picture Show, 14 Pews continues the location's legacy of bringing a convergence of artistic opportunity to the Heights. Inside, guests can BYOB, along with their own snacks, and settle in to one of the cushioned pews. In addition to indie films, the venue also hosts music performances, puppet shows, plays and workshops.
For an elevated film experience, settle into a seat at the Museum of Fine Arts, Houston. Held in the Brown Auditorium Theater, guests can choose from more than 200 annual screenings, enhanced by Dolby surround sound, stadium seating and projection capabilities that range from 35mm reel-to-reel to state-of-the-art digital formats. There, find everything from favorites like The Sound of Music and Reality Bites to premieres and the "second look" series—a re-air of acclaimed films that briefly played in Houston earlier this year.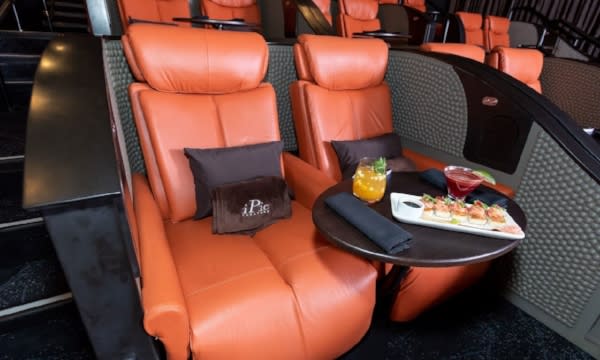 iPic Theaters might be one of the swankier movie experiences in Houston. Located in the River Oaks District, iPic offers over sized, extra-cushioned leather seats in the Premium section, or indulgent reclining seats in the Premium Plus level complete with a personal blanket and pillow. Premium seats come with your own table for any treats you've picked up from the iPic Express grab-and-go counter. If you're in the Premium Plus section, you have a server who tends to your food and drink needs. However, no matter your seat, iPic guarantees every seat has impeccable views of the big screen. 
The Aurora Picture Show
The Aurora Picture Show is a non-profit media arts center that presents artist-made, non-commercial film, and video. Founded by Houston-based media artists Andrea Grover, the theater is dedicated to expanding the cinematic experience and promoting the understanding and appreciation of moving image art. Aurora offers year-round programming of short films, historical works, documentaries, kids film series and works by Texas filmmakers.