July is the pinnacle of summer! The weather is hot, water parks welcome thousands of guests, and vacation travel is at its peak. If anyone is looking for a getaway or staycation, Houston has plenty of activities for friend groups, couples or the entire family. From Fourth of July fireworks to a Trap Wine Fest (yes, trap music and wine), come stay and play in Houston.
Shell Freedom Over Texas
JULY 4
There are lots of amazing 4th of July events across the greater Houston area. However, the city's marquee celebration is the Shell Freedom Over Texas firework show. Head to Eleanor Tinsley Park for six-hours of festivities, tradition, and concert stages featuring local, regional, and national entertainment that will be capped off with a musically choreographed, "Texas-sized" fireworks finale. Get your tickets here. Can't make the show in person, the event will be televised as well! For a full list of Fourth of July events in Houston, click here.
Join for an unforgettable celebration of history and patriotism as 1776: The Musical takes center stage at the Hobby Center! Immerse yourself in the captivating tale of America's founding fathers, as they grapple with the weighty decisions that shaped a nation in this Tony Award-winning production. 
JUNE 28 - JULY 2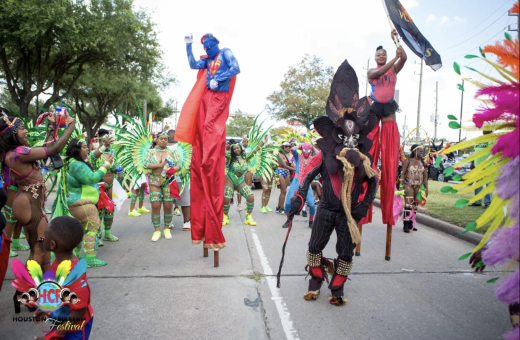 Escape to the islands at the Houston Caribbean Festival. The generous people of the Caribbean, who hail from the 16 countries that make up this region, have an entire weekend full of festivities to celebrate their cultures. Each country has its own vibe and style that will certainly be on display along with fabulous food, drinks, music and dancing. There are multiple events throughout the long weekend and tickets are required for some. One thing is for certain, this group is ready to throw a fête like you've never seen.
One man's trash is another man's treasure… or so they say! For one day only, head to ThiftCon at NRG for one the nation's premier thrifting events. Guests can scour through unending racks, bins and discounted piles to find the best deals in vintage and thrifted t-shirts, sneakers, hats, outerwear, dresses, accessories, home goods, collectibles and much, much more. Interesting finds span every era from the 1950s all the way to modern releases. Tickets are required.
Join this nostalgia-fueled celebration as Yellowcard takes their Ocean Avenue Anniversary Tour downtown at 713 Music Hall! Relive the magic of their iconic album and immerse yourself in an unforgettable night of punk-pop energy and timeless anthems. Don't miss your chance to sing along to all your favorite hits and create new memories with Yellowcard's unforgettable live performance.
The Houston Symphony has prepared a wide assortment of experiences for audiences young and old throughout the city this summer! Enjoy the music of movies and the classics at performances at Miller Outdoor Theater (for free!), Smart Financial Center in Sugarland, the Cynthia Woods Mitchell Pavilion in The Woodlands, and at The Hobby Center for the Performing Arts in the heart of downtown.
Calling all soccer fanatics! Six soccer titans take center stage in eight friendly matches across the United States with Real Madrid and Manchester United facing each other at NRG Stadium this July. Secure your tickets now for this epic match!
Discover Houston's vibrant cultural scene (and beat the Houston heat) like never before with the Houston Museum Pass! Immerse yourself in a world of art, science, and history as you gain exclusive access to the city's most renowned museums and attractions. From masterpieces at the Museum of Fine Arts to the fascinating exhibits at the Houston Museum of Natural Science and Space Center Houston, this pass unlocks a treasure trove of knowledge and inspiration.  Choose from one, three, or thirty day passes and experience all that Houston museums have to offer!
Head to Houston and be sure to beat the heat at the Omni Houston Hotel Galleria with its incredible pool! Stay now through September 28 and receive up to 20% off booking - the longer you stay, the more you save! Take advantage! VIEW OFFER.