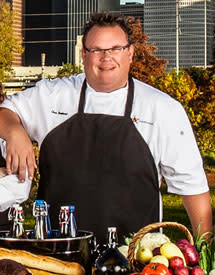 Chef/Owner, Underbelly
Midwest-raised Chef Chris Shepherd spent weekends as a child scouring farms throughout Oklahoma in search of straight-from-the-vine tomatoes, fresh corn and peas.
He left boundary-pushing Catalan restaurant to open Underbelly in March 2012, featuring locally-sourced food inspired by the ethnic diversity of Houston. The Art Institute-alum and former Executive Sous Chef-turned-Sommelier of Brennan's brings his farm-to-table passion to fruition at the new spot, which was named one of the best new restaurants in the country by both Bon Appetit and Esquire.Shepherd was a finalist for a 2013 James Beard Award and was named one of Food & Wine magazine's Best New Chefs in America.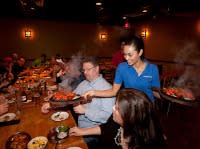 Birthplace...Tulsa.
Favorite type of cuisine...It goes with the wind. Either Vietnamese or Korean. The flavors and the textures. 

In one word, Houston is...Cultural.
A Houston must-see...The Menil. It's kind of a hidden thing that no one really knows about.
One thing in Houston I haven't experienced yet, but would like to...I've never been to the Houston Museum of Natural Science.
Brennan's as a training ground...You learn how to manage people. The place has 120 employees, a kitchen staff of 25. It's a big operation. If you can make it there and learn those procedures, you develop a work ethic and how to work with people.
Favorite local ingredient...Citrus.
Favorite place to shop for ingredients...H Mart.
Houston's hidden gem...The Orange Show.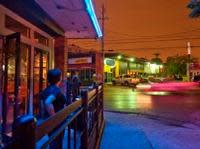 Favorite part of town...Montrose. It's the heart of the city. Everything you need is right there. It's always been the cultural epicenter of the city.
Local inspiration...The Where the Chefs Eat culinary tours. Every tour I sign up to do, I need to learn more and more about the city. I know I'm leading a Korean tour soon, and I need to learn more so we can do something different than we've done before.
Inspiration for my menu...Heritage, traditions, senses, seasonality and common sense.
Favorite off-the-beaten-path restaurant...Chicken and Joy. Fried chicken inside a grocery store [H Mart].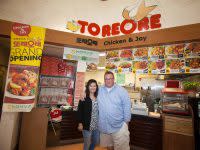 Why Houston?...I love this city. The diversity in this city is what makes it so strong. It's like no other place. You can't get the products that we can get.
How Houston's culinary scene stacks up to the rest of the country...We're kicking everybody else's ass.
Explaining Houston to outsiders...I keep saying this, but it goes back to the diversity. It's all the different cultures. It's all the different types of people that make up this city and make it so strong. Whether it's the fishing fleets that we have or the Vietnamese immigration or the Indian or the Hispanic or guys like Antoine that have come over from New Orleans with this huge Southern influence. It's that city that even when the economy is down, people can come here, so you see people coming from all over the country coming to work here. It's diversity.
Always in my refrigerator at home...Kewpie mayonnaise.
If I weren't a chef, I'd...be a butcher.
Favorite cocktail...The Brave at Anvil (Del Maguey Chichicapa Mezcal, Hacienda de Chihuahua Sotol Plata, Averna amaro, orange curacao, Angostura bitters, flamed orange zest).