Puppeteer, Bobbindoctrin Puppet Theatre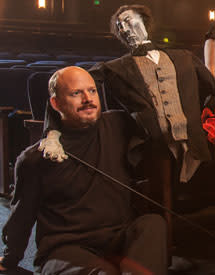 Joel Orr, the founding Artistic Director of Houston's Bobbindoctrin Puppet Theatre, has been producing avant-garde puppet productions since 1989. The English Lit major, who grew up just outside Houston in Alvin, Texas, has written and directed many puppet plays, including The Black Box, Corpus Struwwelpeter, Ivan the Fool, The Mauist and The Crime of the Assistant Master Butler.

As a Bobbindoctrin artist, Orr has enjoyed many collaborations with Houston arts groups, including Two Star Symphony's Danse Macabre trilogy, Unhinged Productions' The Long Christmas Ride Home and Rot with Mildred's Umbrella Theatre Company, among others. He also serves as co-producer of Bobbindoctrin's Annual Puppet Festival--a collection of short, live and filmed puppet works from local and national puppeteers.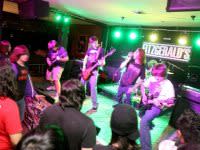 Birthplace...Alvin [Houston suburb]. I've lived in Houston since 1988.

My start in puppetry...[I thought] it was just a stepping stone to get into "real theater." I did a few puppet shows and a few plays, and then I stopped to get my degree. When I stopped, everybody asked me when the next puppet show was, and nobody asked me about my plays.

Founding Bobbindoctrin...It was officially founded in 1996 and became a nonprofit in 1999. Our first shows were all in nightclubs and bars. We don't have our own theater. We work a lot out of Midtown Art Center and 14 Pews.

Developing a following...If you get the word out and the quality of work is good, people will come out and support you and are excited about new things. After I started...I wasn't sure if I should leave Houston or stay, but once I realized I had fantastic resources here and a loyal following, I decided Houston was a great place to continue to develop and maintain my company.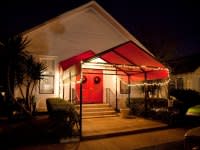 Where I take out of town guests...I would recommend they check out Catastrophic Theatre and see if they've got anything going on. There's actually a few theaters in town that I'm fond of: Catastrophic,Mildred's Umbrella, Frenetic Theater and BooTown. They all do fantastic work. Recently, Fitzgerald's has had a resurgence in their music bookings. It's just a really good classic Houston institution. They started booking some really good bands like Grandfather Child and I Am Mesmer.
Supporting the arts...Houston is enviable for its support of the arts. The Houston Arts Alliance and Houston occupancy tax is a huge help to the arts scene in Houston. The audience of Houston has been remarkably supportive of us.