By now, you've come to expect Wi-Fi service and a host of other standard amenities at hotels. But some hotels, including several in Houston, kick their amenity offerings up a notch or two. Here are seven not-so-standard but oh-so-cool amenities at hotels in the Houston area.
1. Magnolia Hotel
Craving a bedtime snack that harkens back to your childhood? The Magnolia Hotel Houston serves complimentary milk and cookies from 8 p.m. to 10 p.m. daily.
2. Four Seasons Hotel
Experience the world's first Topgolf ® Swing Suite, a virtual simulator at Four Seasons Hotel Houston. Guests will enjoy playing notable courses like St. Andrew's or Pebble Beach through Topgolf®'s cutting-edge virtual technology with full food and beverage service from the hotel's restaurant Bayou & Bottle.
3. Hotel ZaZa
Plenty of hotels succeed at replicating the comforts of home. But Hotel ZaZa Houston takes this a step further. Some of the hotel's suites feature gourmet kitchens equipped with stainless steel appliances. In select suites, you'll even find a washer and dryer.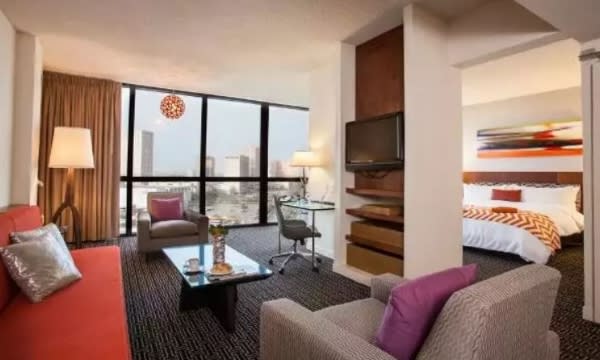 4. Hotel Derek
Want to relive a little bit of your childhood? At Hotel Derek, you can arrange a pillow fight for $75. The hotel will stock your room with 10 extra-soft pillows for the battle, plus jumbo boxing gloves so you can duke it out in case of a tie. Included in the package is a post-fight treat: warm chocolate chip cookies and cold milk.
5. Hotel Granduca
Care for a spot of tea? Hotel Granduca hosts a traditional afternoon tea in the bar and the lobby. Reservations must be made 24 hours in advance.
6. St. Regis Houston
Need to get your suit pressed for an all-important meeting in the morning? Looking for that bestselling book that your friends have been recommending? The butler service at The St. Regis Houston is at your service. The hotel promises that "no request is too small or unattainable no matter what the hour of the day."
7. Marriott Marquis Houston
Houston is hot in the spring and summer month. Locals know it, but sometimes our weather can catch visitors by surprise. The best way to cool off is by enjoying the Texas-shaped lazy river at the Marriott Marquis Houston. While casually floating around the pool, you'll also glimpse some of the best panoramic views of Downtown Houston.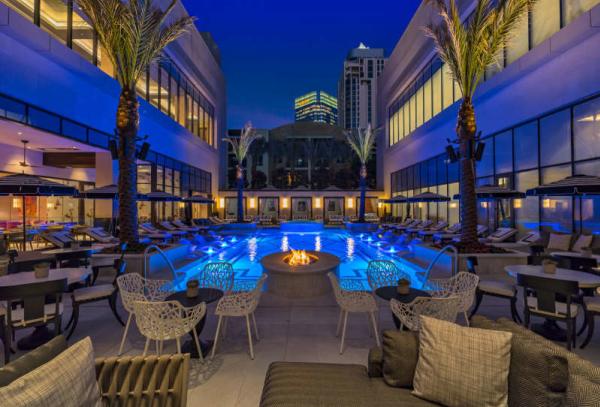 8. The Post Oak at Uptown Houston
There are lots of ways to avoid traffic in Houston, carpool lanes, EZ Tags, but did you know The Post Oak at Uptown Houston offers transportation from Houston's airports to a private helipad on top of the hotel? Now that's arriving in style. Offering one-way transfers, round trips and charters, you'll be hard pressed to find a more luxurious way to travel. 
9. The Houstonian Hotel, Club & Spa
The Houstonian Hotel, Club & Spa describes itself as an oasis with the city. Offering lush greens around the hotel, there are a plethora of on-site outdoor activities. Walking and jogging paths offer lots of opportunities to commune with nature. Enjoy wildlife, bird watching and more! Further, tennis, padel and swimming are also all on the ground! Further, supervised childcare for children ages six weeks to 12 years is available for hotel guests at an additional fee. 

Bonus: There is no shortage of in-room food amenities at The Houstonian, with unique and delicious options made on site! Their signature offering is the "Welcome to Houston" option with jerky, sweet and spicy nut mix, pecan bark & Garrison Brothers Bourbon in a Houstonian flask for $65. 
10. The Westin Houston Downtown
Pamper you pet at The Westin Houston Downtown. The Westin welcomes dogs up to 40 lbs. and offers a signature Heavenly Pet Treatment. By request, owners can get a floor mat, food and water bowls for a comfortable stay. For an extra charge, owner's can get a plush Heavenly Dog Bed with grey Westin embroidered branding and signature piping.

Learn more about the evolving Houston Convention District at visithouston.com/meetings/