Chorizo and egg tacos, fresh French crepes and creme, chicken and waffles...hungry yet? Houston has some of the best breakfast restaurants in the country. We pulled together a list of some of our favorite spots around town to create the ultimate H-Town breakfast guide.
This Rice Village hotspot offers breakfast fans an authentic taste of France. The menu is the result of careful collaboration with French chefs experimenting with non-traditional ingredients such as roasted turkey and french brie or smoked ham with aged gruyere. Of course there are also popular options like the Toasted Bueno (cinnamon, toasted coconut, dulce de leche, bananas, & vanilla bean sugar) and S'mores crepes. The cafe also offers French-styled waffles and omelettes. A morning spent at Sweet Paris Crêperie feels like a delicious breakfast trip to Europe.
Brothers Taco House is another well-known Houston original. The family-owned restaurant may have a humble appearance, but it's hard to find a time when a line isn't snaking around the parking lot of its East End location. It will only take $3-$5 for you to leave Brothers fat and happy. The simple menu includes 20 variations of breakfast tacos along with Tex-Mex favorites like huevos rancheros and quesadillas. Don't even think about passing up on the amazing horchata.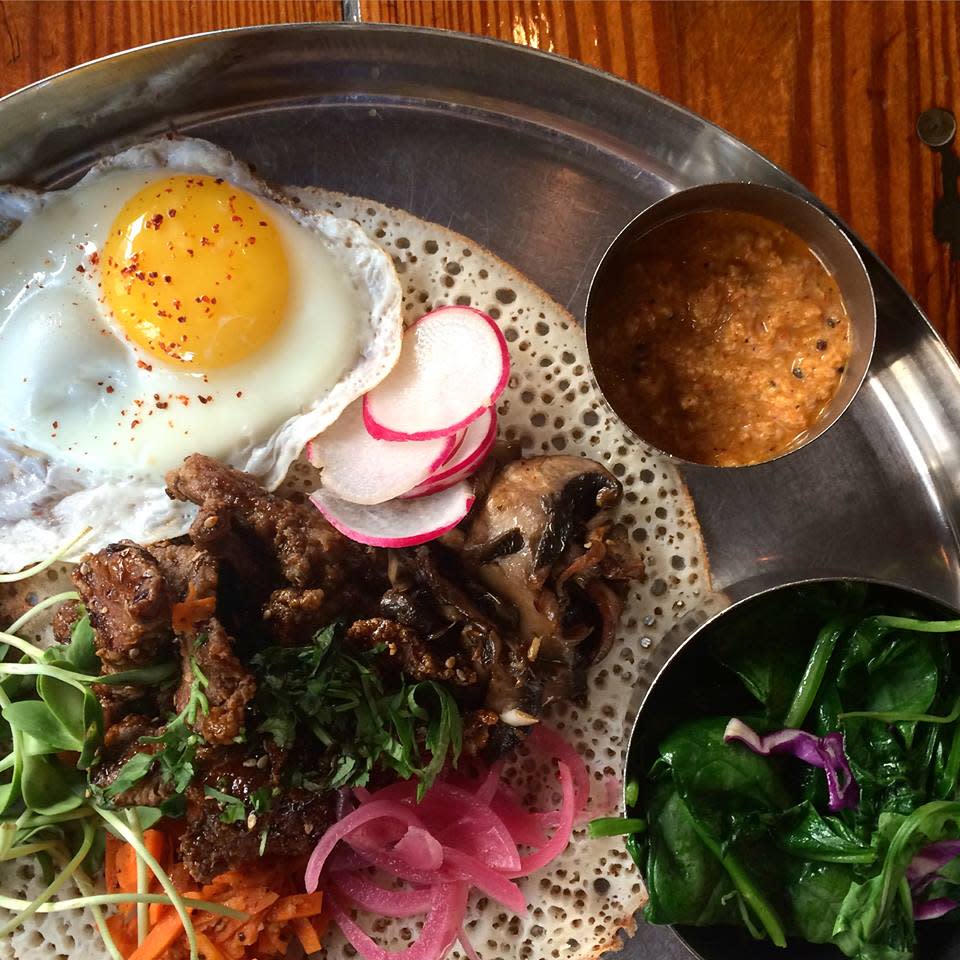 Chef Anita Jaisinghani's Morning Thali has been the talk of the down ever since Ponedcheri opened a few years ago. The beautiful assortment of flavors is a traditional Indian variety plate with keema, uppma, peanut coconut salad, beet cashew raita, potato cake, carrot paratha & fried egg. Pondecheri also offers a variety of other Indian breakfast options like authentic dosas, saag paneer omelet, and potato cakes. The Montrose restaurant has been named one of the best in the Southwest by the James Beard Foundation.
Revival Market
This Heights staple acts as the neighborhood market and butcher while also offering all day breakfast, lunch and dinner service. Revival Market specializes in offering the freshest meat, produce, and dairy options from local farmers. For breakfast pick from a variety of freshly made biscuit sandwiches or opt for the Revival Tostada, a crispy tostada with fried yard egg, chorizo, refried beans, avocado, salsa, queso fresco and cilantro. Try creative drinks like the honey lavender latte or champurrado (double shot espresso with spiced Mexican chocolate and Masa de harina).
A Houston favorite since 1948, Harry's Restaurant Café has been the pride of Johnny Platsa and his wife Patricia since they took it over nearly 20 years ago. Still in its original location, the Midtown restaurant's menu has always reflected it's Greek and Ecuadorian heritage but also incorporated Mediterranean, Latin and traditional American influences. Harry's offers favorites like their Texas-sized omelets, spitiko greek omelet, feta fries, or chicken and waffles all in signature cafeteria-style seating. The menu even features unique selections from Harry's hometown of Larissa, Greece.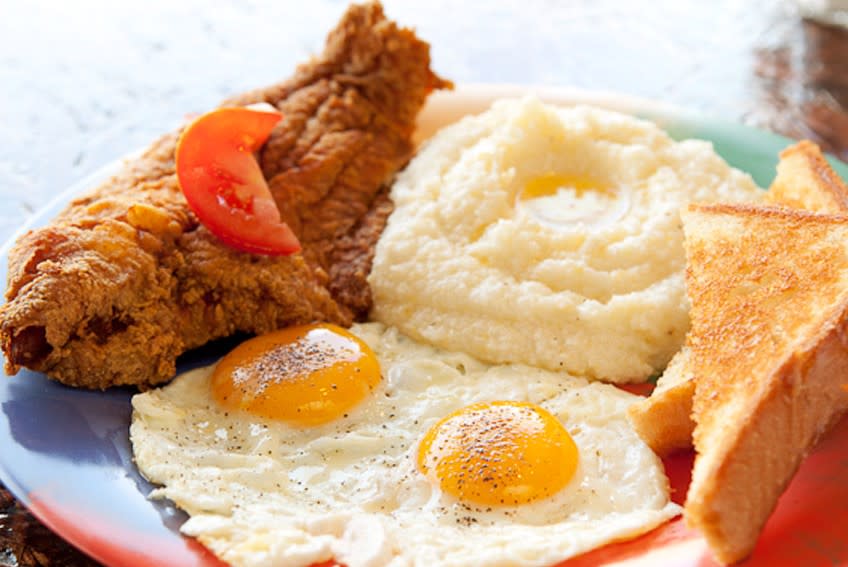 Can you really claim to be a Houston breakfast guide without mentioning The Breakfast Klub? The Midtown staple is a hometown favorite but has also been ranked in the top breakfasts in the country by Good Morning America, Esquire, and Zagat's. You can't go wrong with the wings and waffles or catfish and grits but don't look past the "biskits" and gravy or green eggs and ham. You'll want to get there early on weekends to beat the crowds.
Known most for it's excellent selection of gourmet coffee, Blacksmith also offers a popular breakfast menu. The coffeehouse came to be when the owners of Underbelly and The Hay Merchant partnered with Greenway Coffee to create a cafe experience that sought to craft something by hand with uncompromising quality and attention to detail. The Vietnamese steak and eggs is the signature breakfast option having been named one of the best in the country by Details Magazine. Let one of Blacksmith's highly trained baristas make you the perfect latte.