The month of October could quite possibly be the best time of year in Houston. The weather has cooled off, the kiddos are in school, and there are a ton of fun and festive events happening throughout the city that the whole family can enjoy. Check out our list of great things to do in October in Houston, and get started making memories with your loved ones.
StARTup Art Fair
Houston has one of the best art scenes in the country (we're biased), so it's no wonder the famed StARTup Art Fair named our city its latest location for the popular event. This is a truly unique experience, where over 40 artists transform hotel rooms at Hotel ICON into individual exhibition spaces. Think of it as visiting dozens of mini art galleries all in one place. Plus, the fair gives independent artists a venue where they can directly interact with art lovers, curators, collectors, the media and the general public and keep 100% of the proceeds. StARTup Art Fair takes place Oct. 11 – 13 at Hotel Icon (220 Main St., Houston).
Bayou City Art Festival
If you can't get enough art, the Bayou City Art Festival is an event that brings people back each year. With 300 artists, food trucks, entertainment, music, and a Children's Creative Zone, the festival is truly an experience with something for everyone. Often described as an outdoor museum, this event brings Houston's art culture to life in Downtown Houston. The event is Oct. 12 – 13 in front of City Hall in Downtown Houston.
Bring the whole family to the Energy Day festival, the city's largest annual free family event showcasing science, technology, engineering and mathematics (STEM) activities. Interactive demonstrations and exhibits teach attendees about different types of energy and how they work in the real world. Fun, hands-on activities help children and adults alike bridge the gap between STEM subjects and their real-world applications. Energy Day takes place Saturday, October 19 from 11am – 4 pm at Sam Houston Park.
Sculpture Month Houston
Sculpture Month Houston gives a new name to immersive art. The three-year-old festival will run from October 12 to November 30 this year and will feature a citywide festival featuring a diverse offering of sculptures at various venues throughout Houston. Local, regional, national and international artists bring their talents to the Bayou City for multi-dimensional, immersive art installments. The main show at SITE Gallery Houston is titled "Outta Space," but you can catch site-specific installations throughout the city.
Wings Over Houston
Ellington Airport is hosting Wings Over Houston October 19 and 20. The event showcases vintage World War II aircraft, modern aviation, and has supported a variety of local and national charities during its 35-year history. Some groups and organizations will even be offering rides in some of the vintage aircrafts. History buffs will love this event which also boasts family-friendliness with a carnival featuring inflatables, face painting and crafts. 
East End Street Fest
The East End Street Fest is a free community event jammed packed with entertainment, food, shopping and more. The fun takes place all day long on Saturday, October 19 at the Navigation Esplanade. The event celebrates Houston's historic East End community and brings out over 13,000 people. This year's fest will include two stages for live performances, a cultural food kitchen, a kid's zone, dozens of vendors and activities for the entire family. Musical headliners include Grammy Award winning artists Grupo Fantasma and los Aztex.
In its eighth year, the Texas Contemporary Art Fair will feature 75 exhibitors from around the world at the George R. Brown Convention Center. Art enthusiasts as well as collectors will be able to purchase pieces from artists representing Venezuela, Estonia, Scotland, Italy and London as well as Houston and other parts of the United States. In addition to gallery showcases, the fair will include a focus on design, which highlights interior design pieces. The fair takes place October 10 – 13. 
Tens of thousands of people will converge on Discovery Green for a truly unique experience as they become immersed in culture at the 10th annual Korean Festival. Hur In Gyu, a skilled potter and artist from South Korea, will be a special guest at this year's event. Besides the vast array of food at the festival, the highlight is often the musical and dance acts on the main stage by performance groups in hip hop, pop, rock and traditional Korean music. Martial arts and breakdancing are a couple of crowd favorites. The Korean Festival takes place Saturday, October 5 from 10 a.m. to 10 p.m.
Viet Festival
The first-ever Viet Cultural Fest takes place in Houston on Saturday, September 28 at NRG Park. Attendees will be able to visit vendors to purchase traditional Vietnamese clothes and other wares as well as authentic cuisine. A lantern contest, pho eating contest, trivia competition and traditional chess tournament are just a few of the activities to help usher in the fun. Girls ages 13 to 17 will compete in the Miss Viet Teen Culture Fest Pageant while singers, dancers and entertainers of all ages will participate in the talent search. The festival will be from 9:30 a.m. to 6:30 p.m.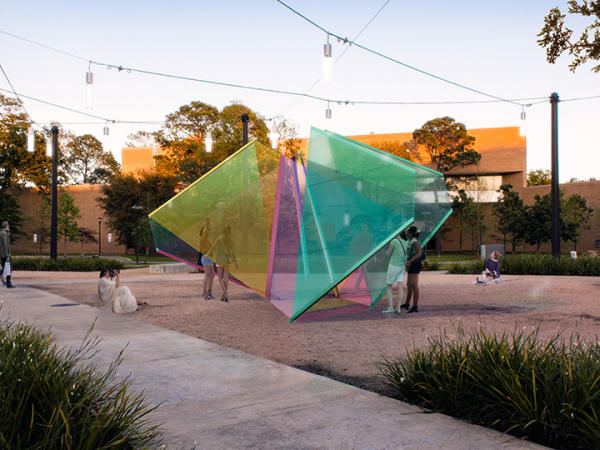 University of Houston Temporary Public Art Sculpture
The University of Houston celebrates 50 years of its public art program with the opening of a new Temporary Public Art sculpture in the school's Wilhelmina's Grove green space. The University will host the official debut of a new acrylic sculpture called "Mobius Houston" by Uruguayan artist Marta Chilindron. The piece will be on display at UH for six months. In addition, the public can enjoy regular tours every first Friday, October through May, which will give the art lovers an opportunity to learn more about different artists and their works through temporary installations and short-term exhibitions in visual, digital, musical and performing arts. The tour is free and open to the public.