Haunted Houston
The region is home to many places said to be inhabited by ghosts
 
Do you like a good scare? The Houston/Galveston region is one of most haunted destinations in the U.S., where ghostly pirates still patrol the waters and heiresses remained tied to their mansions.
Believers and nonbelievers alike seeking an adventure will want to check out some of these local haunts.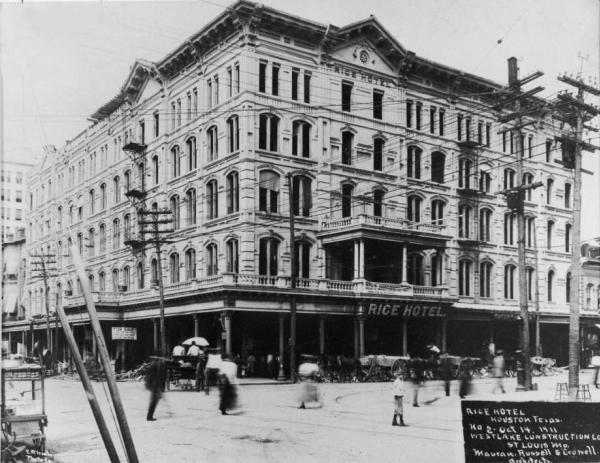 Hosting six Presidents while in office, The Rice Hotel is where John F. Kennedy spent his last night before being assassinated in November 1963. It's said that cold spots, rattling doors and beds, orbs of light and a presence are felt in JFK's room. Ghost dancers appeared in the ballroom before it was renovated in to the Rice Lofts. Now the lofts are haunted by spirits who dance on the rooftop. 909 Texas Ave., Houston

With their elaborate Italian Renaissance-inspired design, the Esperson Buildings are some of the most recognizable buildings in Downtown Houston. Mellie Esperson had the two buildings constructed for her husband Niels, an oil tycoon, in 1927 and 1941. The ghost of Millie is said to haunt the building since her passing, particularly the elevator which has been known to open on its own and frequently malfunction. Her ghostly figure has reportedly been seen wandering the halls and lobbies of her prized architectural creations. 808 Travis St., Houston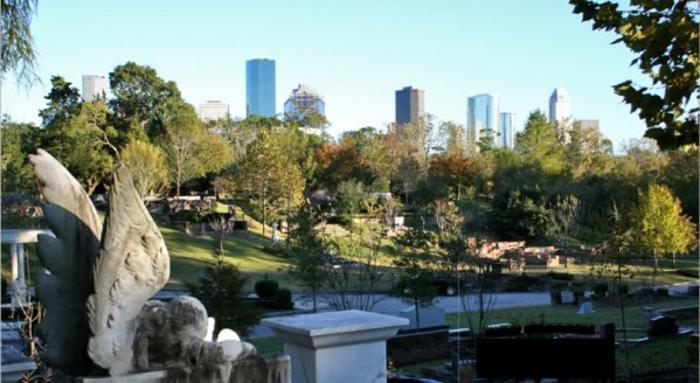 Located off Memorial Drive along the shores of Buffalo Bayou is the beautifully landscaped Glenwood Cemetery. With over 60 acres of monuments and elaborate mausoleums, Glenwood is the final resting place of many influential Houstonians, including mayors, governors, business tycoons and even famed aviator Howard Hughes. The manicured, tree-shaded lawns appear serene. But appearances can be deceiving. The cemetery has been consistently ghost hunted and has shown EMF abnormalities. The owner of the cemetery was murdered and the case remains an unsolved mystery. It is rumored that the ghost of the owner haunts this historic burial ground to this day. 2525 Washington Ave., Houston

Named after the President of the Confederacy, Jefferson Davis Hospital was erected in 1924 atop what was once a Confederate cemetery and before that, a burial site for plague victims. Several human bones were uncovered during excavation. Throughout its history, the building served as a hospital, a psychiatric ward, juvenile detention center and food stamp distribution venue. The hospital sat abandoned for decades and was said to be haunted by angry soldiers, doctors, nurses and patients. Although the building was off limits, it didn't stop paranormal investigators and curious individuals from sneaking in. Screams and howls have been heard throughout the building and shadowy figures and unusual sightings have been caught on film. The building has since been renovated into The Elder Street Artists Lofts-affordable living in a low-income neighborhood. Have the spirits finally gone to rest? Some say the 5,000 to 6,000 buried on the site are still making their presence known. 1101 Elder St., Houston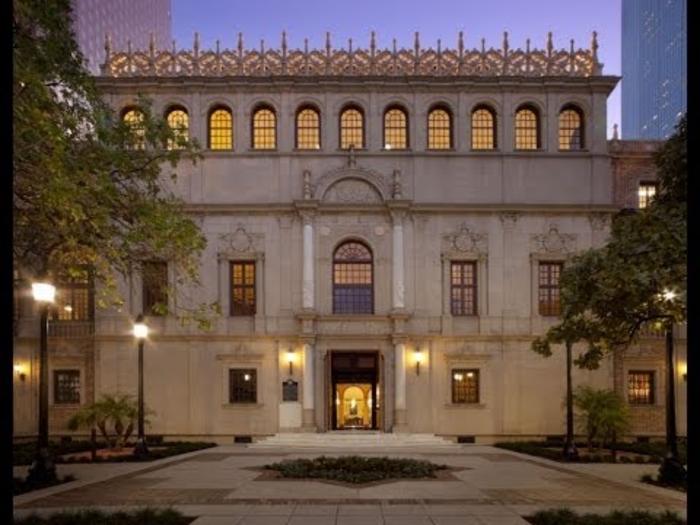 In the early 1900s, library caretaker Jacob Frank Cramer used to roam the premises of the Julia Ideson Building, now across from downtown Houston's Main Branch Library. He spent his leisure time strolling through the halls, playing violin and playing with his dog. In 1936, he died alone in his room, located in the basement. The ghosts of Cramer and his dog, Petey, are said to haunt the library to this day. Employees report eerie strains of violin music, especially on gloomy days, and the clicking of Petey's toenails on the marble floors heard throughout the halls. 500 McKinney St., Houston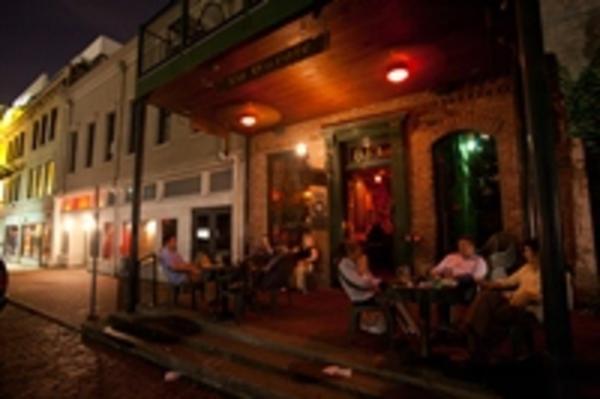 A Downtown Houston wine and dive bar, La Carafe, is believed to be the oldest bar in Houston. Built in 1866, the building is small and worn, but most notably haunted by a former bartender named Carl. Employees have reported hearing footsteps, glass breaking, the sound of heavy objects moving around the vacant second floor, and cold spots in the restrooms. The figure of a large African American man resembling Carl has been spotted standing in the second floor window after closing time. 813 Congress St., Houston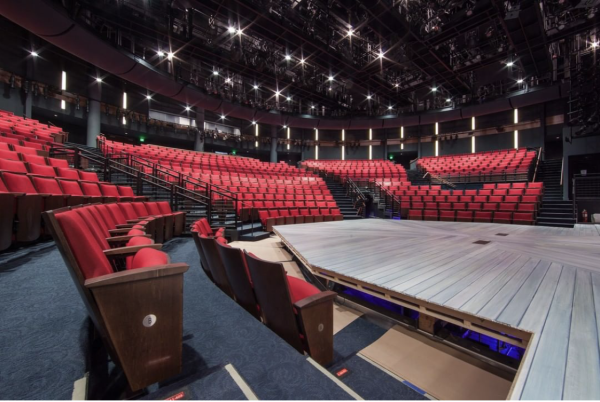 It's been more than 30 years since Iris Siff, the Alley Theatre's managing director, was murdered in her downtown office. In the early morning of January 13, 1982, Siff was busy working on a government grant, when former security guard, Clifford X Phillips, robbed and then strangled her with a telephone cord. Her spirit is said to still linger in the building. 615 Texas Ave. Houston
Arguably Houston's most direct line to the afterlife is the National Museum of Funeral History. Located on the north side of the city near Bush Intercontinental Airport, NMFH has the country's largest collection of funeral service artifacts, from hearses through the ages to an extensive collection of memorabilia from U.S. presidents' funerals. There's an exhibit dedicated to exploring the evolution of the embalming process, from ancient Egypt to today and another that looks at the Mexican custom celebrating Dia de los Muertos, or Day of the Dead. The museum's most elaborate exhibit focuses on the rituals and customs associated with the death of a Catholic pope. You'll want to explore NMFH's extensive gift shop for unique take home items. 415 Barren Springs Drive, Houston
Located in Houston's Historic Downtown District, the Brewery Tap offers locals 35 beers on tap, atmosphere aplenty and the occasional ghost encounter. William, the bar's apparently outgoing spirit, is said to chat the owners up and even stick around for photo ops—ask to see the framed shot of William sitting next to one of the local patrons. 717 Franklin Street, Houston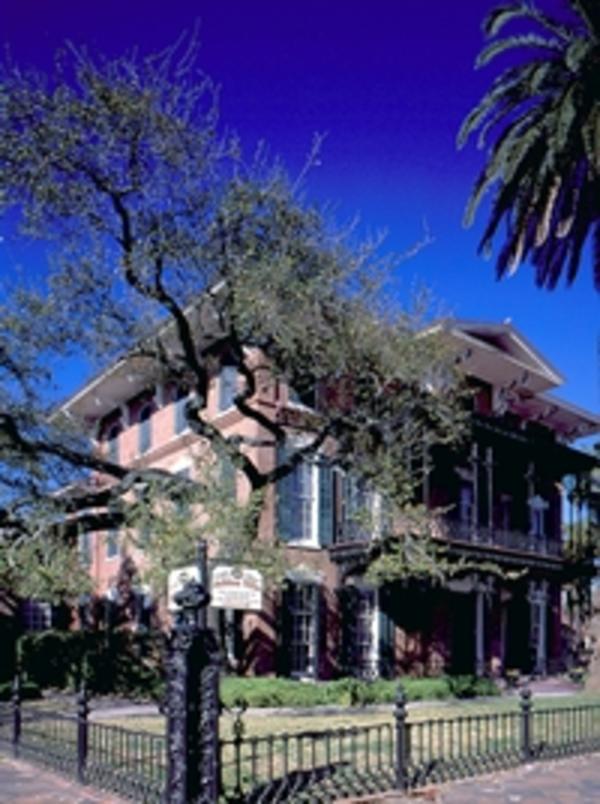 Ashton Villa, located on Galveston Island, is a three-story mansion built in the 1860s by wealthy businessman James Brown. The elegant residence showcasing Italian design and dominated by a grand central stairway survived the Civil War where it was used as a hospital and a meeting place for Union and Confederate forces. Once everything was back to normal, Brown lived in the mansion peacefully with his daughter Bettie. Known for her striking beauty and love of material objects and possessions, Bettie had no desire to ever settle down with a man, and instead focused on living her luxurious life collecting fans, gowns, clothes, costumes, and art. After she died in 1920, Bettie's ghost seemed unable to part with her possessions. She has been seen and her presence felt in the mansion's ornate Gold Room, where her collections are on display, as well as on the stairway and second landing. It has also been reported that furniture moves by itself, Bettie's bed won't stay made, ceiling fans turn on by themselves and her chest of drawers spontaneously locks and unlocks. 2328 Broadway St., Galveston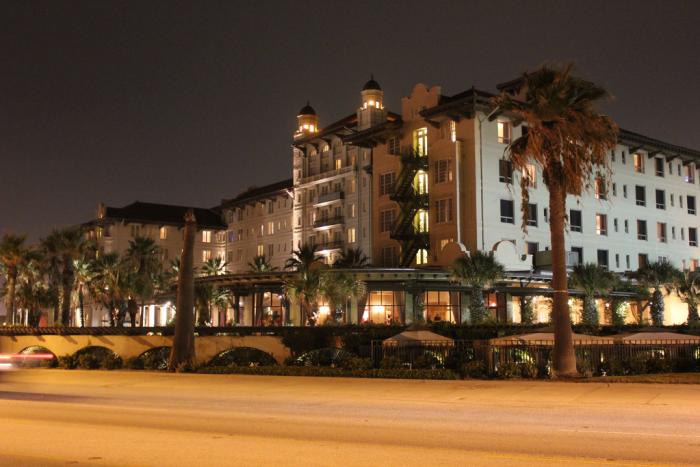 Built in 1911, 11 years after a devastating hurricane struck Galveston, The Hotel Galvez was referred to as the "Playground of the Southwest" mostly for wealthy socialites, businessmen, and celebrities. The ghost stories begin at room 505, where a female guest who'd just received word she lost her husband, hung herself upon returning to her room. Dubbed the lovelorn lady, she is said to create quite a racket on the fifth floor. The ladies restroom downstairs has also reported peculiar activity. Claims include violently shaking stall doors, toilets that flush on their own, sinks that turn on by themselves and the unusual scent of gardenias. Investigators have captured photographic evidence while staying at the hotel. The hotel even offers seasonal ghost tours. 2024 Seawall Blvd., Galveston

Born in France, the pirate Jean Lafitte is credited with helping defend Louisiana from the British in the War of 1812. He traveled between New Orleans and Galveston, establishing the Barataria and Campeche kingdoms. His ship and his ghostly image have been spotted sailing along the Gulf Coast to this day. Workers on oil platforms and crews of offshore supply vessels claim to regularly see a billow of sails on the horizon heading east, hear the flapping of sail rigging, and the cry of phantom voices spoken in Barataria. The ghostly fleet is said to produce visible white foam where the bows break the waves that have almost besieged small boats. Jean Lafitte appeared to a three-man charter fishing boat before Hurricane Katrina struck. Could Jean Laffite be protecting his beloved coast? Or is his sighting an omen to disaster?

Legend has it that the site where the University of Texas Medical Branch's Ewing Hall now stands in Galveston once belonged to a man who refused to sell his beloved property. He told his children that if they sold it when he died he would come back to haunt them. After his death, his daughter sold the property to UTMB. Once Ewing Hall was built, the old owner's face appeared on the fourth floor panel of the building facing the ocean. After sandblasting and painting over that panel in attempts to remove the face, the image reappeared on the third floor panel directly beneath it. Once again the panel was sandblasted and power washed, and once again the face reappeared, this time on the second floor panel. UTMB eventually gave up on removing the face and it is now a permanent feature on Ewing Hall. 700 Harborside Dr., Galveston
For more haunted experiences outside of Houston click here.