If you live in Houston, you are for sure already in celebration mode. 713 Day is coming! If you are visiting H-Town from anywhere else and wonder what it is all about, get ready to join Houstonians on July 13 for an unofficial holiday to celebrate all things H-Town, its culture, vibe and the people who make this city great.
The day is named after the city's oldest area code, established in 1947, and it was Houston's only area code until 1996. In recent years, residents got used to celebrating the city on July 13, and 2023 is no exception. There are parties with live music all over town at bars, nightclubs, and restaurants that offer great deals. And don´t miss special markets, concerts, performing arts, festivals and art shows. Come out and celebrate the city's diversity and everything that makes Houston so special!
Thursday, July 13, 2023 – 713 DAY
713 DAY, A BIG HOUSTON PARTY at Social Beer Garden – Spend an unforgettable night filled with music, delicious food, and drinks. Some of the best local DJs, including Houston's own Michael 5000 Watts, will keep you dancing all night long. One of Houston's favorite food trucks will be serving up everything from steaks to BBQ, and don't forget that Purple Drank! 5 p.m.-2 a.m.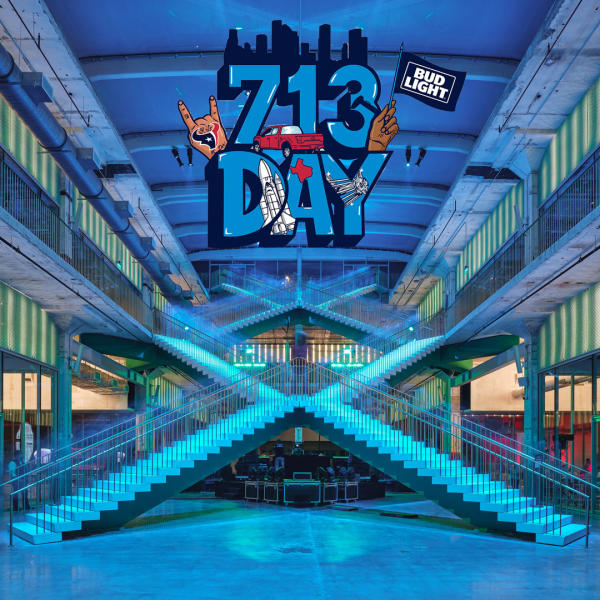 Houston Texans 713 Day at POST Houston - The Houston Texans and Bud Light are hosting the biggest party in H-Town for 713 Day. This event will feature Texans celebrities, games, giveaways, music, special offers on merchandise and free Bud Light. 5-8 p.m.
7-1-3 Houston Day at Henderson & Kane General Store - Get ready for a mouthwatering celebration of local flavors that will leave you craving for more! They kick off the festivities with an unbeatable offer: $7.13 Burgers and Beers, featuring the best of local craft favorites! Prepare your taste buds for an extraordinary treat. Sweet Cup, the masters of indulgence, will be serving up their exclusive 713 Gelato, paying a sweet tribute to the iconic flavors of H-town.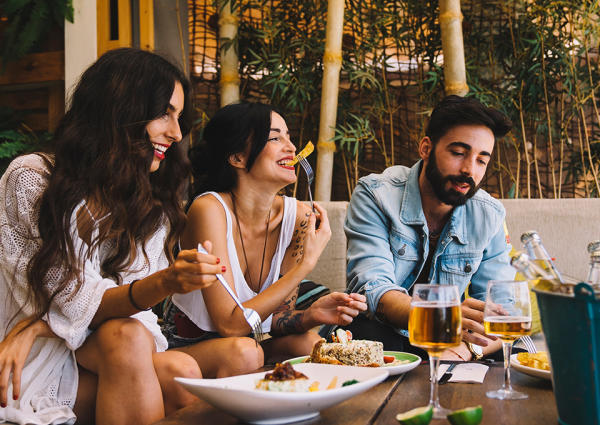 Photo: Courtesy Latin Restaurant Weeks
Latin Restaurant Weeks, all over town – Explore the flavors of more than 10 Latin American countries, including Mexico, El Salvador, Ecuador, Dominican Republic, Cuba, Venezuela and Peru, in dozens of local restaurants, coffee shops, food trucks and bakeries.  Participants in this year's Latin Restaurant Weeks include well-known restaurants which have been participating for years, like Gusto Gourmet, Andes Cafe, El Mason and Tacos Del Julio, and newcomers like Ojo del Agua, Space City Birria Tacos, Comfort Foodies, a Dominican soul food restaurant, and the vegan spot Veegos. Look for special deals at each restaurant!
HOUSTON 713 DAY at Bad Astronaut Brewing Co. - This event is a celebration of all things Houston, from the food to the music and everything in between. There will be LaMarco food truck serving up deliciousness, as well as DJ FLOVVERHEADD. Dance the night away and enjoy the city!  5 – 10 p.m.
TUTS: A Celebration of Houston Stories and Songs at Miller Outdoor Theatre - Don't miss this night of song, laughter and joy, celebrating the magic of musical theatre. Celebrated Houston stars will be performing iconic songs from the TUTS history at Miller, along with modern sounds of Broadway. This 90-minute concert will feature a live band, TUTS performers and students from the TUTS Humphreys School of Musical Theatre and The River. 8:30 p.m.
Texas New Music Festival at MATCH - Enjoy a vibrant international summer music festival presented by Texas New Music Ensemble and featuring world class musicians and artists performing new works written by artists from across the globe. This new festival brings contemporary aesthetics to the Houston community eager to explore contemporary art music. 7 p.m.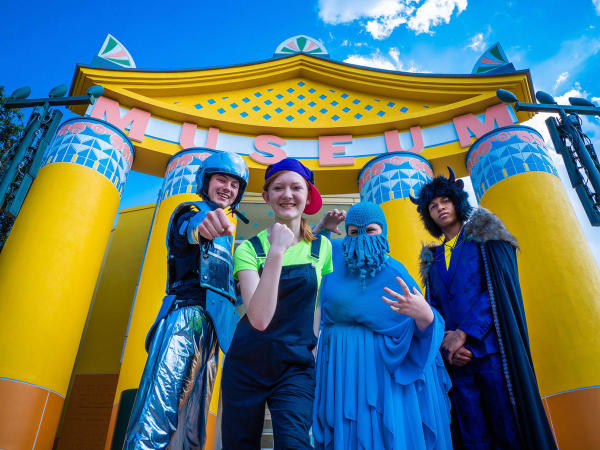 713 Day at the Children´s Museum Houston - Celebrate 713 Day with your kids at the Children´s Museum, where they can enjoy Power Up! The Musical, the long-awaited return of the museum´s original summer production, and many other activities from the summer programming all included with the general admission. Three shows on Thursday July 13: 1:30 p.m., 3:30.p.m. & 5:30 p.m.
Welcome to Houston: 713 Day at Rise Rooftop - Hosted by Lil Keke & Friends. Free with RSVP before 11 p.m. Tickets start at $20. 9 p.m.

713 Day Market at 8th Wonder Brewery - 713 Night Market brings to 8th Wonder Brewery in EaDo food vendors serving food from all over, including Filipino food, Korean Wings , chicken waffles, birria tacos, funnel cake, Mexican food, ice cream, cold drinks and so much more! They will also have live DJs and bands, a photo booth and merchandise vendors. Family and leashed pet friendly! 4-10 p.m.
H-Town Drip Sauce 713 Day at East End Backyard  - Come out and join the crowd for 713 Day with over 20 vendors, food, drinks and music for everybody of all ages! 6-10 p.m.

Thunder Knocking on the Door at Stages - This bluesy show is an intoxicating musical fable filled with humor, heart, love and the extraordinary music of five-time Grammy Award winner Keb' Mo'. 7:30 p.m.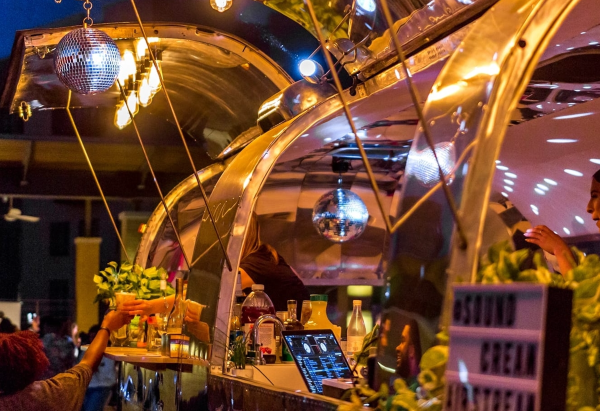 Summer Social at CITYCENTRE - Get ready to experience an unforgettable evening of fun, music, drinks, food, giveaways, and mingling under the stars. SoundCream Airstream is the perfect host for Thirsty Thursday. With shimmering disco balls and vibrant lights, the atmosphere is sure to be electric. You'll feel like you've stepped into your own private discotheque. DJ Flash Gordon Parks is bringing the excitement with Funk, Soul, Jazz, Disco and Hip Hop tunes. Look for all the promos at the marketing table to grab your offers, including Happy Hour pricing at Sal y Pimienta, a 15% discount at Kendra Scott, cocktail samples and free appetizer vouchers from The Capital Grille, and 25% off purchases at Jeni's Splendid Ice Creams, among many others. 5-7 p.m.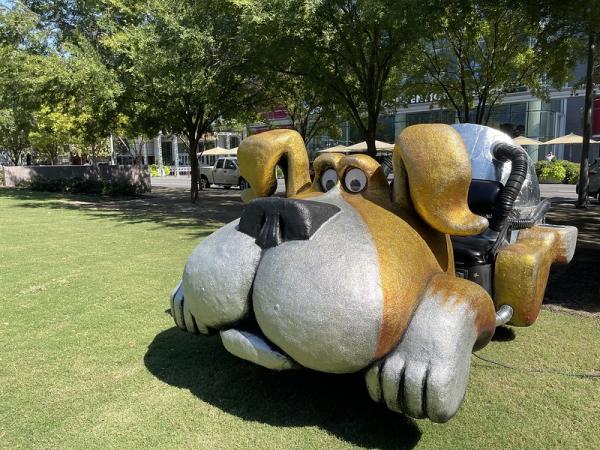 Rocket Dog & More at Discovery Green – Play and have fun with your family and friends at Discovery Green where you'll find the Rocket Dog, the park´s official mascot. Built in 2007 to celebrate the opening of Discovery Green by legendary art car artist Rebecca Bass, this "art cart" is filled with lawn games such as bocce ball, horseshoes, and more for patrons to borrow while visiting the park. 7-9:45 p.m. Other activities on July 13: free salsa dance classes by Strictly Street Salsa (7 – 8 p.m.) and free gardening classes by La Lydia Garden Boutique (8 – 9 p.m.)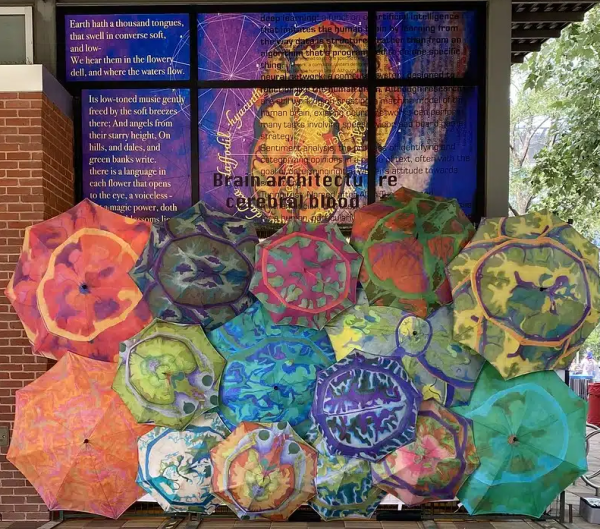 Don´t leave the park without taking a look at for.ever.bloom by Houston-based artist JoAnn Fleischhauer. Her new work will make you think about how self-expression has moved from the private arena to communal areas and how humans will communicate in the future.
Get inspired and celebrate everything that makes Houston so special!
Happy 713 Day Houston!
Check out our EVENTS page and use the calendar to find specific events for you. Search by category, date range, location, or keyword.