Beach Season in Houston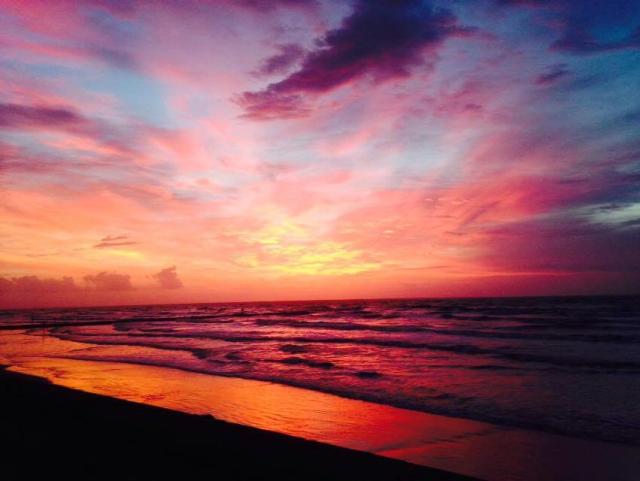 (Photo by April Woodall Vennard)
It's summertime in Houston. That means it's time to enjoy the sun, sand, and waves at one of the many beaches within driving distance of Houston. We pulled together a list of some our favorites: the nearest just 30 minutes from downtown and the farthest just over an hour. So grab family and friends and plan your perfect getaway!

Surfside Beach
Beach Dr.
Surfside Beach, TX 77541
 
Just one hour from downtown Houston, Surfside Beach, TX offers beautiful white sand beaches and free parking. The sleepy beach town is the perfect escape from some of the more populated beaches on the coast. Surfside has a population of just 500 but offers a great little selection of fresh seafood grills and burger bars for visiting beachgoers and fishermen. Visitors will also find inexpensive beach house rentals for weekend trips and other vacations. For $12, visitors can buy a year-long pass to park directly on the beach (non-vehicle guests can enter for free). The only drawback is no public restroom. Bonfires, pets, and even horses are permitted on the beach.
Stewart Beach
201 Seawall Blvd
Galveston, TX
 
Stewart Beach was ranked in Family Vacation Critic's Top 10 U.S. Beaches for Families in 2013. The beach is the best option for those looking for more than just a quiet beach trip. Stewart offers a snack bar, restrooms and showers, souvenir shop, all just minutes down the street from Galveston's Seawall and entertainment district. Pay $8 to drive on the beach for the day. Umbrellas and chairs are also available to rent. Stewart Beach is just one hour from downtown Houston. 
Sylvan Beach Park
8121 Bay Shore Dr.
La Porte, TX 77571
 
Sylvan Beach is the closest beach to downtown Houston. In just over 30 minutes, you'll find a 32-acre park along Galveston Bay with white sand, no seaweed, and smaller waves for easier swimming conditions. The park complex includes a large playground, tennis courts, skate park, picnic tables, and an air-conditioned pavilion. Stop by Sylvan's bait and tackle shop to purchase a $4 all-day pass to their large fishing pier. Trout, flounder, and drum are often caught off the pier. The park also offers a boat ramp for easy access to the bay.
Galveston Island State Park
14901 FM 3005
Galveston, TX 77554
 
Galveston Island State Park is the perfect beach for nature lovers. The park was the best beach picnicking spot in the state by Texas Parks & Wildlife Magazine. For just a $5 entry fee (children under 12 are free) visitors have access to the beach, fishing, camping, kayaking, hiking, and some of Texas' best bird watching. Birders can expect to come across snowy egrets, blue herons, pelicans, and Mexican eagles. Bikers and hikers can explore one of nine nature trails in the 2,013-acre park. Beachgoers can set up campsite right along the beach. Facilities include restrooms and showers.
Pleasure Pier 
2501 Seawall Blvd.
Galveston, TX 77550
While visiting Galveston beaches, thrill-seekers should make a stop at the historic Pleasure Pier for some extra doses of fun. Experience 100-foot vertical drops at 52 miles per hour on the Pier's Iron Shark. Or take a ride on a log-flume ride, the high-spinning 'Revolution' and the Texas Flyer—the tallest swing ride in the state. 
East Beach
1923 Boddeker Road
Galveston, TX 77550
 
Head to East Beach for lively entertainment and festivities! East Beach is the only Galveston beach where alcohol is permitted. This makes the beach ideal for regular live bands, festivals, volleyball tournaments, and even an annual sand castle competition. Food trucks and vendors are on site as well as umbrella and chair rental. Jet Ski and parasail rentals are also available. It's $8 to park close to the beach but free parking is available down the road with a short walk.
You may also be interested in...