Temperatures are rising, graduates have their caps and gowns, which can only mean that May is here. Call us biased, but summertime in Houston is special. Astros baseball is in full swing, pools and splash pads are filled with grownups and kids, and the days are long and sometimes lazy. As we gear up for summer, there are plenty of ways to pass the time in H-Town.
Cinco de Mayo Kickoff
Thursday, May 5
Head to Market Square Park in Downtown Houston for Cinco de Mayo celebrations! This family-friendly event promises a lot of fun in one of Houston's most historic neighborhoods. Take a swing at the world's largest Pinata "Chiquito" while enjoying live mariachi music, DJs, and a Cinco de Mayo mini market. After the celebration, head off to explore the bars and restaurants in the area which will be lively and ready for a party. 
May the 4th Festival 
Saturday, May 7 – Sunday, May 8, 
Saturday, May 14 – Sunday, May 15
Whether you're a rebel or on the dark side, hit hyperdrive and land at the May the 4th Festival in Missouri City. The May the 4th Art Festival will showcase local artwork by artists of all ages, dedicated to the Star Wars saga. There will be additional artisan vendors, live DJ sets, food trucks, and cosplay for countless photo opportunities. To celebrate its 10th anniversary, the May the 4th Art Festival will take place on back-to-back weekends chock full of activities for all Jedi masters. 
Water Works Festival 
Saturday, May 7
There's plenty to learn about water! For a day of fun and learning, go to the Water Works Festival at the Houston Botanic Garden. The festival is complete with fun, family-friendly activities, 50+ exhibitors, raffles, giveaways, entertainment and more. The free, all-day event features experts covering topics like sustainability, environmental protection, water conservation, water infrastructure, recycling, the water cycle, local water systems, native plants, species habitats, weather and ecology. Further, you'll get to explore the gorgeous Houston Botanic Gardens on a lovely May day!
Mother's Day Serenade 
Sunday, May 8
Celebrate mom this Mother's Day by getting her tickets to the Mother's Day Serenade at the Wortham Theatre. Join the Houston Latin American Philharmonic for its annual serenade featuring international star José Luis Rodriguez and a program that includes Amante Eterna, Culpable Soy Yo, Hay Muchas Cosas, Te Propongo, Himno a la Alegria, Agarrense de las Manos, Pavo Real and much more. Fun fact, The Houston Latin Philharmonic is the only full-size professional orchestra in the United States created to promote and elevate Latin American music. Sit back, relax, and let mom enjoy!
Houston Astros vs. Texas Rangers
Thursday, May 19 – Sunday, May 22
Baseball, baseball, baseball! From Thursday through Sunday, you can get your fill of Texas' biggest inter-state baseball rivalry, as the Houston Astros take on the Texas Rangers! Head to Minute Maid Park in Downtown Houston for best-in-class baseball, sports entertainment and of course, concessions. With the baseball season heating up, can the Astros topple their Texas rival? We sure hope so, but if you're here from Dallas, we're happy you're here! Enjoy our city.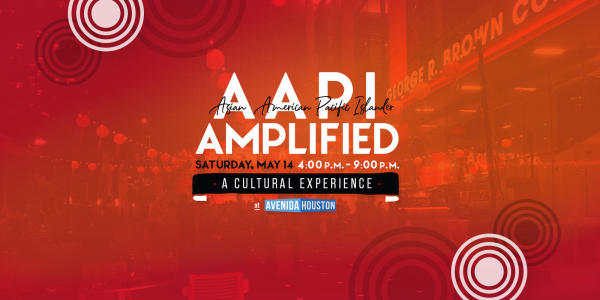 AAPI Amplified 
May 14
Join Houston First Corporation on May 14th from 4 p.m. to 9 p.m. as we amplify the voices of the Asian American Pacific Islander community during AAPI Amplified. HFC will celebrate and support Houston's vibrant AAPI communities with an evening of traditional and contemporary dance performances, a fashion exhibition featuring traditional attire from several Asian countries, and an outdoor market featuring local AAPI-owned businesses. The event is free and open to the public.
Romeo and Juliet Produced by Houston Grand Opera
Saturday, May 21
You know the story, you love the story, now you can enjoy the story at Miller Outdoor Theatre! The Houston Grand Opera presents Romeo and Juliet in a French opera format. The opera features a gorgeously opulent score with soaring duets for the star-crossed lovers, beautiful choral harmonies, and sumptuous new sets and costumes. You'll marvel at radiant soprano Elena Villalón and outstanding tenor Ricardo Garcia, sing as the titular lovers, while Grammy Award-winning baritone Donnie Ray Albert, plays Lord Capulet. As always, performances at Miller Outdoor Theatre are free!
Phoebe Bridgers at White Oak Music Hall
Saturday, May 21
Artist Phoebe Bridgers is coming to Houston and performing at the iconic White Oak Music Hall.  Bridgers is described as, "a singer/songwriter with a dreamy and hook-filled indie pop heart," complete with witty lyrics, sadly beautiful songs and powerful vocals. Bridgers will be performing on the venue's lawn, which is the perfect spot for an outdoor evening filled with live music. There are still tickets available, so be sure to snag them before the event sells out.
2022 Memorial Day – Firework Show
Sunday, May 29
Summer is officially here, so enjoy it with a firework show! The annual Memorial Day event in The Woodlands pays tribute to all military service men and women who lost their lives while serving our country. The festival features live music, children's activities, strolling entertainment and more at Town Green Park. The evening concludes with a dazzling firework display choreographed to a patriotic soundtrack.
Where to Stay
C. Baldwin Hotel
For a fun and elevated Downtown experience, head to the C. Baldwin Hotel. Planning your summer stay already? The C. Baldwin has a special for you. Enjoy the Travel & Save offer. Save up to 20% when you book at least 5 days in advance. Offer includes complimentary early check-in and late check-out, when available, plus flexible cancellation up to 24-hours prior to arrival with no penalty.
The Woodlands Resort
Looking for a resort-style stay? The Woodlands Resort is the perfect getaway for luxurious relaxation. Whether you want to entertain your kids, play golf or even enjoy a bit of goat yoga, this place is for you and they have a special to accommodate. 
Win 52 Weeks of Fun in Houston
This year, Houston First Corporation is celebrating big with 52 Weeks of Fun in Houston, and YOU could be the winner of our $9,417.00 package! Enter to win here.