Center Stage: Houston's Performing Arts
Experience the magic of live theatre in Houston
Tourists and locals alike are discovering what those in international cultural circles have known for years: to experience the finest performing arts in the world, you need look no further than Houston.
Don't forget to get exclusive savings and deals on these unique Houston experiences.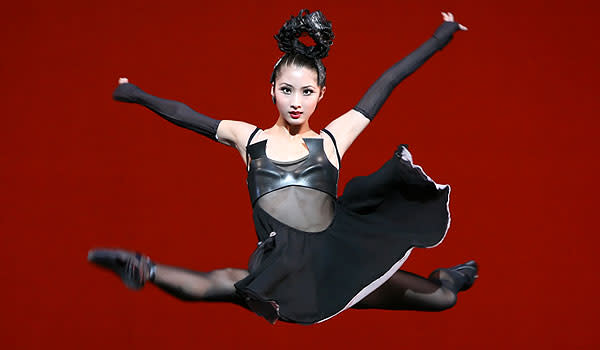 Houston Ballet's Nozomi Iijima
Houston's downtown Theater District spans 17 blocks and has nearly 13,000 seats in a concentrated downtown area. Beyond the skyscrapers of downtown, a diverse array of smaller companies call Houston home, offering a unique blend of cutting-edge performing arts and well known classics in a variety of intimate settings. The latest figures show that more than four million people experience the magic of live theater in Houston annually.
Houston Theater District 
Houston is one of only a few U.S. cities with permanent professional resident companies in opera, ballet, music and theater. The longevity of Houston's performing arts organizations speaks volumes—Houston Ballet, at 44 years, is the city's youngest resident professional company. The Theater District, with its five major performing arts venues, is home to these companies, as well as four other internationally recognized performing arts presenters. The area also features numerous restaurants and bars, where one can sip on a pre-theater cocktail while listening to live music, or enjoy a leisurely dinner after the show.
Alley Theatre
Alley Theatre is a professional resident theater company and recipient of the 1996 Special Tony Award. Having forged alliances with such international luminaries as Edward Albee, Vanessa Redgrave and Frank Wildhorn, landmark theatrical events at the Alley have included the world premieres of Jekyll & Hyde, The Civil War, and Not About Nightingales (an undiscovered Tennessee Williams play).
Houston Ballet
Performing in the spectacular 2,500-seat Wortham Theater Center, Houston Ballet is America's fourth largest ballet company, producing numerous contemporary works and full-length world premiers such as Dracula,The Snow Maiden and Cleopatra. Australian choreographer Stanton Welch assumed the helm of Houston Ballet in 2003, which, since 1976, had been led by Englishman Ben Stevenson. In April 2011, Houston Ballet's Center for Dance opened as the largest professional dance building in the U.S.
Houston Grand Opera
Houston Grand Opera (HGO) has long been known for its innovative works and imaginative presentation of traditional masterpieces. HGO's numerous world premieres have included Florencia en el Amazonas (the first Spanish opera by a Mexican composer to be commissioned by a major U.S. opera company) and Nixon in China, which garnered an Emmy and a Grammy. 
Houston Symphony
As the oldest performing arts organization in the city, celebrating its centennial season this year, the Houston Symphony performs in the largest (more than 2,900 seats) and arguably most impressive space in the Theater District, Jones Hall. From Brahms and Beethoven, to pop concerts with special guests such as Debbie Reynolds and Shirley MacLaine, the Houston Symphony offers something for every musical taste.
Da Camera of Houston
Da Camera brings to Houston performances by leading American and international musicians, ranging from intimate chamber quartets to jazz and contemporary ensembles. Under the artistic leadership of Sarah Rothenberg (herself an acclaimed pianist) since 1994, Da Camera's performances often connect music to other art forms in originally conceived multimedia productions. Da Camera presents performances in a variety of locations, including the Wortham Theater Center and The Menil Collection, a wonderfully serene art museum west of downtown.
Society for the Performing Arts
Houston's Society for the Performing Arts (SPA) presents a dizzying variety of musical, dance and theatrical performances by artists from around the world. SPA has presented more than 600 artists and companies representing virtually all performing arts disciplines, including the Alvin Ailey American Dance Theater and the Martha Graham Dance Company.
Theatre Under the Stars
Theatre Under The Stars (TUTS) is Houston's acclaimed musical theatre production company. With more than 275 musicals to its credit, TUTS makes its home in the beautiful 2,650-seat Hobby Center for the Performing Arts. Over TUTS' 40 past seasons, founder and CEO Frank Young has produced many local, national and world premieres, including Disney's smash hit Beauty and the Beast. According to Young, "TUTS is recognized as one of a very small group of theaters who create and produce new musicals at a Broadway standard."
Broadway in Houston
Broadway in Houston, part of Gexa Energy Broadway Across America, offers the biggest hits direct from the Big Apple and London's West End. Like TUTS, the Broadway Series has also found the perfect venue in the Hobby Center.
Uniquely Houston
Zilkha Hall in the Hobby Center for the Performing Arts is the home of this unique performance series dedicated to nurturing the professional development and long-term growth of Houston's finest small to mid-sized arts organizations. The series features local community programs in music, dance, theater and educational outreach alongside distinguished artists from around the world.
Outside Downtown: Houston's "Off Broadway"
Not unlike New York's Off-Broadway, tickets to productions at Houston's numerous theaters outside of downtown often come at a considerably lower price than their Theater District counterparts, and the groups boast legions of loyal patrons from throughout the surrounding areas. Be sure to check out the Fresh Arts Coalition, a collective organization of Houston's many fascinating performing and visual arts companies outside of downtown.
Dominic Walsh Dance Theater
Dominic Walsh Dance Theater (DWDT) was founded in 2002 by retired Houston Ballet principal dancer Dominic Walsh and filled a void in Houston for contemporary dance. As Dance magazine noted, "At last, Houston has a contemporary dance company on par with its symphony, opera and ballet companies." The company is comprised of Houston Ballet dancers as well as independent Houston-based dancers. DWDT performs at the Hobby Center for the Performing Arts.
DiverseWorks
Certainly among the most unique venues in Houston, DiverseWorks is one of the few contemporary art centers in the U.S. which commissions cutting-edge contemporary performing, visual and literary arts. Located in a converted warehouse north of downtown, DiverseWorks collaborates with local, national and international partners to present a unique vision of contemporary art and culture. 
Main Street Theater
Performing in both a converted comedy club in Montrose and a former dry cleaning store in West University (near Rice University), Main Street Theater offers a lively repertory of intriguing new plays, classic musicals and the city's most popular and successful Youth Theater. Youth programming is based on producing shows that have a direct tie-in to the curriculum being offered in schools, so if you've got a student in your family, Main Street is the place to be. 
Stages Repertory Theatre
Located only minutes from downtown via Allen Parkway, Stages Repertory Theatre produces an edgy, contemporary brand of live theater that attracts both artists and audiences who demand more than passive entertainment. Having been born in the basement of a brewery 29 years ago, Stages has since grown to encompass two fully-equipped adjacent theater spaces.