The countdown begins with one of the greatest pop-culture festivals ever held in Houston. The return of Comicpalooza signals the comeback of events and happenings post-pandemic, and you can feel the excitement and normalcy in the air. Coming this July on the 17th & 18th, George R. Brown Convention Center will be littered with artists, vendors, cosplayers, celebrities, fans, and families from all over the country. This event will unite, inspire, and entertain and I have all the perfect places for you to visit. No Uber needed is the name of the game because all of the places I'm about to suggest are walking distances from the GRB, so make sure you wear your comfy shoes!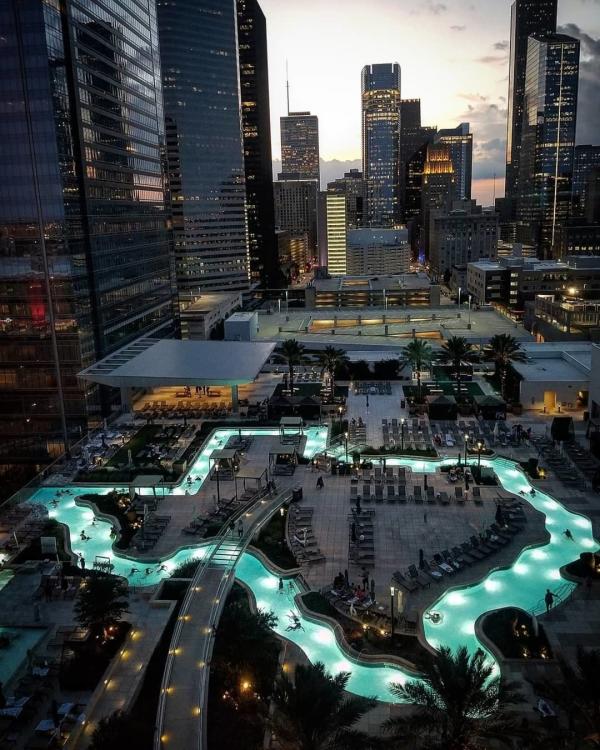 Photo by Dandee Danao
Sleep
If you are coming from out of town or just simply want to be near the vicinity of the festivities and needing a place to rest, there are a handful of hotels within walking distance from Comicpalooza. The Marriot Marquis hands down have the best pool in the south. It is literally the shape of Texas that acts as a lazy river, with bars and cabanas surrounding it. One of the biggest upside to this hotel is the connection to the GRB via a skywalk, so you can go to the convention center, then walk back to your room for a power nap or take a dip in the Texas-shaped pool. Across Discovery Green, there is another hotel that has a similar connection to the festival, and that is the Hilton Americas Downtown. They have one of the coziest lobbies in the area with comfortable lounging areas that are perfect to rest your feet. This hotel also has a Starbucks downstairs to keep you fueled for the weekend journey. Last but not least is the Embassy Suites, which is located around the corner. With their great online rates, this could be a cost-effective alternative from the first two mentioned. Save those bucks and spend it wisely on your favorite artists and vendors.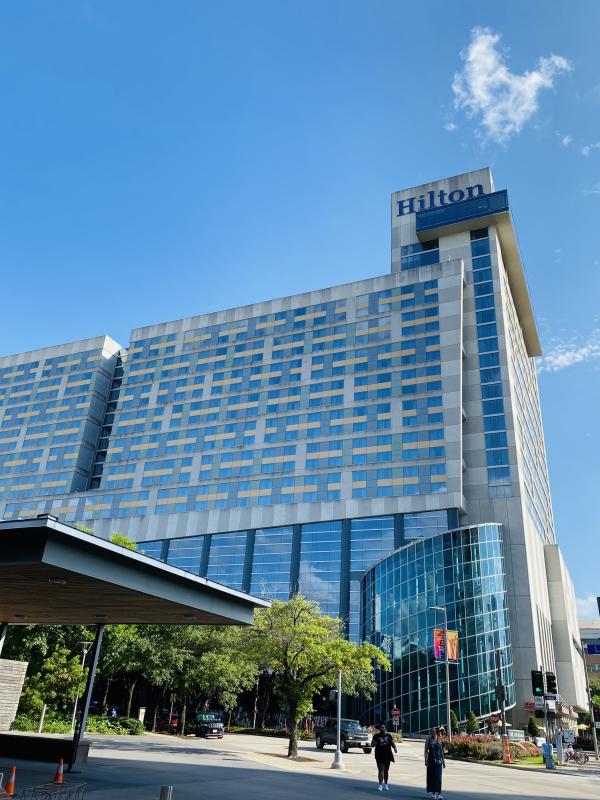 Photo by Dandee Danao
Eat
Let me start by taking you near the compass of the event. If you like upscale dining, there are plenty on the corridor. Xochi has one of the best-roasted octopus dishes in town with other Oaxaca-inspired food and drinks. Right across the lobby is Biggio and it is owned by one of our Houston Astro's hall-of-famer.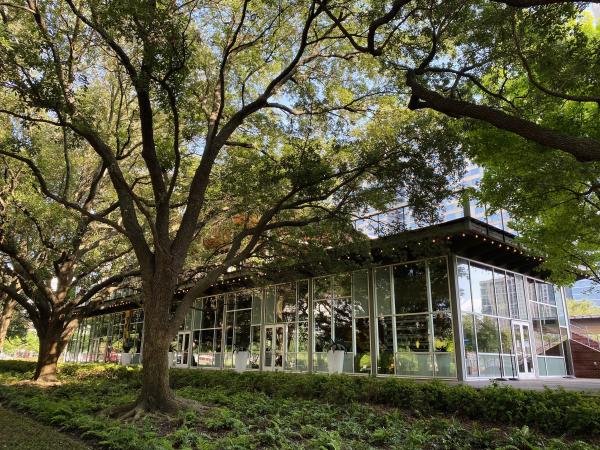 Photo by Dandee Danao 
If you are craving chicken & waffles, or nachos and crispy wings, then this is the sports bar for you. If you prefer going to well-known restaurants, there is the Grotto Italian restaurant, SaltGrass Steak House, and Pappadeaux's seafood, which are all situated on the sidewalk of the GRB. For a more cool patio vibe, then check out The Grove. Their rooftop deck overlooks the whole park and it is a place to take good photos. I want you to keep exploring the area so head over to EaDo, a newly developed part of east downtown right behind the convention center. There, you will find Seaside Poke, a refreshing power food to keep you cool during our hot summers. A great pizzeria called Vinny's Pizza is just around the corner, a joint to grab yourself a massive slice of cheese pizza. Across the street is Huynh Restaurant and it is another great choice for authentic Vietnamese food. Take a seat with your group and sip on some cold café sua da.
Drink
After dinner, EaDo will be the neighborhood where you will find all of the lively happenings. Cumulative pop-ups of bars and restaurants are concentrated on Saint Emmanuel St. which makes it convenient for everyone to hop around. Let us start with Neil's Bahr, a premier gamer hangout with an array of comic book selections, free-play game consoles that are readily available, and board games to stimulate your brain. This establishment should definitely be on your to-do list.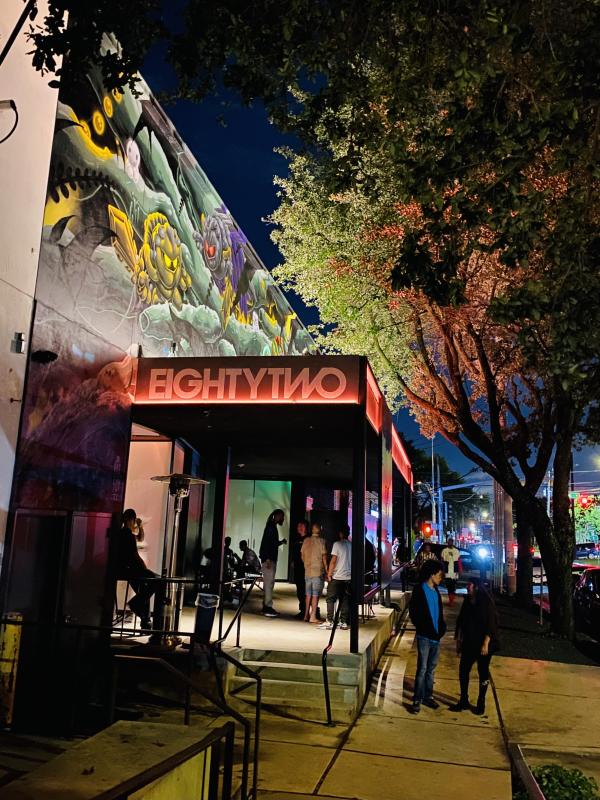 Photo by Dandee Danao
Then there is EightyTwo, an arcade-inspired bar that is a local favorite. The interior has a modern design but lined with classic games that we all grew up playing including Street Fighter and Mortal Kombat, just to name a few. What I like about this place is the nicely curated live plants and festive DJs on rotation. Ask for Veronica at the bar and she will take care of you. If you want a more intimate setting, then walk around the corner to Miss Carousel. With comfy couches and a rustic feel, this lounge will serve you refreshing cocktails all night while you chill with your friends. For a change of scenery, skip over across the street to Sunset, where you can show off those moves on their rooftop patio overlooking downtown. They have such a nice panoramic view that is very Instagram-worthy. If quirky places are more your type, then Truck Yard is it. This bar is made of shipment containers with lots of patio settings. Just be wary of their Ferris wheel, that rusty thing looks very sketch. To score some locally made brewskies, then you must check out 8th Wonder Brewery. Locally crafted beers line up their walls with tons to choose from. Their huge backyard is the place to hang out with their giant Beatles sculptors created by David Adickes, a local H-Town hero. To burn off the rest of your energy, dance the night away at The Secret Group where they host 90's to 2000's dance parties. There you have it, this is your walking guide to the hippest places to go during Comicpalooza!