One of the best things about living in Houston is experiencing the diverse cultures that make up the city's population of 2.3 million people. Similar to other major U.S. cities, Houston has an area dominated by delicious Asian restaurants, exotic shopping and fun cultural experiences.
This area, colloquially known as "Chinatown," is by no means limited to only Chinese influence. Cultural influences in this part of Houston are from Vietnam, India, Pakistan, China, Korea, Malaysia and more. Plus, these hard-working business owners love sharing their culture, family recipes and more with visitors. Let our Asiatown guide help you navigate the exciting dining options and activities in this unique area.
RESTAURANTS
Did you know that Asia is made up of 48 countries? This continent has such vast and diverse people, cuisines and cultures, it's impossible to cover them all. So, we'll take you country by country for some of the best international eats in Houston. 
Vietnamese
Pho Binh is a great spot for some comforting pho. This traditional Vietnamese soup is filled with rich broth, noodles and your choice of protein makes for a perfect lunch or dinner option. Plus, there are plenty of other staples like vermicelli, rice noodle beef soup, fried rice, and house specialties like fondue- and BBQ-style tabletop cooking. We also recommend the Bò 7 Món or Seven Courses of Beef, which is no small feat to finish!
As a courtesy to our readers, we've compiled some of Houston's best spots for crawfish and would be remiss if we didn't include at least one "VietJun" restaurant in our round up. Head to Crawfish and Noodles for a truly Texan experience as you enjoy Vietnamese-spiced boiled crawfish. Further, the menu is also filled with dishes like Pho Tai Bo Vien and a Cajun foods menu to round it out.
Kim Son is about as close to a Houston institution as it gets. The restaurant's matriarch Kim Su Tran La, better known as "Mama La", escaped Vietnam in 1980 and made sure to memorize over 250 recipes to bring to her new home in Houston. With three locations across the city, guests can enjoy true Vietnamese cooking passed down through generations. Definitely make sure your party has an appetite and order from the dim sum menu.
Chinese
Peking duck is an iconic dish that is perfected by few. One place that is always recommended for Peking duck is Sinh Sinh. There are also fantastic hot pot options like the combination pot, seafood pot and lobster combination pot. One thing that is a true Chinese staple is congee, which is a type of rice porridge. There are plenty of congee choices on the menu including fish and pork.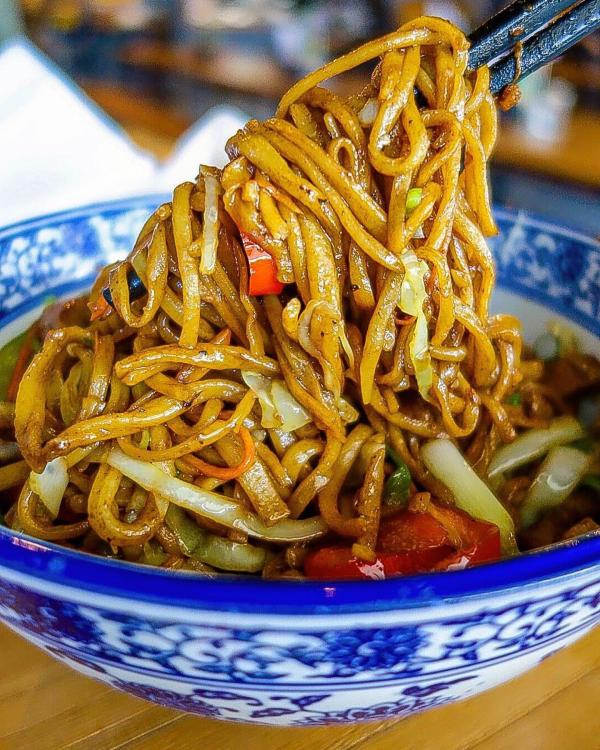 Golden Dumpling House is one of the most acclaimed Houston restaurants for a plethora of dumplings. Crispy dumplings, also known as pot stickers come in a variety of forms and filling. Try the soup dumplings or xaio long bao, pork dumpling pork bun or veggie dumplings. Make sure to get the pan-fried onion cake to share with the table. The portions are also very generous.
Indian
Maharaja Bhog translates to a food offering made to royalty. With locations all over the world, Maharaja Bhog's only U.S. location is in Houston! That's right, for a true taste of Indian food, head to this internationally-know restaurant. The restaurant's recipes have been handed down through generations with a number of dining options like the 'thali' sit-down buffet, meal combos that have chaats and snacks, along with meal boxes for delicious and healthy to-go options. 
London Sizzler is a bit of a hybrid but delicious all the same. Enjoy British-Indian food at this Asiantown establishment. From fresh tandoori to curries and sizzlers served on a charcoal tandoor, guests will enjoy a lot of the typical Indian dishes that have become a true staple in Great Britain. The food is always fresh and made to order, with plenty of beer, wine and spirits. A few favorites include the jeera wings, vindaloo and saag paneer. 
Korean
Tofu Village is a perfect spot for Korean delicacies like the tofu soup where you pick your flavor and spice level. The kimchi tofu soup with beef or the oyster tofu soup with added spice are perfect comfort foods. Get the combination menu for a tofu soup with either the marinated beef or spicy pork. There are also stir fry options, noodles, vegetarian dishes, rice and more.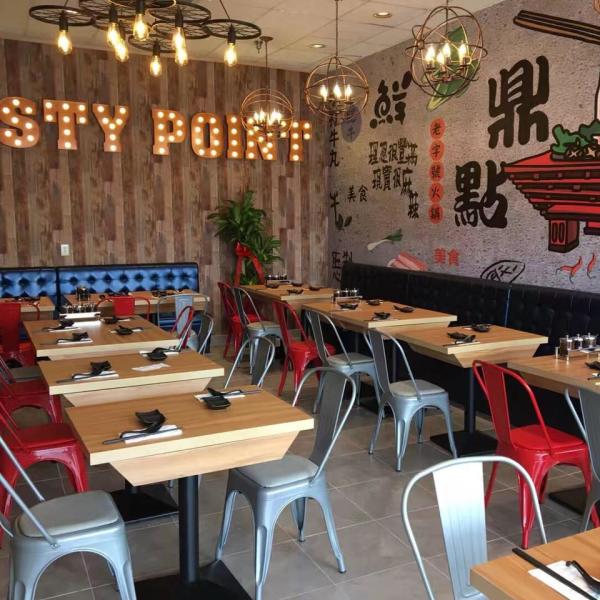 A quick search of hot pot dishes in Houston will lead you straight to Tasty Point. Upon entry, you're welcomed with bright, updated décor in the most unassuming of shopping plazas. Like it hot? Get the Korean Army Hot Pot with sliced pork, Korean sausage, fried dumplings, a rice cake, mushrooms and more. The Herbal Hot Pot is also full of veggies with sliced lamb and meatball. There are also delicious skewers, rice and noodle options, and plenty of apps to share.
Persian
Persian flavors definitely differ from other Asian flavors, adding a new dynamic to the vastness of the continent's culinary experience. Head to Avesta Persian Grill for cardamom, cumin, cinnamon and coriander-infused dishes. We recommend trying any of the Persian special stews with rice and the kabobs which are served on a bed of fluffy basmati rice topped with saffron and grilled tomato. The choices in kabob proteins are endless and include beef filet, lamb shanks, lamb chops, boneless chicken thighs and more!
Malaysian
Malay cuisine is another fabulous Asian food option. To get your fix, we recommend Banana Leaf in Houston. Malay food often includes lots of rice, coconut milk and like Thai, adds plenty of lemongrass and galangal. Herbs and spices abound, and visitors go crazy for the Belacan Fried Rice which is a spicy fried rice with a fried egg, the Roti Canai and the Hainanese chicken! Portions are big and the food is a steal.
SHOPPING
Exploring different cultures should include immersing yourself in an authentic shopping experience. Visitors can enjoy an unparalleled shopping and sensory experience at the following places.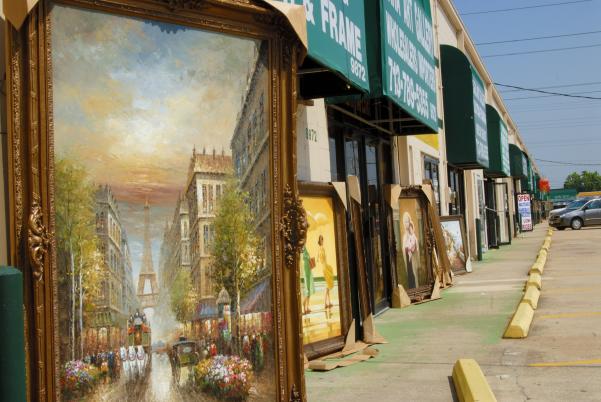 Harwin Drive is Asiatown's bargain shopping district. You can find everything from cellphones to jewelry and formal wear, at great prices. If you're overwhelmed with where to start shopping, start at Harwin Central Market then move next door to Harwin Discount Center. For more information on how to shop this quirky stretch of stores, check out our Harwin Drive shopping guide. It's important to note that vendors and items change frequently.
Hong Kong City Mall is Asiatown's own indoor mall, containing more than 100 shops, restaurants and health and wellness stores. The food market stocks a large variety of international foods and knickknacks. Some of the notable items at the market include fresh jackfruit, durian, stingray meat, bamboo shoots, kimchi, taro ice cream, and shredded dried squid. If you are looking to get some boba (bubble) tea before buying a pint of taro ice cream, this is the perfect place to spend your afternoon. 
Lastly, be sure to browse through a few Asiatown supermarkets. H-Mart Supermarket is a South Korean market full of authentic Korean food delicacies, beauty products, health and wellness products and even clothing. Another to check out is Viet Hoa International Foods which has more than just Vietamese fare and includes a butcher counter.
EXPERIENCES
Asian Heritage Tours provide the chance to sample aspects of authentic Chinese culture through the Chinese Community Center. Take a tea-tasting and herbology tour, a Chinese calligraphy tour, dim sum, Tai Chi, or a shopping tour. These heritage tours are available by appointment only, and both bus and walking tours are available. Tours are taught by locals with extensive and personal knowledge on each topic.
For a true cultural experience, check out Teo Chew Temple. The atmosphere at this Vietnamese Buddhist temple is serene and workers at the temple are happy to answer questions guests may have regarding the temple, grounds and theology. Please note that appropriate clothing is necessary when entering the temple. Another type of cultural experience is singing karaoke. Most people know that karaoke is a huge part of Asian culture, so let loose and partake in this favorite pastime. Neway Restaurant and Lounge along with Yes KTV are great spots for late night karaoke. Eat, drink and be merry with private karaoke rooms and full-service food and drink menus. 
If you've spent the day exploring Asiatown, your feet and muscles may be sore. As luck would have it, Asiatown has the answer for that, reflexology massages. Reflexology is thousands of years old and focuses on pressure points (mainly in the feet) to restore energy and blood flow throughout the body. Oasis Massage and Salon, Lucky Feet Houston, and Soul Inn Reflexology are all located off Bellaire Boulevard, and have reputations for good prices and strong masseuses.
Many of Asiatown's businesses accept cash only, so make sure you're prepared before your trip.