One of the best things about living in Houston is experiencing the diverse cultures that make up the city's population of 2.3 million people. Similar to other major U.S. cities, Houston has an area dominated by delicious Asian restaurants, exotic shopping and fun cultural experiences. This area, colloquially known as "Chinatown," is by no means limited to only Chinese influence. Cultural influences in this part of Houston are from Vietnam, India, Pakistan, China, Korea, Malaysia and more. Let our Asiatown guide help you navigate the exciting dining options and activities in this unique area.
Restaurants
Driving into Asiatown can make even the most seasoned Houstonian feel like a visitor. Bright neon signs in different languages buzz in front of the seemingly endless storefronts. So how can one make sense of where to start and more importantly, what to eat? Whether you are familiar with Asian cuisine or want to try new and delightful dishes, these restaurants will leave you full and happy.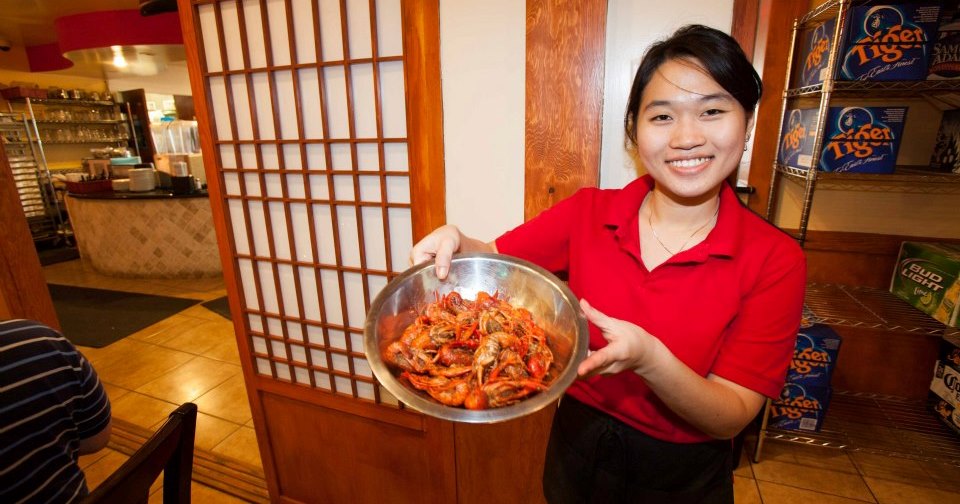 Crawfish & Noodles off Bellaire Blvd.  
People often associate Houston with TexMex, but did you know that our large Vietnamese population makes Houston a serious destination for authentic, creative and mouth-watering Vietnamese food? One unique food fusion is "vietjun" or Vietnamese and Cajun. The Vietnamese have adopted Cajun spices and given them a new twist. One place to try this mix of flavors and cultures is Crawfish & Noodles. A hidden gem inside a strip center in Asiatown, Crawfish & Noodles has a Vietnamese menu filled with dishes like Pho Tai Bo Vien and a Cajun menu with boiled crawfish and more.
For a traditional Vietnamese meal, the choices for pho are plenty. These bowls filled with rich broth, noodles and your choice of protein make for a perfect lunch or dinner option. Pho Binh, Saigon Pagolac and Pho Dien are known for exquisite pho, but have menus that include other Vietnamese favorites.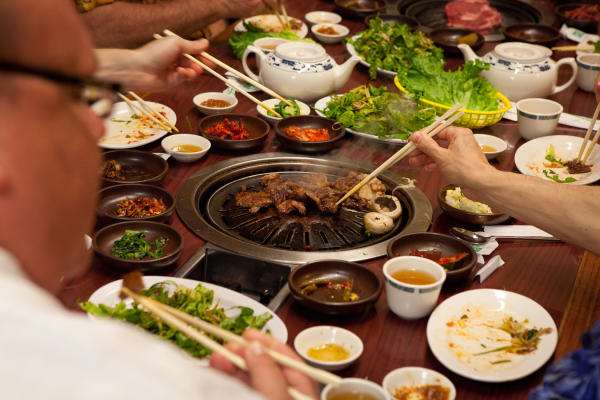 Moving into Chinese options, Fung's Kitchen was listed in USA Today as one of ten great places to "welcome prosperity" for the Chinese New Year. The dim sum menu has a number of options, including delicious dumplings, buns and more. Speaking of dumplings, never miss an opportunity to enjoy some xaio long bao or soup dumplings. Enjoy these pork and broth-filled dumplings at either One Dragon or Sarah Place, both on Bellaire Blvd. If you haven't had xaio long bao, make sure you ask your server for a tutorial on how to eat the dumpling.
Other notable Chinese restaurants in the area include Mala Sichuan, Ocean Palace, and Hong Kong Dim Sum.
The San Dong Noodle House is the place to go for Taiwanese dumplings and noodle soup, while Tiger Den is a great option for ramen. The Tiger Den also has more adventurous dishes, like grilled beef tongue or chicken gizzards. Other tasty Asiatown flavors include Banana Leaf for authentic Malaysian cuisine, Avesta Persian Grill for Persian and Middle Eastern, and London Sizzler Indian Bar and Grill for UK-style Indian fare.
For more listings of restaurants in Asiatown, see our restaurant guide.

Shopping
Exploring different cultures should include immersing yourself in an authentic shopping experience. Visitors can enjoy an unparalleled shopping and sensory experience at the following places.
Harwin Drive is Asiatown's bargain shopping district. You can find everything from cellphones to jewelry and formal wear, at great prices. If you're overwhelmed with where to start shopping, start at Harwin Central Market then move next door to Harwin Discount Center. For more information on how to shop this quirky stretch of stores, check out our Harwin Drive shopping guide. It's important to note that vendors and items change frequently.
Hong Kong City Mall is Asiatown's own indoor mall, containing more than 100 shops, restaurants and health and wellness stores. The food market stocks a large variety of international foods and knickknacks. Some of the notable items at the market include fresh jackfruit, durian, stingray meat, bamboo shoots, kimchi, taro ice cream, and shredded dried squid. If you are looking to get some boba (bubble) tea before buying a pint of taro ice cream, this is the perfect place to spend your afternoon.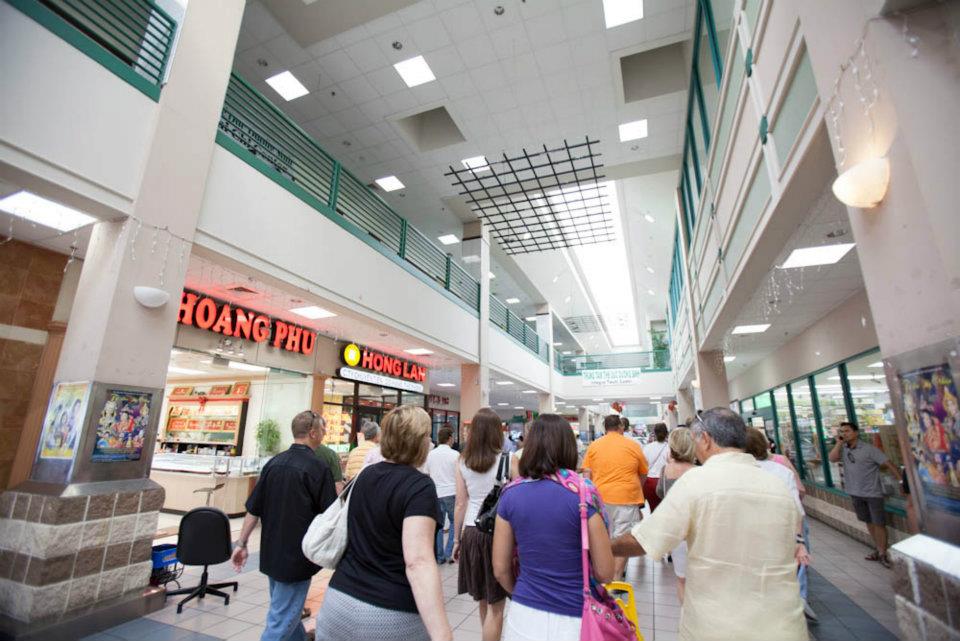 Hong Kong City Mall is a great one-stop-shop in Houston's Asiatown.
One fun shop for any Japanese animation enthusiast is Moshi2. From Pokémon stuffed animals to Hello Kitty trinkets and Dragon Ball Z playing cards they have perfect toys, clothing and souvenirs for the little (or big) kids in your life.
Lastly, be sure to browse through H-Mart Supermarket. This South Korean market is full of authentic Korean food delicacies, beauty products, health and wellness products and even clothing.
Experiences
Asian Heritage Tours provide the chance to sample aspects of authentic Chinese culture through the Chinese Community Center. Take a tea-tasting and herbology tour, a Chinese calligraphy tour, dim sum, Tai Chi, or a shopping tour. These heritage tours are available by appointment only, and both bus and walking tours are available. Tours are taught by locals with extensive and personal knowledge on each topic.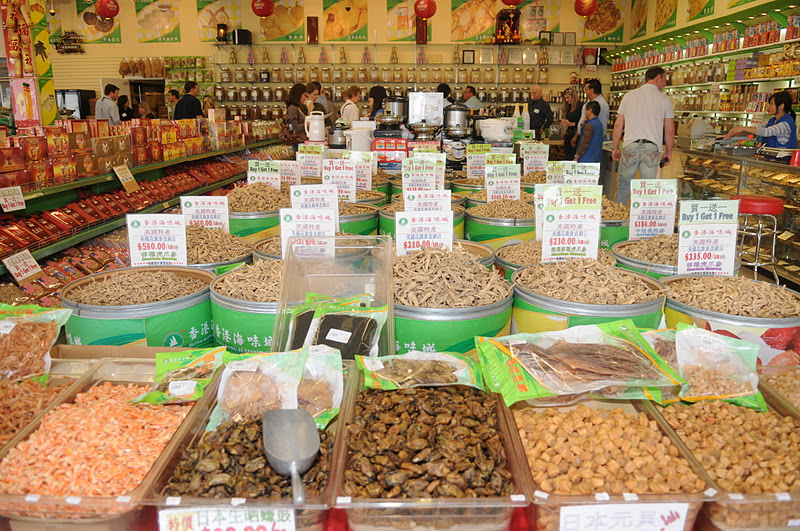 For a true cultural experience, check out Teo Chew Temple. The atmosphere at this Vietnamese Buddhist temple is serene and workers at the temple are happy to answer questions guests may have regarding the temple, grounds and theology. Please note that appropriate clothing is necessary when entering the temple. Another type of cultural experience is singing karaoke. Most people know that karaoke is a huge part of Asian culture, so let loose and partake in this favorite pastime. Neway Restaurant and Lounge along with Yes KTV are great spots for late night karaoke. Eat, drink and be merry with private karaoke rooms and full service food and drink menus.
If you've spent the day exploring Asiatown, your feet and muscles may be sore. As luck would have it, Asiatown has the answer for that, reflexology massages. Reflexology is thousands of years old and focuses on pressure points (mainly in the feet) to restore energy and blood flow throughout the body. Oasis Massage and Salon, Lucky Feet Houston, and Soul Inn Reflexology are all located off Bellaire Boulevard, and have reputations for good prices and strong masseuses.
Many of Asiatown's businesses accept cash only, so make sure you're prepared before your trip.