Oooh wee! It's that time of year we've all been waiting for – crawfish season! The tasty seafood staple isn't just about pinching tails for seasoned, succulent meat. The appearance of crawfish on menus across Houston signifies the start of warmer weather and outdoor gatherings with family and friends. A good crawfish party is one of the best things to do in Houston during spring break. We've rounded up some of the most popular places around town where you can dig in and get your hands on a few pounds of crawfish.
Local Fav: Calhoun's Crawfish Co.
4619 FM 565, Baytown, TX
Customers give Calhoun's Crawfish Co. high marks with great reviews online. This Baytown business makes its very own seasoning to give the crawfish a distinct flavor. In addition to boiled crawfish, you can get boiled shrimp, snow crabs, Cajun sausage, corn, potatoes and mushrooms added to your order. They're only open on Fridays and Saturdays from 11 a.m. to 8:30 p.m. and Sundays a 12 noon until the crawfish are gone.
Crawfish Shack
5822 FM 2100, Crosby, TX
Get your crawdad fix at one of two locations of the Crawfish Shack without even getting out of your car. The restaurant offers both dine-in and drive-through options for fresh, Cajun-style crawfish in four levels of heat: mild, medium, spicy or meaux (pronounced "mo"). If you're in the mood to switch things up a bit, check out their crawfish etouffee, gumbo or red beans and rice with sausage. They're open Wednesday through Friday from 4 to 9 p.m., Saturday from 12 – 9 p.m., and Sunday from 12 – 8 p.m.
3139 Richmond Ave., Houston, TX
BB's Cajun Café isn't named after Beyonce, but the Houston-born megastar has been known to visit the restaurant. The eatery offers crawfish in flavors unique to both Texas and Louisiana for a style they've coined as "Tex-Orleans." This Montrose-area spot offers other traditional New Orleans style cuisine including po-boys. They're open Sunday – Wednesday, 10 a.m. – 3 p.m. and Thursday – Saturday, 10 a.m. – 4 p.m.
4302 Richmond Ave., Houston, TX
Ragin' Cajun is certainly a fan favorite here in Houston. Customers line up on a regular basis for buckets of its spicy crawfish sold by the pound. Add potatoes and corn, and you have the makings of an instant outdoor party. Don't leave without trying the crawfish etoufee and jambalaya are must-trys.
1910 Wilcrest Dr., Houston, TX
Garlic butter spicy seasoning is the claim to fame for 88 Boiling Crawfish & Seafood's crawdads. It's called the "88 Special," and it draws people from all parts of Houston for a taste. Every two-pound order comes with one boiled potato and corn on the cobb. Best of all? You can have your food delivered! They're open daily from 3 – 9:30 p.m.
Crazy Alan's Swamp Shack
310 Texas Ave., Kemah, TX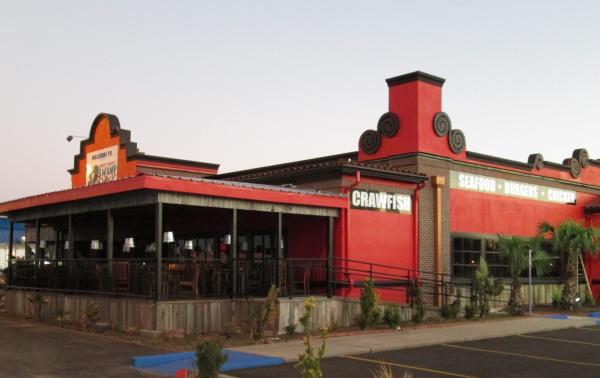 It might be crawfish season right now, but Crazy Alan's Swamp Shack serves up crawdads all year round. With one location in Friendswood and another on the Kemah Boardwalk, this restaurant knows how to get crawfish right. Crazy Alan's has a large menu with many options ranging from fresh seafood to steaks and hamburgers. Spicy crawfish with a side of live music is a great way to usher in spring.
3957 Richmond Ave., Houston, TX
If you've never tried Vietnamese crawfish, you don't know what you're missing. LA Crawfish offers a variety of seasonings and dipping sauces to go beyond the traditional Cajun flavor for something a little different. They're so popular, a second LA Crawfish was added in Greenway Plaza.
11360 Bellaire, Ste. 990, Houston, TX
Head over to Chinatown to one of the city's most well-known crawfish spots. Crawfish & Noodles has had its share of being in the spotlight thanks to its inclusion in the Ugly Delicious Netflix documentary, but that's not why Houstonians flock to this restaurant. The "Viet Cajun" crawfish craze is alive and well at Crawfish & Noodles. During the season, if you buy five pounds, you'll get one pound free.
6938 Wilcrest Dr., Houston
When you think of crawfish, Thai food may not immediately come to mind… unless you're thinking about Cajun Kitchen. This award-winning restaurant sources its crawdads from Louisiana (of course) as well as California and Oregon. Special Thai seasonings kick these mudbugs up a notch. A few other items on the menu that may draw your attention include their fried seafood platters or oyster on the half shell.
11209 Bellaire Blvd, C36, Houston, TX
Crawfish Café serves up six varieties of flavors to delight your taste buds: Original Caju, Kickin' Cajun, Garlic Butter, Lemon Pepper, Thai Basil, and The Mix (garlic butter and lemon pepper). If you're not in the mood to peel crawfish, try the crawfish eggrolls, crawfish pies or crispy boudin balls.
5270 Richmond Ave., Houston, TX
Pounds of crawfish, cold beer and frozen margaritas could only mean you're in Texas! The open, airy feel of Sam's Boat reminds you you're on the Gulf Coast where fresh seafood is always on the menu. This casual dining spot with roots from Mexico is a popular destination during crawfish season. Stop by for live music every Friday, Saturday and Sunday.
Locations in Rice Village, Midtown, EADO, Shepherd, The Heights, and Bellaire
Add this stop to your weekend if you want a casual atmosphere to hang out with friends. Little Woodrow's offers crawfish by the pound and a great place to watch your favorite sports team. An outdoor patio, games and great ambiance await at this Texas watering hole.
H-E-B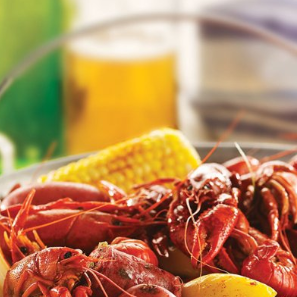 This list wouldn't be complete if we didn't include H-E-B. You might not normally think of a grocery store as your go-to spot for great crawfish, but H-E-B has built a strong following throughout the city. The stores often have long lines of patrons buying crawfish by the pound every weekend during the season, making H-E-B the biggest crawfish seller in Texas.
Did You Know?
This time of year is ideal for crawfish season because crawfish shells are typically too soft during the winter. The shells start to harden as summer approaches, making March the perfect time to enjoy the mudbugs. Here are a few more interesting facts about crawfish:
There are no crawfish in Africa or Antarctica.
Crawfish can drown.
Crawfish walk forward and swim backward.
Crawfish are a source of protein, calcium, phosphorous, iron, protein and B vitamins.
Louisiana produces the highest amount of domestic crawfish in the nation.
Mark Your Calendars for These 2019 Crawfish Festivals
The BB&T Woodlands CrawPHish Festival
March 23, 2019
9th Annual Kemah Crawfish Festival
April 19 – 21, 2019
Houston Crawfish, Crab & Grill Festival
May 11, 2019