Ooh wee! It's that time of year we've all been waiting for – crawfish season! The tasty seafood staple isn't just about pinching tails for seasoned, succulent meat. The appearance of crawfish on menus across Houston signifies the start of warmer weather and outdoor gatherings with family and friends. A good crawfish party is one of the best things to do in Houston during spring break. We've rounded up some of the most popular places around town where you can dig in and get your hands on a few pounds of crawfish.
New to this boiled crawfish phenomenon? No problem. We've got all the info you need for a successful boil, including when to eat them and how to peel them, here. Want additional options for boil houses outside of H-Town? There are plenty of areas like Conroe, Deer Park and more that have amazing boiled crawfish. Simply click here for more.
 
Local Fav: Calhoun's Crawfish Co.
4619 FM 565, Baytown, TX
Customers give Calhoun's Crawfish Co. high marks with great reviews online. This Baytown business makes its very own seasoning to give the crawfish a distinct flavor. In addition to boiled crawfish, you can get boiled shrimp, snow crabs, Cajun sausage, corn, potatoes and mushrooms added to your order. They're only open on Fridays 9 a.m. to 8:30 p.m., Saturdays from 11 a.m. to 8:30 p.m. and Sundays from noon until 7:30 p.m.
5822 FM 2100, Crosby, TX
Depending on where you're staying, heading to Crosby might be a little out of the way, but when you want good crawfish, it's worth it! The crawfish are sold at market price, with add ons like corn, potatoes, sausage and mushrooms. From mild to Meaux Spicy, it's a customizable crawfish experience. Plus, boiled crabs are on the menu, as well as hot boiled shrimp. Crawfish Shack is open Wednesday through Friday from 4 p.m. to 9 p.m., Saturday from noon to 9 p.m. and Sunday from noon to 8 p.m. Bonus, Crawfish Shack is a BYOB establishment, so fill a cooler with beer and enjoy the perfect afternoon.
LA Crawfish Shack
5858 S. Gessner
Houston, TX 77036
2020 S. Highway 6
Houston, TX 77077
With its first location opening up in 2010, LA Crawfish Shack has expanded to include two locations in the Houston area. Serving up a number of Cajun delicacies like gumbo, red beans and rice, and more. However, LA Crawfish Shack's claim to fame is selling boiled crawfish year round thanks to proprietary preparation techniques that allow juicy and flavorful mudbugs any time of year.
3139 Richmond Ave., Houston, TX
Click here for all nine locations
BB's Cajun Café isn't named after Beyoncé, but the Houston-born megastar has been known to visit the restaurant. The eatery offers crawfish in flavors unique to both Texas and Louisiana for a style they've coined as "Tex-Orleans." This Houston-area staple also offers other traditional New Orleans-style cuisine including po-boys. Hours and crawfish availability may vary by location.
4302 Richmond Ave., Houston, TX
9600 Westheimer #80, Houston, TX 77063
Ragin' Cajun is certainly a fan favorite here in Houston. Specializing in 100% Acadiana rice field, pond-raised crawfish, you know you're getting the read deal. Customers line up on a regular basis for buckets of its spicy crawfish sold by the pound. Add potatoes and corn, and you have the makings of an instant outdoor party. Don't leave without trying the crawfish etoufée, po-boys and jambalaya.
1910 Wilcrest Dr., Houston, TX
Garlic butter spicy seasoning is the claim to fame for 88 Boiling Crawfish & Seafood's crawdads. It's called the "88 Special," and it draws people from all parts of Houston for a taste. Every two-pound order comes with one boiled potato and corn on the cobb. While you're at it, order a fried seafood platter. Best of all? You can have your food delivered! They're open Tuesday and Wednesday from 3 p.m. to 10 p.m. and Thursday through Sunday from noon to 10 p.m.
Crazy Alan's Swamp Shack
310 Texas Ave., Kemah, TX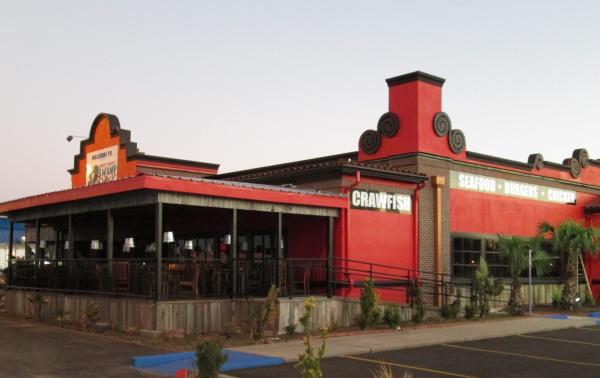 It might be crawfish season right now, but Crazy Alan's Swamp Shack serves up crawdads all year long. With one location in Friendswood and another on the Kemah Boardwalk, this restaurant knows how to get crawfish right. Crazy Alan's has a large menu with many options ranging from fresh seafood to steaks and hamburgers. Spicy crawfish with a side of live music is a great way to usher in spring.
3957 Richmond Ave., Houston, TX
1005 Blalock Road, Inside 99 Ranch Market
Houston, TX 77055
Not to be confused with LA Crawfish Shack, LA Crawfish is the best of Vietnamese-inspired cuisine in H-Town. If you've never tried Vietnamese crawfish, you don't know what you're missing. LA Crawfish offers a variety of seasonings and dipping sauces to go beyond the traditional Cajun flavor and boil for something a little different with the spices on the outside of the shell. LA Crawfish has become such a staple in the Houston crawfish game, that there are two locations in the Greater Houston area.
11360 Bellaire, Ste. 990, Houston, TX
Head over to Chinatown to one of the city's most well-known crawfish spots. Crawfish & Noodles has had its share of being in the spotlight thanks to its inclusion in the Ugly Delicious Netflix documentary, but that's not why Houstonians flock to this restaurant, it's because it's the perfect blend of Vietnamese and Cajun cuisine. Why compromise when you can have both cuisines? Rest assured the "Viet Cajun" crawfish craze is alive and well at Crawfish & Noodles.
6938 Wilcrest Dr., Houston
Another H-Town fusion option is the Viet Cajun boiled crawfish at Cajun Kitchen. This award-winning restaurant sources its crawdads from Louisiana (of course) as well as California and Oregon. Special seasonings kick these mudbugs up a notch. One item that shouldn't be miss is the spicy Cajun boil where you choose your boiled item like crawfish, shrimp or blue crabs. Then, follow it up with a spice level and flavor Cajun, garlic or the "Kitchen" special or Thai basil. A few other items on the menu that may draw your attention include their fried seafood platters or oyster on the half shell.
11209 Bellaire Blvd, C36, Houston, TX
Crawfish Café serves up six varieties of flavors to delight your taste buds: Original Cajun, Kickin' Cajun, garlic butter, lemon pepper and Thai basil. If you're not in the mood to peel crawfish, try the crawfish eggrolls, crawfish pies or crispy boudin balls. The best part of Crawfish Café is that they are working on opening a Heights location for even more crawfish across Houston.
5270 Richmond Ave., Houston, TX
With a number of locations across Houston and surrounding area, visitors will love the vibe of Sams Boat. The restaurants' aesthetics remind you you're on the Gulf Coast where fresh seafood is always on the menu. This casual dining spot with roots from Mexico is a popular destination during crawfish season where your boiled crawfish order is complemented by a traditional potato and corn. Live music is usually played every Friday, Saturday and Sunday, check your location for specifics.
Locations in Rice Village, Midtown, EADO, Shepherd, The Heights, and Bellaire
Add this stop to your weekend if you want a casual atmosphere to hang out with friends. Little Woodrow's offers crawfish by the pound and a great place to watch your favorite sports team. They'll start boiling Fridays and Saturdays at 5 p.m. while supplies last. If you plan on arriving later in the evening, be sure to call and ask if they have crawfish available. An outdoor patio, games and great ambiance await at this iconic Texas watering hole.