Anthony Bourdain was in town last week filming a Houston-focused episode of his world travel and food show, Parts Unknown. The acclaimed host/chef made his way around town with his film crew to profile what makes Houston the culinary capital of the south. You'll have to wait until the episode premieres for a full list, but here are some the stops he made in Htown according to his social media trail:
His first day in Houston was spent in the historic Montrose neighborhood with Plant It Forward, a refugee-managed farm that sources local produce and 44 Farms beef.
Bourdain got a taste of Houston's extensive Indian food scene at Udipi Café, a vegetarian and vegan restaurant in the Hillcroft neighborhood.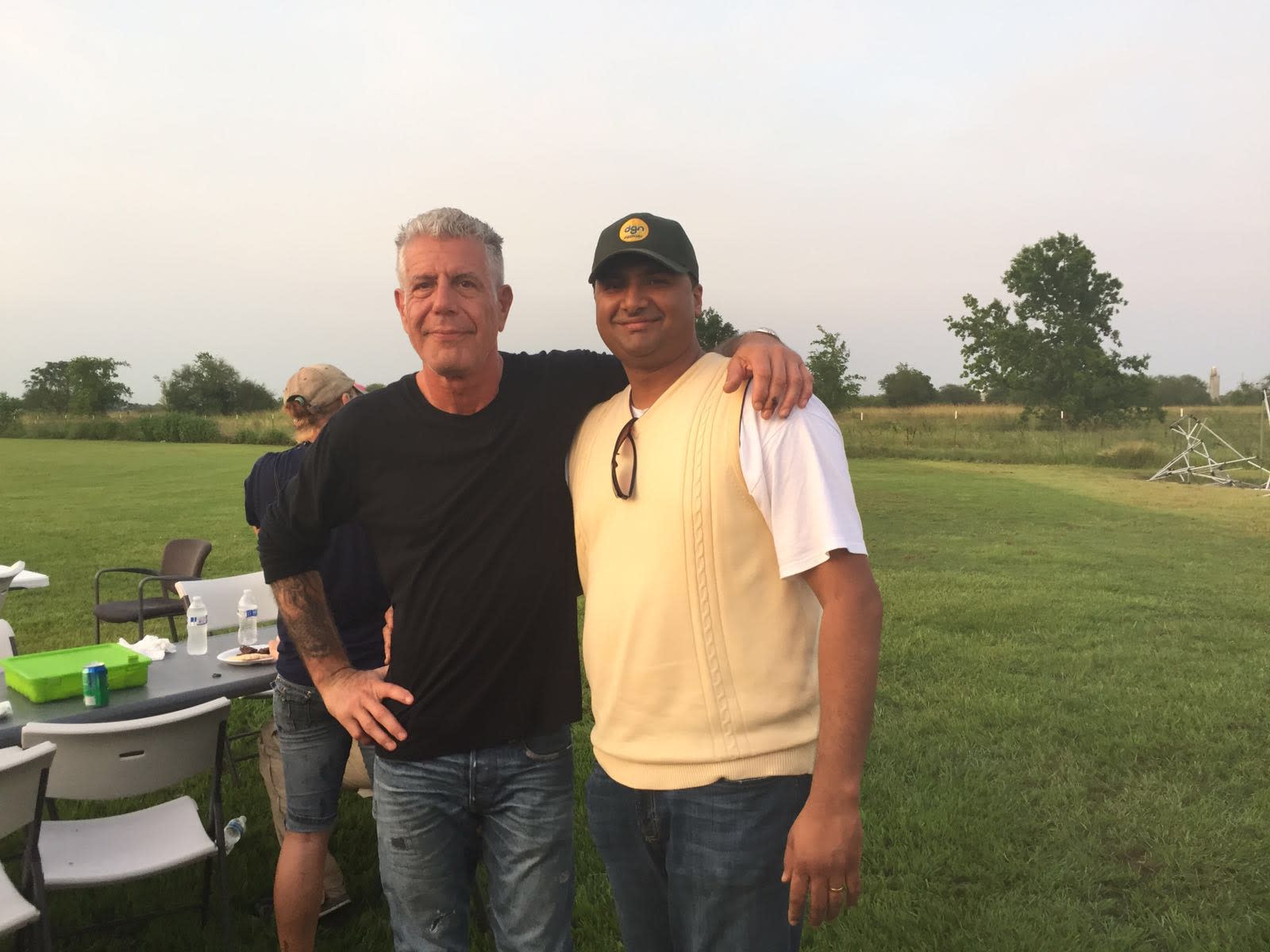 Bourdain with DGN Factory restaurant owner George Eapen at the Houston Indian Cricket Club.
Himalaya Restaurant was next on the Houston Indian food expedition.  Situated within Houston's Mahatma Gandhi District, faithful fans dig into generous portions of authentic classics like chicken tikka masala and saag paneer, as well as dishes like the grilled-fish masala and palak gosht. Himalaya is the only restaurant in North American to serve authentic Hanifia-style beef, which is diced and sautéed with butter, chili powder and spices and served with fresh tomatoes and magic mustard sauce.
Bourdain got to see it all. He posted this dance which took place at Keemat Grocers just off Harwin Drive, one of Houston's best spots for bargain shopping, antiques, and imported goods.
The weary traveler opted to enjoy his evening on La Grange's amazing patio with Boulevard Brewing Co.'s Ginger Lemon Radler. With lush tropical foliage as its centerpiece, La Grange has three distinct bars – one inside, a terrace location, and one on an expansive open air patio. Sit under festive globe lights and sip their already famous Watermelon Fresca with a whole fried tilapia, BBQ oysters, or stacked shrimp enchiladas.
Bourdain couldn't visit Houston, Texas without some BBQ. He stopped at Burn's Original BBQ with Houston rapper Slim Thug for tasty old-school pit barbecue accompanied by their signature sweet and tangy sauce. Family owned and operated for more than three decades, Burn's gave Bourdain an authentic taste of some of Houston's best.
He finished off the night with tequila and dancing at a local quinceañera celebration.
On what looked like his last day, Bourdain said this of Houston, "Migas for breakfast, barbacoa for dinner. Who actually eats apple pie?‬" We couldn't agree more Mr. Bourdain. Welcome to Htown.
Update 9/7/16
The episode will air Sunday, October 30, 2016.